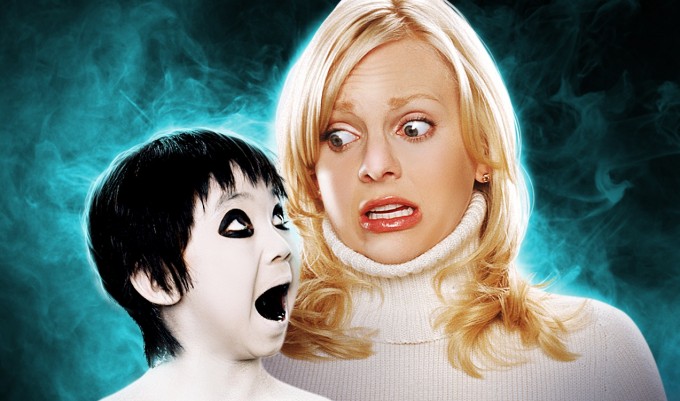 A horrific fifth installment in the Scary Movie franchise is one step closer to being a reality today. The Weinsteins have hired Roll Bounce director Malcolm Lee to write and direct their latest offering of low brow horror genre shenanigans. With plans for an immediate production to meet an 11th January 2013 release date.
Parody movie king David Zucker (Airplane! & The Naked Gun) will also return to co-write and produce, having taken enthusiastic responsibility for the past two films after the Wayans brothers  stepped away from the franchise.
As with the past four Scary Movies, Anna Farris may once again try to use every ounce of her comedic charms to rescue a lackluster collection of clumsy pop culture references and lazy sex gags. No news of other casting just yet, but we can probably expect the predictable mix of  'celebrity' cameos from  reality TV stars and former models.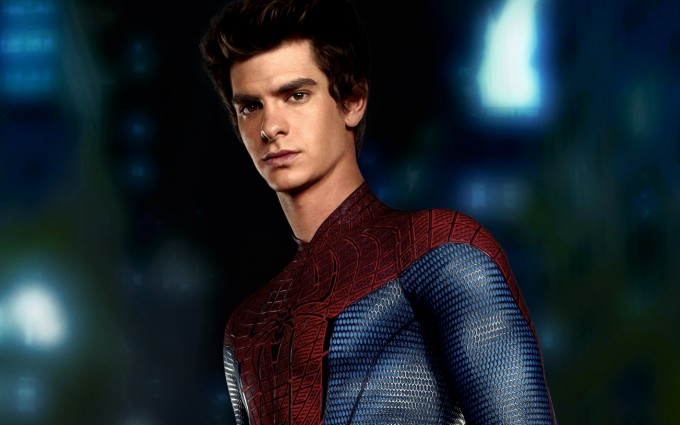 In demand Hollywood screenwriting duo Alex Kurtzman and Roberto Orci have been handed responsibility for doing a second draft of the script for Sony's expectant sequel for The Amazing Spider-Man.
Screenwriter James Vanderbilt (Zodiac) produced an initial draft script, but as he's now busy with new project White House Down, the studio have turned to the two writers behind hits like Star Trek and the Transformers franchise.
Amazing Spider-Man producer Matt Tolmach explained the move
"Alex and Bob have a unique ability to write great character and spectacular action that makes them pitch perfect for Spider-Man. They've been friends of ours for a long time and they have an exciting take on the franchise – we're thrilled to have them join the Spider-Man family,"
While that sound so pretty reassuring, our spidey sense is still tingling over this news. Worryingly Kurtzman & Orci were previously responsible for Cowboys & Aliens and Transformers: Revenge of the Fallen.  Despite those critically mauled efforts the duo already has a Star Trek sequel, Ender's Game and Now You See Me in production.
Amazing Spider-Man 2 is currently scheduled to swing into cinemas  May 2, 2014.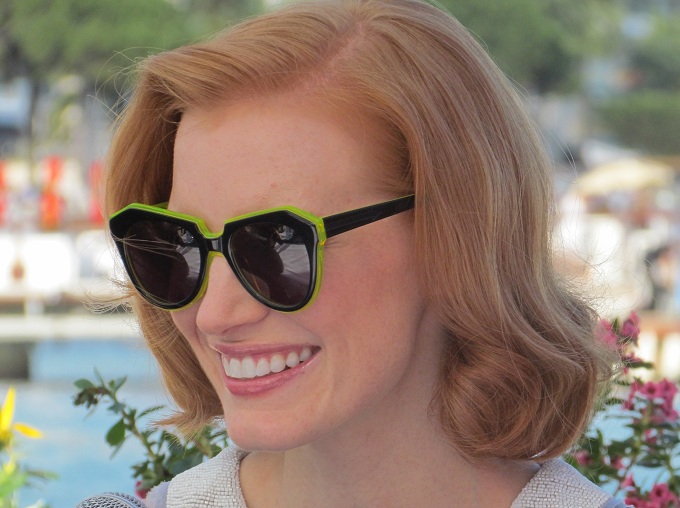 The casts of Iron Man 3 continues to grow like a well-tended bonsai tree, as Chinese actor/singer Andy Lau and recent Oscar nominee Jessica Chastain begin negotiations to fill up the film's supporting roles.
After Disney and Marvel announced that Iron Man 3 would be a co-production with Chinese company  DMG Entertainment and partly filmed in China; it's little surprise to see stars like Lau coming on board. Apparently he'll be playing a friendly scientist, with the studio continuing to look elsewhere for potential villain the Mandarin.
Jessica Chastain also looks set to follow recent roles in The Help, Tree of Life & The Debt by adding 'sexy scientist' to her rapidly growing CV. The increasingly in demand redhead will be given the responsibility of adding some sultry science sizzle to the superhero sequel.
However it's already been confirmed that she won't be stealing Gwyneth Paltrow's thunder too much as the film's love interest Pepper Potts. Apparently Pepper's role in the third instalment will be much expanded from the first two films.
Although we're still waiting for the crucial villain casting, director Shane Black does seem to be putting together an increasingly well rounded cast, having recently added Sir Ben Kinglsey & Guy Pearce as well.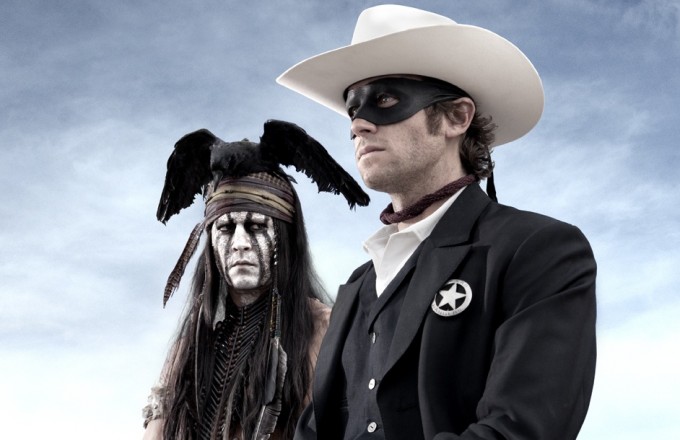 When Jerry Bruckheimer tweeted the first picture of Johnny Depp as Tonto in the new Lone Ranger movie (above), some people were left slightly bemused as to why the Native American hero looked suspiciously like a Goth Jack Sparrow with a bird on his head.
In a recent interview with Entertainment Weekly Johnny Depp has revealed that not only did he personally guide the creation of his latest eccentric look, but that he was specifically inspired by a particular painting
 "I'd actually seen a painting by an artist named Kirby Sattler and looked at the face of this warrior and tough… That's It! The stripes down the face and across the eyes… it seemed to me like you could almost see the separate sections of the individual, if you know what I mean".
For anyone unfortunate enough to never have been invited round Tim Burton's house to play dress up, the philosophising star gave some further explanation of Tonto's striped war paint.
"There's this very wise quarter, a very tortured and hurt section, an angry and rageful section, and a very understanding and unique side. I saw these parts, almost like dissecting a brain, these slivers of the individual. That makeup inspired me"
As for why he chose to complete this brain slicing ensemble with a taxidermy themed bird hat…
 "It just so happened Sattler had painted a bird flying directly behind the warrior's head. It looked to me like it was sitting on top. I thought: Tonto's got a bird on his head. It's his spirit guide in a way. It's dead to others, but it's not dead to him. It's very much alive."
Comparison between the original Sattler painting and Depp's new look below: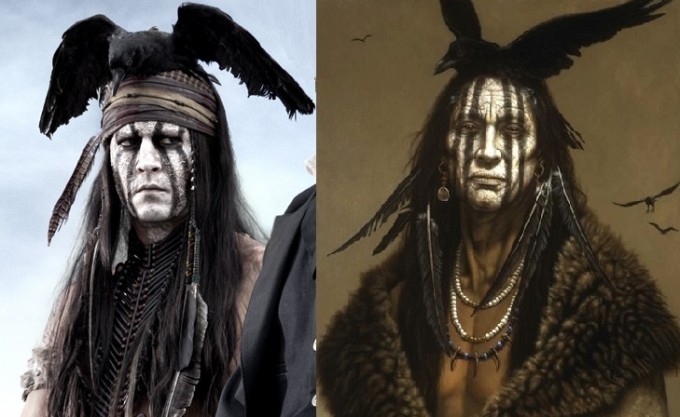 So to sum up, Johnny Depp's unique interpretation of a proud Native American warrior will most likely involve lots of scenes of him talking at length to the dead crow on his head.  It might sound weird but no doubt thanks to Depp's immeasurable talents it could easily prove to be one of the most entertaining parts of the film.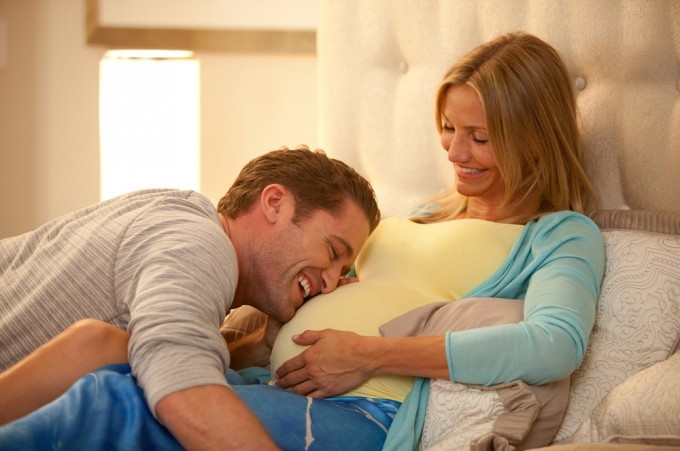 Here's a selection of the very latest official  images released from 'What to Expect When You're Expecting'. Starting with the adorable above image of Glee Star Matthew Morrison and Cameron Diaz enjoying some pregnant snuggles.
Inspired by the perennial New York Times bestseller of the same name,  the new film is aiming to be  a  hilarious and heartfelt big screen comedy about five couples whose intertwined lives are turned upside down by the challenges of impending parenthood.
With an all-star cast that includes Cameron Diaz, Rachel McAdams, Dennis Quaid, Chris Rock, Brooklyn Decker, Anna Kendrick, Chace Crawford & Jennifer Lopez the film is due to deliver in UK cinemas 23 May.
Check out more sneak peeks at what audiences can expect below…
Cameron Diaz gets ready to apparently feel the baby workout burn. 
Brooklyn Decker (Skyler) looking ever so slightly unhinged… Mwah ha ha ha ha… Babies!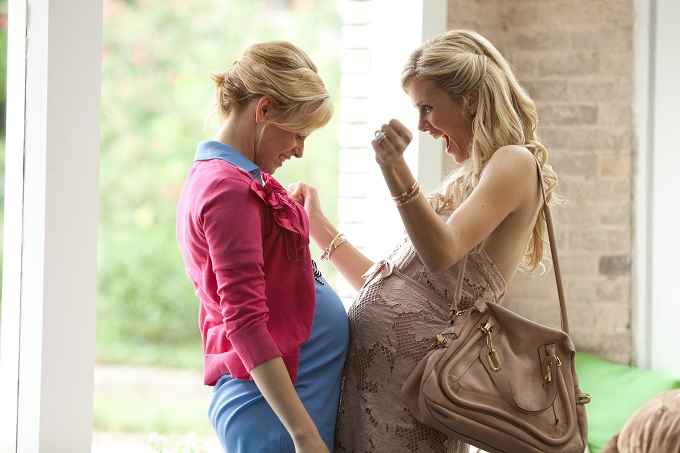 Elizabeth Banks (Wendy) & Brooklyn Decker (Skyler) enjoy a baby bump… bump.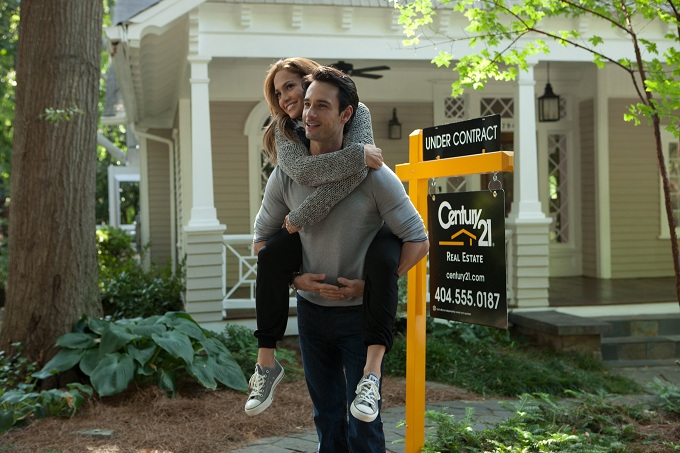 Rodrigo Santoro gives Jennifer Lopez a romantic piggy back ride.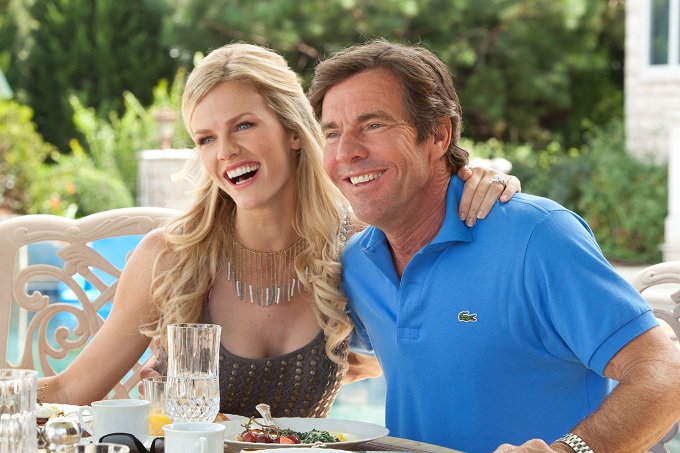 Skyler (Brooklyn Decker) and Ramsey (Dennis Quaid) looking as loved up as two people trapped in a home shopping catalog possibly can.