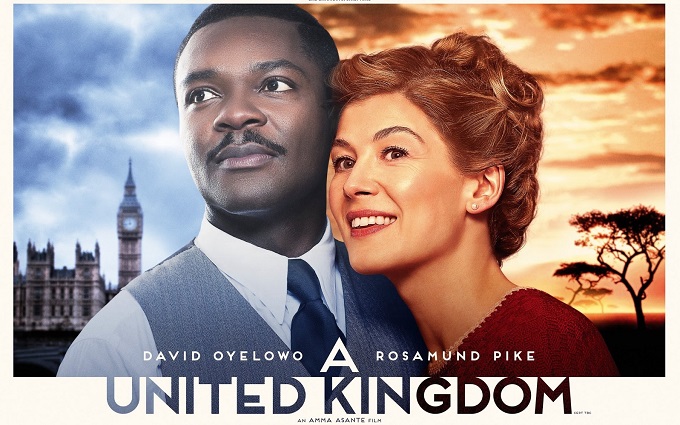 The Plot
Prince Seretse Khama of Botswana (David Oyelowo) causes an international stir when he marries a white woman from London in the late 1940s
The Good
David Oyelowo and Rosamund Pike star in this powerful romantic biopic which explores the story of a mixed race marriage that changed the course of history. After bonding over their mutual love of jazz, Seretse Kharma (Oyelowo) and Ruth Williams (Pike) soon start up a romance in 1940s London. But when Khama reveals his royal heritage and his intent to return to his homeland of Bechuanaland (now known as Botswana), with Ruth at his side, history is made.
Director Amma Asante brings another incredible story to life after 2013's Belle with some beautiful scenery of the drab and dreary streets of London juxtaposed with the bright openness of Bechuanaland, while Eye In The Sky writer Guy Hibbert's script balances a tale of love with the backdrop of a world on shrouded in racism with such ease.
It is in its two central performances however, where A United Kingdom truly showcases its effectiveness. Pike and Oyelowo bring an electric and unabashed chemistry to the screen that strengthens the plot and brings true emotion to a film which could have easily slipped into cliché.
The Bad
As balanced as Hibbert's script is, there are certain moments which, though few and far between do leave the scene with a sense of unfinished business. Thankfully the two leads are more than enough to fill up any emptiness that the script may occasionally leave.
Another problem comes in the films adversaries, here played mainly by Jack Davenport as a pompous civil servant, intent on trying to break Khama and Williams apart, as well as Tom Felton who seems to be reprising his role from Belle as slimy racist bastard. A role he plays very well it must be said. It's just a shame that these two dimensional roles are the ones put up against the powerhouse of Pike and Oyelowo.
The Ugly Truth
Oyelowo and Pike bring a beautiful chemistry to life with the help of Asante's stunning as ever directorial efforts. While the script feels the slightest bit lacking at rare moments, for the most part it tells its story with ease and balance. It's just a shame Davenport and Felton are left with not nearly as much to play with as its two main stars.
Review by Johnny Ellis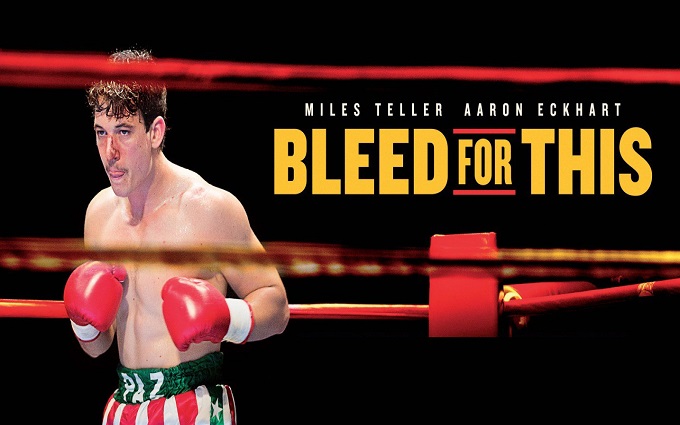 The Plot
The true story of World Champion Boxer Vinny Panzienza (Miles Teller) who, made startling comeback after a near fatal car crash leaves doctors telling him he is unlikely to walk again.
The Good
After becoming a household name from last years Whiplash (and then losing all credibility with Fant4stic…) Miles Teller dons the boxing gloves for arguably the Raging Bull of his career. What follows is undoubtedly Teller's most powerful performance to date. As the hauntingly damaged Vinny, Teller brings humour and tragedy to the story helped along the way by Aaron Eckhart who looks almost unrecognisable in his role as trainer Kevin Rooney, not least due to the bald look he manages to pull off.
First appearing in leopard print underwear as he is weighed in for a lightweight match, Teller's Vinny 'The Pazmanian Devil' Pazienza comes off as a cocky but loveable young boxer who, as Eckhart's Kevin Rooney notes later in the film, has a lot of heart but wears it on his chin.
Writer Ben Younger (who also directs) manages to bring a truly inspirational story to life. Even if you know the story, the film still manages to shock and lift you at times making you even forget you're watching a film.
The Bad
If you were to compare Bleed for This to the long list of boxing classics such as Rocky or Raging Bull, which we mentioned earlier, you'd be hard pushed to put it on the same pedestal. While it works its magic at the time, with the pivotal boxing scenes particularly powerfully presented with a lack of music making the punches that much more impactful, the effect it leaves behind unfortunately doesn't last long enough to put Bleed for this in amongst the classics.
The Ugly Truth
Ben Younger writes and directs a truly inspirational story with Teller and Eckhart giving some fantastic performances. Yet, while the film works wonders when it's playing on the screen, the experience never really leaves the cinema.
Review by Johnny Ellis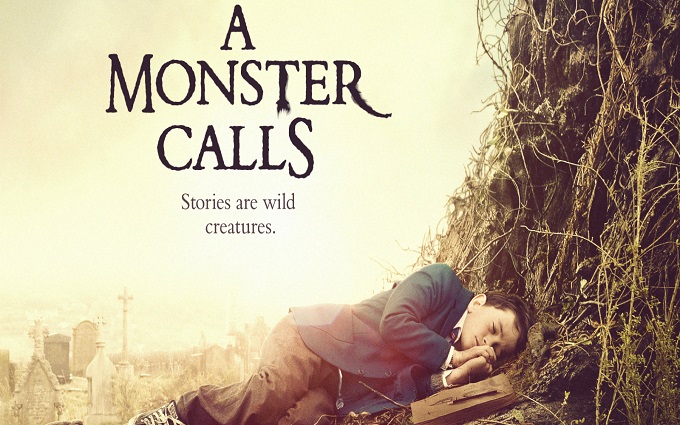 The  Plot
A boy (Lewis MacDougall) seeks the help of a tree monster (Liam Neeson) to cope with his single mother's (Felicity Jones) terminal illness.
The Good
At just 14 years old, relative newcomer Lewis MacDougall (whose debut came in last years Pan) manages to hold up this moving adaptation of Patrick Ness' novel, with the help of a stellar cast including Felicity Jones, Sigourney Weaver and the voice of Liam Neeson. Mixing reality and fantasy together, director J.A. Bayona, who's next project is the upcoming Jurassic World sequel, tells the story of Conor (MacDougall), a young boy who is visited by a walking talking tree credited simply as 'The Monster' who makes Guardians of The Galaxy's Groot look like a twig in comparison and is brought to life through some impressive CGI work.
The gruff tones of Liam Neeson fit The Monster perfectly, as he visits Conor to tell him three fairy tale-like stories on the condition that Conor tells the fourth. The initial three stories are told alongside some beautiful animation that is reminiscent of the tale of the Deathly Hallows from the Harry Potter series. Meanwhile A Monster Calls manages to weave in the reality around Conor as he struggles to deal with his mother's illness, played by Felicity Jones, and the arrival of his strict grandmother, played by Sigourney Weaver.
Where A Monster Calls truly succeeds is in its central performance. At no point does the story feel too heavy for MacDougall, and it's incredible to see his nuanced performance ape those of Felicity Jones and Sigourney Weaver. If this is what he can achieve at age 12 and 2 films into his career, the future looks very bright indeed for this young actor.
Also memorable is the previously mentioned animation that accompanies The Monster's three tales. While it is true that it invokes memories of Hallows it does so in a way that still feels original.
The Bad
The only bad aspects of A Monster Calls will come to those fortunate enough to have not been affected by a terminal illness in their life. For those audience members, the hard-hitting moments perhaps won't hit as hard as for those more familiar with the themes that are brought to the story. If you leave the film having not shed a tear, you're either completely heartless or incredibly lucky.
The Ugly Truth
Director J.A. Bayona brings a beautiful tale to the screen with the help of some incredible animation and CGI effects. But the real star of the film comes from Lewis MacDougall's engrossing central performance.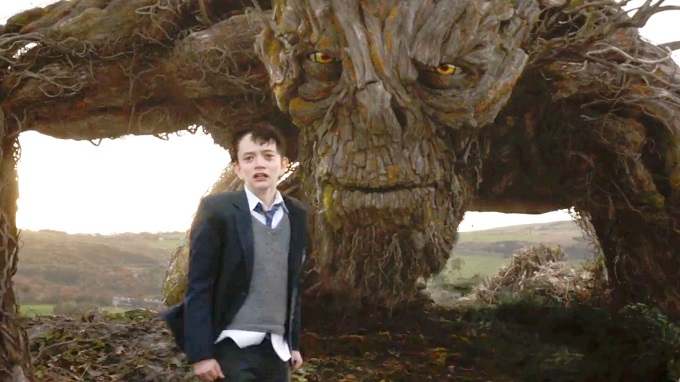 The Plot:
Desperate to keep his beloved old theatre in business a daydreaming Koala Bear called Buster Moon organises a singing competition. Attracting an eclectic mix of animal entertainers each with their own distinct plans for fame and fortune, the competition lurches from one disaster to the next, throwing into question whether Buster and his shining new stars will make all their dreams come true when their big night finally comes…
The Good
Matthew McConaughey is one of the most likeable and charismatic stars of the Big Screen. Even in animated Koala Bear form his distinctive vocal charms are a perfect fit for Buster Moon's relentless optimism and infectious enthusiasm. Even as Buster's smooth talking get him and all those around him into trouble it's simply impossible not to long for his delightful delusions to succeed. It's undoubtedly important for the film to have someone as undeniably sympathetic in its lead role to keep the entire course of the film best intentioned.
Sing's biggest asset by far is an impressive vocal cast that includes Scarlett Johansson, Reese Witherspoon, Jennifer Hudson, Idris Elba and rising star Taron Egerton. They inject a huge amount of actual personality into the films characters which include a shy elephant diva, a rebellious porcupine rocker, a criminal Gorilla family, a downtrodden pig housewife and her flamboyant dancing sidekick.
Ironically particular for younger audiences it is some of Sing's supporting cast that ultimately steal the show and grab the most laughs. Nick Khrol's deliciously silly German pig Gunter is a spandex clad bundle of fun and portly body popping. J-pop Gerbils, singing snails and Buster's bumbling lizard assistant are among the silly slapstick joys likely to bring a smile to young faces.
The film also strives to pack a few simple moral messages in alongside the Lady Gaga cover versions. Each contestant and Buster himself has a little something to teach young fans about pursing dreams and self-belief.
The Bad

While Sing is brightly colourful and will appeal to young audiences in truth it lacks the breath-taking quality of animation which is now so regularly showcased by Pixar and Disney. The film's budget clearly was at least in part diverted toward securing the services of an all-star voice cast. While those vocal performances were no doubt a very worthy investment, in truth they sometimes somewhat outshine the animation quality.  It's simply hard to avoid drawing obvious comparison to Dinsey's recent award winning and Oscar nominated anthropomorphic animal adventure Zootropolis.   In truth the comparisons in both animation quality and storytelling complexity are far from flattering.
Perhaps part of the problem for Sing is that despite its central musical theme, the film ironically can only mostly manage karaoke rendition of familiar pop hits, unlike iconic Disney efforts that introduced their own original collection of memorable musical masterpieces. The only exacerbates the general feeling that as in real life the generic 'talent show' format is already far too overly familiar and riddled with clichés to capture audience's imaginations any more. Ten years ago the film's premise would perhaps have felt a lot more culturally relevant and a bit less overplayed.
The Ugly Truth
Sing is a very successful piece of light family fun sure to delight younger children. A line up of recognisable famous voices and musical numbers keep things watchable for weary parents and more reluctant older siblings.
Review By Russell Nelson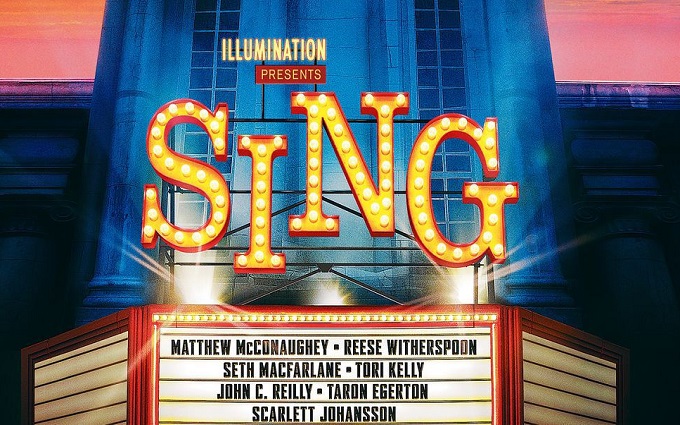 The Plot
Art gallery owner Susan Morrow (Amy Adams) receives a manuscript from her ex-husband (Jake Gyllenhaal) and becomes engrossed in the story while she struggles with her deterioriating marriage with businessman Hutton (Armie Hammer).
The Good
Seven years after the success of his directorial debut, A Single Man, writer-director Tom Ford returns with an adaptation of Austin Wright's 1993 novel, Tony and Susan. When Susan is given a manuscript from ex-husband Edward, titled after his nickname for her, Nocturnal Animals, she becomes absorbed with the story and concocts her own version inside her head. In this story within the story, the main character, Tony is envisioned as a bearded Edward, who goes on a journey of revenge with Michael Shannon's Detective Andes after a late night drive ends disastrously for his wife and daughter (played by Isla Fisher and Ellie Bamber respectively).
Meanwhile in the 'real world', Susan begins to reminisce about her relationship with Edward and how their marriage unravelled, as her current marriage starts to unravel also.
Ford manages to balance both storylines with ease, though the world set inside the manuscript feels much more detailed than that of its real world counterpart. This is no doubt due to the powerhouse performances from both Gyllenhaal and Shannon. That said however, Amy Adams manages to bring enough to the table to make her side of the plot interesting too.
The Bad
There's really not much to complain about with Fords latest. Other than the previously discussed lack of any real interesting plot in its real world storyline, despite Adams' best efforts. While the two are well balanced, with the manuscript plot given more screen time as it rightly deserves, it can be argued that sticking with just the manuscript storyline could have made Nocturnal Animals an even more engrossing film than it already is, but that would mean ditching the wonderful Amy Adams…
The Ugly Truth
Adams tries her best which is better than most other actresses could have done with this storyline, but unfortunately she is overshadowed by the powerhouse double performance from Jake Gyllenhaal and the addition of Michael Shannon in its more intriguing plot.