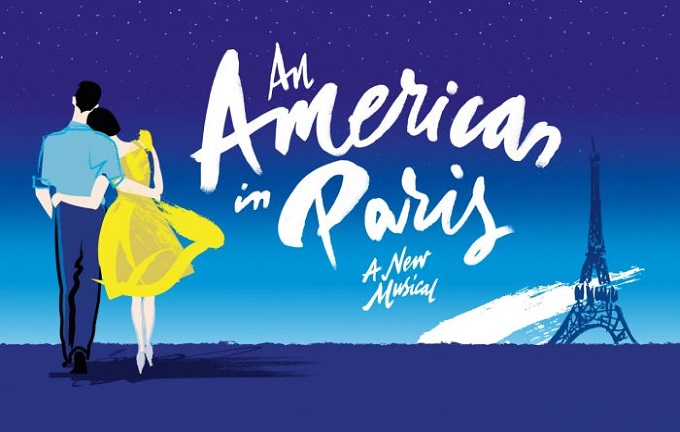 The Plot
In Paris during the immediate aftermath of World War 2 an artist, a singer and a composer each find themselves falling for the same mysterious and beautiful young dancer. The three friends purse the object of their affection in very different ways while she in turn wrestles with the conflict between true love and other obligations.
The Good
An American In Paris has already been immortalized on screen in the classic Gene Kelly Film, this new production brings the timeless masterpiece back to the heart of the West End, offering a whole new generation of fans the chance to enjoy a beautifully realised and utterly iconic story.
Showcasing a dazzling costume and set design that bursts with colourful joy this new production is a powerful and unique fusion of classic score, flawless choreography and deeply romantic imagery.  Those audiences that recently made La La Land a towering box office hit will find an even more faithful homage to the iconic screen and stage musicals of the past in this note perfect production.
While movie musicals do offer fans a wonderful experience and the Gene Kelly version of this show remains a beloved favourite there is simply nothing that can match or truly replicate the wondrous experience of live theatre.  Innovative production design and one of the finest theatre venues in London lend an extra dimension of magic to this particular performance.
George Gershwin's timeless score is instantly familiar, but experienced live with the full weight of a whimsical orchestra remains the ultimate way to revel in its charming delights.  Songs like 'I Got Rhythm' 'S'Wonderful' and 'Love Is Here To Stay' are crowd pleasing treats for certain. However, the legendary show stopping and balletic climax to proceedings undoubtedly remains the productions most memorable achievement.
The entire cast is equally deserving of fine praise, however of course special mention must go to the core team of David Seadon-Young, Haydn Oakley, Robert Fairchild and Leanna Cope. Cope's elegant dancing and timid charms provide a credible object of affection for all three male leads, who in turn inject personality and passion into each of their would be suiters. Though the show does deal with wider themes and makes the most of its sensitive historical setting at its heart it remains a story built around a compelling romantic triangle.  Though scene stealing comedy does come from supporting talents like Jane Asher and Zoe Rainey, the show is till most fundamentally reliant on astonishing performances from its central romantic pairing.
The Bad
It's a rare delight to find a production so lacking in flaws. It's also difficult to imagine how this production could better capture the enduring charm of this particular music and story. Those that prefer a more contemporary twist on the traditions of classic musicals may not enjoy this dazzling spectacle of nostalgic celebration quite as much as others, but even they can have little to sincerely complain about.
The Ugly Truth
An American In Paris is an essential West End delight that should enchant everyone with its colourful fusion of ballet, music, comedy and romance. With a slew of iconic recognisable songs and astonishingly gifted performances form a sensational cast it is the very best that London's Theatre district can ever hope to offer.
Review by Russell Nelson
The Plot
An African American man (Daniel Kaluuya) visits his white girlfriend's (Allison Williams) family for the weekend. But things soon start getting spooky when her family's hired help start acting out…
The Good
Writer/director Jordan Peele – one half of comedy duo Key and Peele – brings a sharp witted, spine-tingling horror film to the screen in what is sure to become an instant classic. When Chris (Kaluuya) and his girlfriend, Rose (Williams) visit her family's estate, paranoia soon sets in with him as their attitude towards him becomes increasingly creepier.
Opening with a scene in which a (literal) run-in with a deer results in a police call-out where Chris is instantly singled out despite not being the driver, Peele's script continues with some all too familiar racial stereotyping. As he begins to meet his unofficial in-laws played by Catherine Keener and Bradley Whitford (who ensures Chris that he would've voted for Obama a third time if he could!) he soon feels outnumbered as, even with the black maid and handyman roaming around the house, he's still paraded around the party at an annual get-together attended by a sea of old white people.
It's a slow burner but the deeper Get Out gets, the more intrigue and chills it brings with it. While Peele is known mostly for his comedy work, coming off the back of last years Keanu with Keegan Michael-Key who also star alongside each other in their hit sketch show, the comedy in Get Out never feels shoehorned in and instead just elevates the plot to a realistic sense that would have otherwise been missing as the paranoia becomes ever more ridiculous. This is thanks partly to the comedic talents of LilRel Howrey as Chris' friend/comic relief.
But if Peele is the off-screen standout of the film, Kaluuya is undoubtedly the face to remember. Recognisably to British audiences mainly for his lead role in an episode of Charlie Brooker's Black Mirror, his performance in Get Out is further proof that he has what it takes as an actor.
The Bad
There's really nothing negative to report for Get Out. Peele's script gives the most entertaining thriller in a long while. The more impatient viewer might be waylaid with the slow burn of Peele's script but I promise, if you wait you'll come to the same glowing conclusion as me.
The Ugly Truth
Jordan Peele proves that he is not just a funny man, but a damn fine director too. Mixing horror and humour brilliantly in a film that not only leaves you thinking about its social commentary but will also leave you with a shiver down your spine for a good while.
Review by Johnny Ellis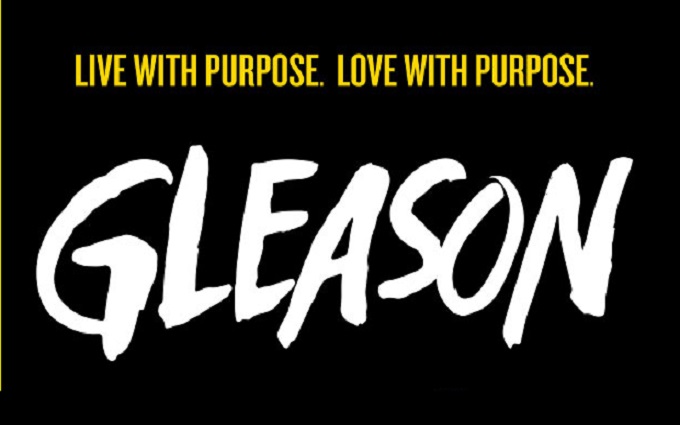 The Plot
After being diagnosed with Motor Neurone Disease, retired footballer begins to make a video diary for his unborn son.
The Good
Those of us in the UK may not know the name of Steve Gleason, but for America, his name is an important one. Following a diagnosis of Motor Neurone Disease (or ALS/Lou Gehrig's Disease as it is also known), the titular subject of this documentary, retired footballer Steve Gleason starts filming video diary entries for both his unborn son and to raise awareness of the disease as he struggles with it. As the film and ultimately his diagnosis progresses, he faces issues including his faith and the struggles his disease brings upon his family.
Director Clay Tweel (Finders Keepers) manages to bring Gleasons life to the screen in this documentary which is as heart-breaking as it is uplifting. Using footage from his video diaries as well as interviews with his wife and family and fly-on-the-wall scenes, Gleason is without a doubt a struggle to get through even for those unfamiliar with both the person and the subject, but it is presented with a beautiful sense of closeness that otherwise would have been easily missing. There are scenes which are tough to watch, such as his heart to heart with his father discussing their differences of opinions regarding death and religion. But for every difficult scene there is an uplifting one soon to follow. Gleason's story is one which will no doubt resonate with many and for the luckier viewers who have no prior knowledge of ALS, it certainly raises awareness in a brutally honest approach.
The Bad
There really is nothing negative to report on Gleason. The only possible downside could be it's affect on certain audience members. Those who have known or still know someone suffering through this heart-breaking disease, which results in sufferers losing their ability to move, speak and, eventually breathe, may have a tougher time than others when watching this documentary, but it is highly unlikely to offend.
The Ugly Truth
Tweel has managed to bring the life of Steve Gleeson to the screen in a brutally honest way which, with the help of Gleason's video diary entries, ensures it is as respectful as possible. For a documentary about a man who has been working to raise awareness to ALS, even having his name on a US law related to it, Gleason couldn't be more perfect.
Review by Johnny Ellis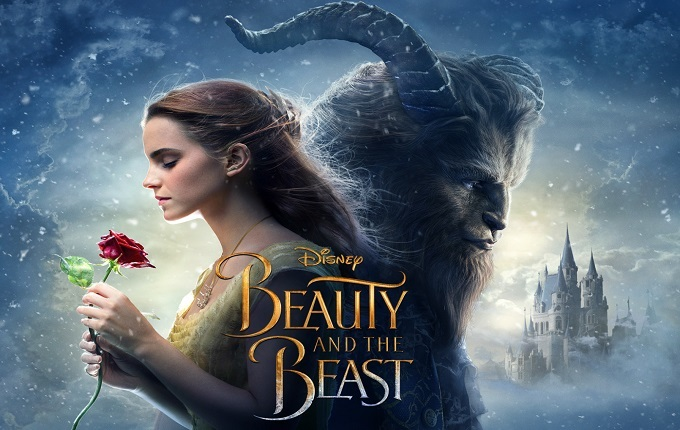 The Plot
In the familiar tale as old as time, a beautiful girl finds herself trapped in an enchanted castle with a selfish prince who has been turned into a Beast. Seizing the opportunity the castle's magical servants try their best to fan the unlikely flames of love between the mismatched pair in order to break the spell that binds them all.
The Good
Beauty and The Beast is a very faithful and inevitably lucrative adaptation of one of Disney's most beloved and universally celebrated modern animated classics. The timeless core story remains fundamentally compelling and romantically satisfying.
Emma Watson proves her vocal prowess with a strong musical performance as heroine Belle.  Meanwhile fellow British star Luke Evans in particular is a magnificently boisterous fit for the brutish Gaston, the self-proclaimed village heartthrob determined to claim Belle's hand in marriage by any means necessary and in spite of her extreme reluctance. The further vocal talents of Ewan McGregor, Ian McKellen and Emma Thompson pour fresh life into their already familiar characters, helping this new version to recapture much of the magical charm of the previous cartoon.
Those with especially fond memories of the animated film will welcome the new film's faithful parade of all its key moments and songs. Gaston's ode to himself, the enchanting 'Be Our Guest' and the film's memorable romantic refrain 'Tale as Old as Time' are among the iconic highlights painstakingly recreated with live actors and photo-realistic modern animation.
The new film boasts a joyously colourful production value and all-star cast that few but Disney is truly capable of offering. Those that truly love the original will be delighted to see so little changed and to have a fresh chance to introduce the magic of Disney to their own children and a new generation of fans.
The Bad
Disney continues to unapologetically plunder its extensive back catalogue of classic animated stories for the guaranteed box office success of live action adaptations. While their Sleeping Beauty re-imagining Maleficent at least made efforts to approach the overly familiar material form a fresh perspective, this new version of Beauty and The Beast literally only serves as a scene by scene copy of the original fan favourite.
It's also worth noting that although this is indeed ostensibly a 'live action' version, as the Beast and the rest of the castle's enchanted inhabitants are actually fully CGI creations the truth is most of the films key scenes are actually largely or even fully animated. As a key example the crowd pleasing 'Be Our Guest' dining table musical number remains entirely a work of colourful animation with the solitary exception of Emma Watson's awed expression. Given the exquisite perfection of the original cartoon version it is questionable how much a more photorealistic animated version truly adds to proceedings.
The film's occasional efforts to slip in some extra social justice themes are either awkwardly heavy handed or so barely noticeable that they remain utterly trivial. Belle being bullied by the French townsfolk for trying to teach a young girl to read is an awkward attempt to openly polish the film's feminist credentials.
In contrast the supposed gay subplot surrounding Josh Gad's turn as Gaston's faithful sidekick Le Fou turns out to have been bizarrely overhyped. Amid bold talk of a gay love scene that saw the film banned outright or given restrictive releases in some countries the reality is literally a split second of incidental background dancing. Only the filmmakers will know if more meaningful material was filmed but ended up on the cutting room floor.
While much like the animated original the film does much make frequent jokes at the expense of Le Fou's simpering admiration for Gaston, this is typical treatment  for villain's comedy sidekicks and certainly nothing as ground-breaking and controversial as audiences may expect in the wake of so much utterly unnecessary media hype.
Live action adaptation is also not without other specific draw backs. Cartoon films frequently get away with having stories set in 17th Century France but voiced by a muddled bag of Anglo-American accents and thick Gallic stereotypes. Unfortunately in the real world as opposed to a purely cartoon creation those inexplicable juxtapositions become all the more jarring.
Emma Watson slips in the occasional Bonjour Monsieur with all the linguistic subtlety of a nervous GCSE student, but her clipped British tones are still pure Hermione Granger. It's a distracting contrast with the quintessentially French exuberance of for example Ewan McGregor's singing Candelabra.
While McGregor, Luke Evans and the rest of the all-star supporting cast relish in their roles in truth the central paring of Emma Watson's Belle and Dan Steven's full CGI Beast are far less successful embodiments of the beloved animated characters. Neither is an especially good visual fit for the roles and although Steven's can at least blame animators for changing the Beast's appearance Watson has less excuse for a mostly stilted performance.
Though Watson's impressive singing voice is more than adequate for the musical numbers her acting style has sadly not progressed much from the awkward gasping theatricality and blank expressions evidenced throughout the Harry Potter franchise.
The Ugly Truth
While overall the film will likely delight younger audiences experiencing this iconic story for the first time, older fans will almost certainly be left somewhat underwhelmed by what is at best merely a mostly competent approximation of their most special childhood cartoon memories.
Review by Russell Nelson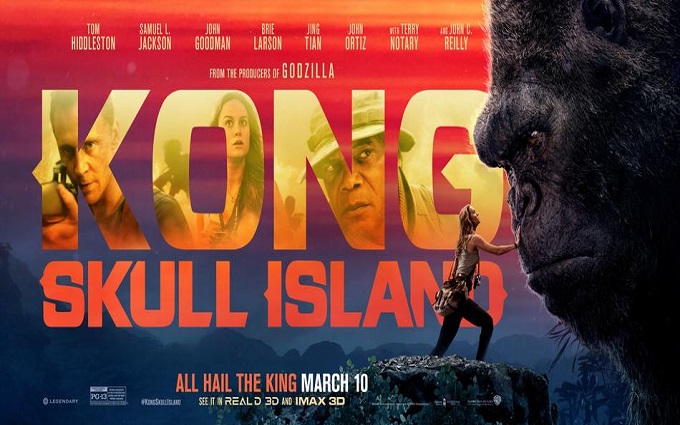 The Plot
In 1973 team of explorers and soldiers travel to an uncharted island in the Pacific, unaware that they are crossing into the domain of monsters, including the mythic Kong.
The Good
When going into Kong: Skull Island, you may be inclined to compare it with 2014's Godzilla of which this film is the first in an apparent new monster-filled cinematic universe leading to an upcoming versus film. One of the much discussed downsides to director Gareth Edwards' take on Japan's most famous lizard was the amount of screen time its titular character received. Fortunately, Kong's director, Jordan Vogt-Roberts (The Kings of Summer) and writers Dan Gilroy, Max Borenstein and Derek Connolly manage to smash away any fear of ape absence with an impressive array of cgi and action which will make you yearn for a Kong/Godzilla fight before the credits have even begun.
Set in 1973, Skull Island follows a star studded team of explorers, headed by John Goodman's Bill Randa and accompanied by Samuel L. Jackson's Preston Packard and his team of soldiers as they set out to discover what lies on Skull Island. Their Apocalypse Now inspired arrival is soon cut short by Kong himself in an awe inspiring action sequence that will have you on the edge of your seat. With the team now split up on an island that has no map, it is up to Tom Hiddleston's smoldering adventurer James Conrad to keep more people from dying, while Brie Larson's Marson Weaver puts her photography skills to the test while occasionally kicking ass. One of the most refreshing things about the film is Weaver's absence of any notable romantic storyline. For a franchise which has in the past, not been as fairly equal to its female characters as one could hope, Weaver remains a strong and independent character even when she has her moment with Kong.
In addition to the already full cast, John C. Reilly also joins the team as Hank Marlow, a World War II soldier who, after being left stranded on the island with only his Japanese counterpart for company, has become an unwilling inhabitant of the island, learning to live under the rule of its 328 foot king. Reilly brings some much needed humour to the film alongside Hiddleston's serious(ly handsome) acting.
Even this amount of stars aren't able to ape the presence of the films main star. Industrial Light and Magic have managed to pull of a superb job of bringing King Kong back to the big screen with some amazing CGI work. Kong is certainly big enough to go toe to toe with Godzilla in 2020 and this writer cannot wait to see more!
The Bad
Anyone looking for more than a simple monster movie may feel a tad short changed come credits time, as, while the film manages to introduce the bulging cast list with ease (take note Suicide Squad) and does a few interesting things with its period setting, it's never enough to really grasp onto.
On the subject of Suicide Squad, Kong: Skull Island also manages to get away with its 70s laden soundtrack by the skin of its teeth. It's one verse away from becoming truly grating.
The Ugly Truth
Featuring more than enough ape action and an impressive cast, Kong: Skull Island manages to bring back Hollywood's most famous monkey with a bang and then some. Go in expecting a monster movie and you'll come out satisfied. Expect any more and you may feel left wanting.
Review by Johnny Ellis