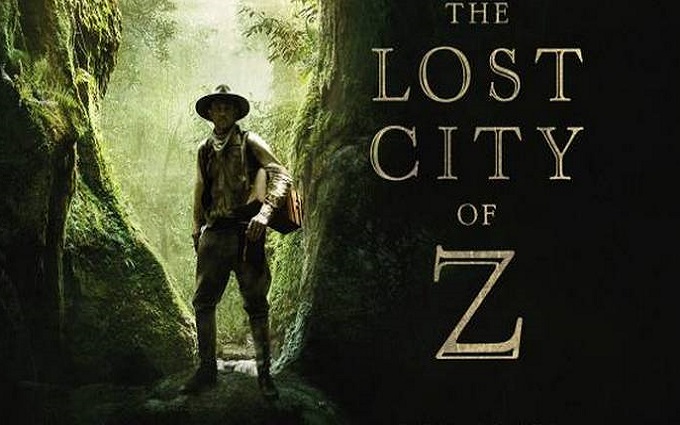 The Plot
Real Life British explorer Major Percival Fawcett sets out to secure the glory he desperately needs to advance his career by undertaking a long and dangerous expedition to chart the remotest regions of the Amazon during the perilous dawn of the 20th century. While doing so he believes he may have found a mysterious ancient city, leading to a lifelong obsession and a relentless quest for discovery.
The Good
Sons of Anarchy star Charlie Hunnam delivers a leading man performance that is earnestly British and physically intense. After many years of playing Americans he reclaims his native accent without much difficulty. He also prove more than a match physical for the arduous task of surviving remote jungles, dangerous rapids and the battlefields of world war one. His Major Fawcett is a credible depiction of what it genuinely means to be a true 'explorer', rather just an Indiana Jones style fantasy figure.
Around Hunnam a strong supporting cast of familiar faces keep the film watchable in spite of its occasionally languid pace. As major Fawcett's fiercely supportive but outspoken wife Sienna Miller continues to prove her talents extend well beyond a being just another pretty face.  She manages to ensure that with relatively modest screen time Major Fawcett's family life back home remains something to yearn for and fight to return to.
Miller manages to avoid too many heavy handed clichés whilst illustrating the frustrations of being an enlightened woman during a more repressive era.  She also serves a useful narrative purpose on behalf of the audience in directly confronting Major Fawcett about his potentially selfish addiction to adventure and the glory of discovery.
Spider-Man star and BAFTA winner Tom Holland is a competent fit for Major Fawcett's young son, caught somewhere between hero worship and frustrated abandonment for his often absent father.
Finally Robert Pattinson delivers an understated and virtually unrecognisable performance as Fawcett's sharp shooting travel companion. Hidden beneath a rugged full beard and jungle dirt Pattinson manages to fully shed increasingly distant memories of his pretty Twilight adolescence.  The young British star has systematically built a credible dramatic reputation beyond the hysterical screaming of young adult fiction fans. While light in dialogue his performance exudes convincing wilderness weary qualities.
Perhaps most significantly the convincing comradeship between Hunnam and Pattinson's characters is a crucial part of making Fawcett's yearn to explore and push the limits of human survival actually make some emotional sense.
The Bad
Those anticipating or even hoping for something approximating Indiana Jones dodging snakes and poisoned darts on his way to the temple of doom will no doubt find the grim realities of actual expeditions to be considerably less fantastical and fun. Though there is undoubtedly a genuine sense of peril at times, there simply aren't any moments of escapist joy.
During what turns out to be an ever growing series of life threatening expeditions, Fawcett often finds himself openly questioning why he persist is abandoning his wife and young children for such a seemingly foolish and almost suicidal pursuit.  Unfortunately as the film progresses it's a question that audiences may find harder to ignore themselves.
In the shadow of world war atrocities and with the promise of a perfectly idyllic life at home it may be hard for many people to understand what really drives Fawcett to keep going back to the edge of civilization. In a modern era of google maps and sat navs it will be especially hard for younger audiences to comprehend what the lure of blank spaces on the map and the true unknown could possibly be.
The Ugly Truth
The Lost City Of Z is a reverential homages to a largely forgotten bygone spirit of exploration at a time when the world was still full of dangerous mysteries worthy of risking life and limb for. Though the film looks and feels authentic this may not satisfy audiences hoping for more fantastical or fun adventures.
Review by Russell Nelson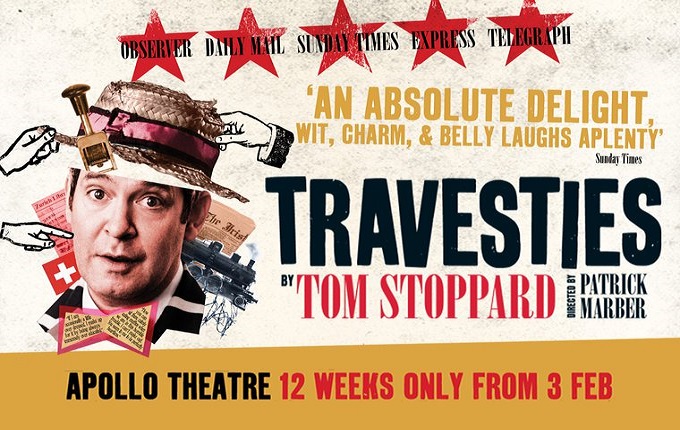 The Plot
An elderly man Henry Carr recounts comically misremembered tales of his time as a minor British Diplomat in Zurich in 1917. In the proses he accidentally fuses faded memories of his encounters with James Joyce, Tristan Tzara and Lenin with jumbled recollections of his involvement in a moderately successful production of The Importance of Being Ernest.
The Good
Returning to the West End after many years absence, much of the philosophical and political themes of Stoppard's Travesties remain oddly contemporary. Though set against the very specific historical backdrop of Switzerland in 1917 much of the play's free flowing debate about the meaning of art, love and anarchy are indisputably timeless.
In the lead role as both the befuddled older Henry Carr and the spry younger version of his recollections, British thespian Tom Hollander is perfectly magnificent.  Those that perhaps know him best from his consistently scene stealing supporting work will be even more delighted to see him hold court on stage with an effortless charm and accomplished dry wit. Opening the production with a lengthy and demanding monologue he sets a perfect tone for Stoppard's unique comedic blend of intellectualised stupidity.
Around Hollander a strong cast of gifted supporting talents inject frenetic life into each scene.  Freddie Fox is a perfect madcap foil for Hollander, playing the boundlessly anarchic founder of Dadaism Tristan Tzara. His impressively energetic performance makes sure that even those struggling to grasp the endless array of philosophical word play and early 20th century references will have much enjoy none the less.
Alongside Hollander and Fox the rest of the cast is rounded out by equally amusing performances. Peter McDonald is a fine fit for Stoppard's parody of literary icon and compulsive rhymer James Joyce. Likewise Amy Morgan and Clare Foster provide a scintillating combination of quick wits and dancing feet as the respective love interests of Carr's Oscar Wilde themed fantasies. Forbes Masson also does a great job of making Soviet state builder Lenin both playfully silly and sincerely sermonising by equal turns.
The combined talents of the cast make Stoppard's demanding script work to the very best of its abilities. Whether it's trading verbal barbs or breaking into impromptu musical numbers the production flows with ease, particular in an even livelier second act.
The Bad
The plays relentless barrage of aggressively intellectual language and complex wordplay will soon prove overwhelming for some. Tourists listening in their second language will no doubt struggle, but in truth even for native speakers Stoppard's unashamedly frantic intellectualising demands a very high degree of attention.
At least for those that are either incapable of grasping the full meaning of Stoppard's words or reluctant to expended the requisite effort to keep pace there's enough frequent physical comedy and whimsical musical interludes to keep them satisfied and at least moderately entertained.
The Ugly Truth
Travesties is a unique piece of highbrow theatre expertly brought to life by a fine ensemble cast, led by Tom Hollanders note perfect performance. Entertaining and rewarding on a number of different level it's a production which much to offer satisfying a wide range of west end crowds.
Review by Russell Nelson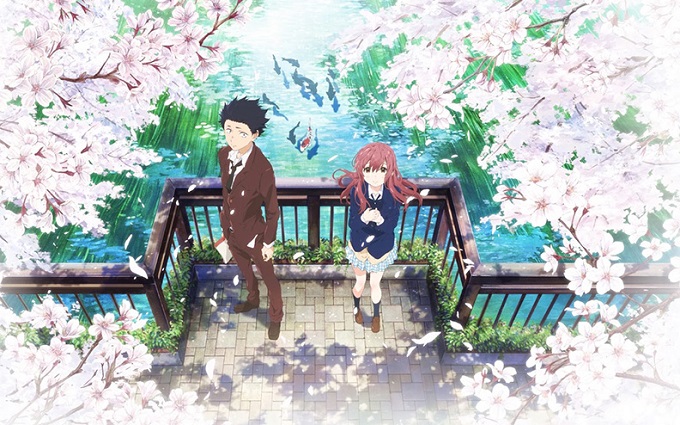 The Plot
A young hearing impaired girl Nishimiya Shoko transfers to a new elementary school but struggles to win the acceptance of her increasingly unkind classmates. Some years later the boy primarily responsible for her bullying Ishida Shouya is dealing with his own loneliness and crippling guilt, setting the pair on an unlikely path towards friendship and forgiveness.
The Good
A Silent Voice deals delicately with important and powerful themes that speak to a truly global audience. With time and sincere care the film explores the emotional complexities of both bullying and disability. Both issues are in truth tackled far too rarely on screen and the film is laudably ambitious in dealing with both simultaneously.
With the aid of a diverse cast of characters surrounding the central paring of Nishimiya and Ishida,  the film captures a detailed portrait of the wide ranging impact the stigma of both bullying and disability can have on victims, perpetrators and bystanders.
In particular the film deserves considerable praise for the unflinching way it captures the perhaps surprising parallels between Nishimiya and Ishida's experiences.  The film manages to illustrate the ugly pains and frustrating isolations they both endure without allowing either character to be solely defined by them.
Though the film is frequently punctuated by moments of pain and grief it also balances this with humour, affection and elegant visuals. While generally tending towards a more realistic style of animation the film does take advantage of a more playful and cartoonish approach to certain characters and scenes to add some much needed joy.
It's simply hard to imagine a better piece of cinematic evidence for the unique capacity and advantages of using animation for sophisticated emotional storytelling.  Watching this film will powerfully illustrate why Japan uses animation as a preferred medium for all genres of cinema, not just the more stereotypical examples of giant robots and fighting ninjas.
The Bad
Those unfamiliar with the unique nuances of Japanese culture and its emotional mind-set may find elements of the characters behaviour a little harder to understand at times and psychologically draining to watch. Even by the standards of western melodrama, the Japanese penchant for relentless self-recrimination accompanied by wailing tears and throwing oneself to the ground in prostrate apology may seem almost excessively hysterical.
Though A Silent Voice explores legitimately heart-breaking subject matter, non-Japanese audiences may find their sadness gives way to possible frustration, particularly during the later stages of the film's lengthy 2 hour and 10 minute run time.
The apparent absence of a much needed calming and sensible adult intervention is increasingly hard to ignore. Likewise it's exponentially agonising to find so many of the characters unable to merely move beyond their past mistakes and embrace their newfound happiness. However it may be that this is partly a flaw in adolescence rather than just a criticism of this specific story.
The Ugly Truth
A Silent Voice is an exquisitely animated piece of unashamedly poignant melodrama.  It is by equal turns tragic, romantic, humorous, sincere and ultimately uplifting. The film represents some of the very finest elements of Anime that may have a particularly surprising impact on those just discovering the true range and depth of Japanese animation.
Review by Russell Nelson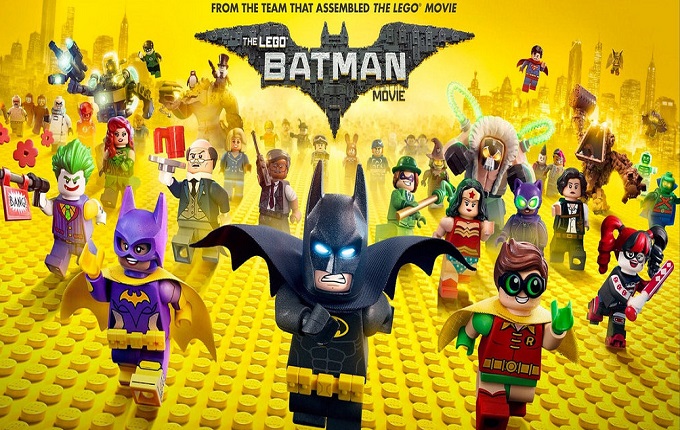 The Plot
In LEGO Gotham Batman finds his comfortable existence of single handily saving the city interrupted when the Joker's latest scheme sees all the familiar villains suddenly out of action. Meanwhile he has to deal with a hotshot new police commissioner and the boy Bruce Wayne accidentally adopted.
The Good
In the LEGO Movie Will Arnett's boastful hard rocking Batman was an unexpected delight. It's rare that supporting comedy figures are so instantly popular that they are immediately given their own starring vehicle. The resulting Lego Batman film has the same glorious visual style as the eye catching Lego movie, which turned the universally popular children's toy into big screen delight.  In addition to an immensely fun and colourful visual appeal, the new film in the rapidly emerging Lego Franchise share much of the same playful comedy tone that made the Lego movie such a sure-fire hit with fans of any age.
The LEGO Batman Movie manages to strike a pretty perfect balance, combining frequent nods to the rich comicbook and cinematic history of the Batman franchise with an entirely original take on DC's most famous creations. The team behind the film succeed in integrating all the familiar characters and gadget packed Batman action with the unique properties of the even more wildly imaginative LEGO universe. As with the very best parody there's also a strong undercurrent of affection for the character that will be shared and appreciated by fans.
Leading man Arnett remains a magnificent vocal fit for the costume clad role, using his trademark flare for hilarious delusional narcissism to create the perfect parody of the iconic bat suited billionaire vigilante. Watching him dispatching villains whilst performing his own hard rocking theme songs is pure ridiculous joy.
The rest of the film's vocal stars are all equally familiar and well-chosen talents. Michael Cera is a perfect foil for his Arrested Development co-star Arnett's bluster, playing a wide eyed and eager to please young Robin. Rosario Dawson does a good job of playing a frequently exasperated New Police Commissioner Barbara Gordon and Zach Galifianakis has plenty of fun playing an emotionally fragile Joker who really just wants Batman to give him some proper attention. Finally Ralph Fiennes lends some authentic British pomp to Batman's long suffering man servant Alfred.
Enjoyable comedy performances, and constant laugh packed action consistently maintains the attention of audiences of any age. A somewhat spectacular action climax featuring musical numbers and cameos from some unexpected characters is just one of the treats the film offers Batman and LEGO fans.
The Bad
The harshest of critics might suggest that Arnett's arrogant Batman parody is effectively an entirely one note joke. While Arnett no doubt excels at this kind of humour, lampooning misplaced egotism, it's fair to say for much of the film he's treading in very familiar waters. Though undeniably a good fit for this Batman send up, it is definitely the same comedy stich that Arnett has offered up in Arrested Development, Bojack Horseman and just about every big screen cameo he's turned in. Though a welcome and often scene stealing delight in small doses of ensemble casts or episodic TV, it's fair to say that those that aren't so impressed by it will find it harder to tolerate in full feature length glory.
The Ugly Truth
The LEGO Batman movie serves as both a magnificent expansion of the newly created LEGO cinematic universe and playful comic book homage. Young fans and older Batman devotees alike will equally enjoy the experience.  The film also serves as a total antidote to the increasingly drab and dreary world of Zach Synder's live action DC Universe.
Review by Russell Nelson
The Plot:
Desperate to keep his beloved old theatre in business a daydreaming Koala Bear called Buster Moon organises a singing competition. Attracting an eclectic mix of animal entertainers each with their own distinct plans for fame and fortune, the competition lurches from one disaster to the next, throwing into question whether Buster and his shining new stars will make all their dreams come true when their big night finally comes…
The Good
Matthew McConaughey is one of the most likeable and charismatic stars of the Big Screen. Even in animated Koala Bear form his distinctive vocal charms are a perfect fit for Buster Moon's relentless optimism and infectious enthusiasm. Even as Buster's smooth talking get him and all those around him into trouble it's simply impossible not to long for his delightful delusions to succeed. It's undoubtedly important for the film to have someone as undeniably sympathetic in its lead role to keep the entire course of the film best intentioned.
Sing's biggest asset by far is an impressive vocal cast that includes Scarlett Johansson, Reese Witherspoon, Jennifer Hudson, Idris Elba and rising star Taron Egerton. They inject a huge amount of actual personality into the films characters which include a shy elephant diva, a rebellious porcupine rocker, a criminal Gorilla family, a downtrodden pig housewife and her flamboyant dancing sidekick.
Ironically particular for younger audiences it is some of Sing's supporting cast that ultimately steal the show and grab the most laughs. Nick Kroll's deliciously silly German pig Gunter is a spandex clad bundle of fun and portly body popping. J-pop Gerbils, singing snails and Buster's bumbling lizard assistant are among the silly slapstick joys likely to bring a smile to young faces.
The film also strives to pack a few simple moral messages in alongside the Lady Gaga cover versions. Each contestant and Buster himself has a little something to teach young fans about pursing dreams and self-belief.
The Bad

While Sing is brightly colourful and will appeal to young audiences in truth it lacks the breath-taking quality of animation which is now so regularly showcased by Pixar and Disney. The film's budget clearly was at least in part diverted toward securing the services of an all-star voice cast. While those vocal performances were no doubt a very worthy investment, in truth they sometimes somewhat outshine the animation quality.  It's simply hard to avoid drawing obvious comparison to Dinsey's recent award winning and Oscar nominated anthropomorphic animal adventure Zootropolis.   In truth the comparisons in both animation quality and storytelling complexity are far from flattering.
Perhaps part of the problem for Sing is that despite its central musical theme, the film ironically can only mostly manage karaoke rendition of familiar pop hits, unlike iconic Disney efforts that introduced their own original collection of memorable musical masterpieces. The only exacerbates the general feeling that as in real life the generic 'talent show' format is already far too overly familiar and riddled with clichés to capture audience's imaginations any more. Ten years ago the film's premise would perhaps have felt a lot more culturally relevant and a bit less overplayed.
The Ugly Truth
Sing is a very successful piece of light family fun sure to delight younger children. A line up of recognisable famous voices and musical numbers keep things watchable for weary parents and more reluctant older siblings.
Review By Russell Nelson