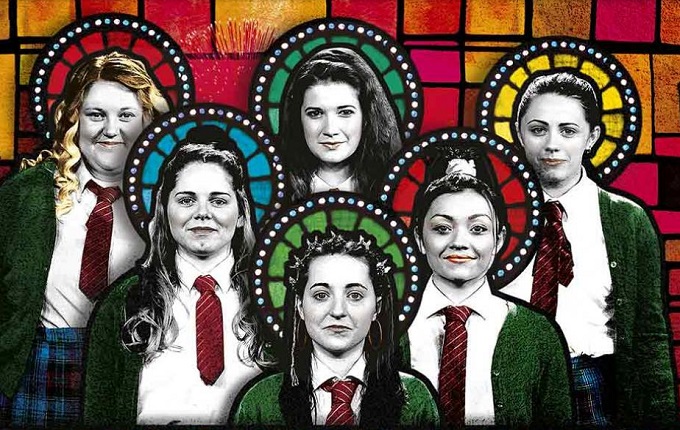 The Plot
Six rebellious convent schoolgirls take advantage of a trip to Edinburgh to compete in a choir competition by instead embarking on a series of increasingly wild misadventures shamelessly fuelled by booze and sex.
The Good
All-female productions and genuine originality are sadly both rare commodities even in the West End. Our ladies delivers both as it offers up a boldly puerile and poignant tale of dramatically misspent youth.
The cast members do a compelling job of not just portraying the six wanton schoolgirls but also simultaneously taking turns portraying the motley assortment of teachers, boys,  bouncers and weirdos  that they cross paths with their wild ride of bad choices.  The shows six young stars deserve significant praise for bringing an entire world to life with convincing impressions, smart staging and a splash of imagination.
Musically Our Ladies provides a unique juxtaposition of elegantly harmonised choral music and karaoke style classic rock. Numerous classic tunes from operatic rock masters ELO give the show regular injections of punchy toe tapping fun. The production does well to avoid the usual pitfalls of so called jukebox musicals by using the well-known pop hits to emotionally punctuate key moments in the story rather than heavy handily trying to construct a narrative around the songs themselves.
While the show regularly falls back on catchy musical escapes and a steady stream of naughty humour it also frequently injects flashes of bitter tragedy that immediately create an additional and perhaps more meaningful layer to what could otherwise have easily been merely a guilty vicarious pleasure.
Having grabbed amusing attention with the contrast between choir girl stereotypes and reckless uninhibited teen delinquency, the play thankfully proceeds to push further and gradually reveal each character's genuine adolescent struggles. The production ultimately sneaks in surprising nuance and fragile sincerity amongst a barrage of brash shameless antics.
The Bad
The production sets out to be provocative, raucous and often downright filthy. This will amuse and entertain many but undoubtedly also prove less palatable for those with more conservative theatrical tastes. Strong Scottish accents and the relentless barrage of shamelessly fouled mouthed slang will also prove a special test for both those with delicate sensibilities and tourists.
Those with a natural ear and appreciation for fierce Scottish banter will be able to enjoy it and the six stories it gradually reveals, however it could easily prove a barrier for those that may struggle to either comprehend or condone it.
While Our Ladies has much to offer it's sometimes unclear exactly which audience the show best targets. Filth ridden adolescent comedy and the vintage classic rock soundtrack potentially appeal to very different audiences. Older ELO fans may find the characters harder to connect with, while younger audiences probably wouldn't be allowed to watch it in the first place.
The Ugly Truth
Our Ladies of Perpetual Succour hits some impressive high and low notes to offer up a truly unique antidote for anyone bored with more typical safe and sanitized west end musical theatre.  Outstanding harmonies and a charismatic young cast help turn a challenging script and compact stage into an arresting display of wild entertainment.
Review by Russell Nelson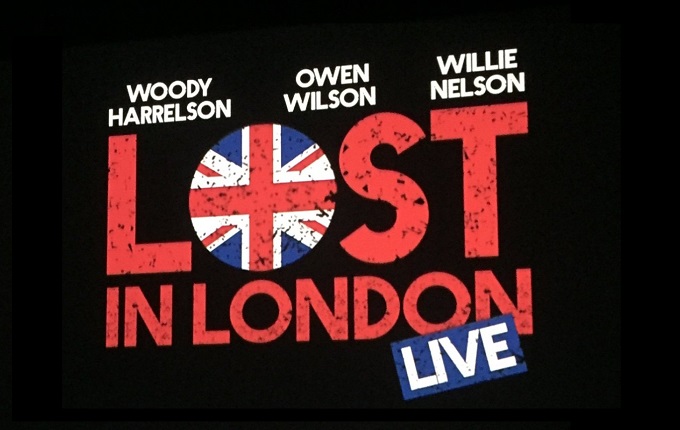 The Plot
A semi-autobiographical account of Woody Harrelson's crazy night out in London as he lurches from one increasingly bizarre calamity to the next whilst trying to merely get home to his wife and family in time for a magical Harry Potter set visit.
The Good
Lost In London represents a truly unique cinematic achievement having been shot in a single take and screened live simultaneously to hundreds of cinemas worldwide. It's a concept so ambitious and almost entirely unprecedented that irrespective of any other qualities the film may boast this alone makes it fascinating viewing. Even more impressive and praiseworthy is that not only does the film manage to succeed in delivering a seamlessly continuous experience but it does so across dozens of locations spread over the heart of one of the world's most famous cities. The precisely choreographed and meticulously planned results are a big screen experience which is both compellingly real and convincingly cinematic.
With every single frame of the film crafted around the performance of writer, director and leading man Woody Harrelson it's impossible to underestimate just how much weight placed upon his undoubted acting talents. In truth few actors would be capable of sustaining a single take feature length story which has so many complex moving parts and genuine mix of comedy and subtle tragedy. Harrelson is one of the rarely gifted performances with the range, nuance and natural screen charisma to hold something like this together.
The film adds another layer of meta intrigue by casting Woody in a semi-autobiographical tale that blurs the lines between fact and fiction. It's certainly interesting for audiences to ponder just how much of the implausible misadventure is rooted in embarrassing fact. The mere fact that any of it happened is in itself an entertaining proposition.
Although Harrelson undeniably deserves extensive praise the strength of a varied and strong supporting cast shouldn't be underestimated. The motley inhabitants of London's nightly streets, clubs, cabs and police stations provide the film with plenty of laughs and some unexpectedly poignant moments too. Though cameos form Owen Wilson and Willie Nelson may be crowd pleasing delights it is the unsung heroes of the less recognisable co-stars that made this unique piece of film a successful reality rather than just a fanciful concept.
The Bad
Obviously the unique nature of filming imposes occasional limitations on the availability of camera angles and the pace of storytelling. Though thankfully it's surprising just how barely noticeable this is. The film is also entirely built around Harrelson's central performance. While undeniably impressive and charismatic obviously anyone who isn't a fan of Harrelson's may find the films entire duration a long time to spend exclusively in his presence. Similarly some audiences may marvel at the film's technical achievements but for one reason or another find the slightly self-aggrandising tale of personal misadventure and largely self-inflicted calamity less appealing.
The Ugly Truth
Lost In London is not only a unique cinematic experiment but also an entertaining and emotionally subtle story the only serves to further cement Woody Harrelson's status as an actor, storyteller and cult hero.
Review by Russell Nelson
The Plot
The Guardians of The Galaxy find their newfound dysfunctional family challenged by old adversaries and strange new interstellar dangers. The fate of the Universe once again rests in the oddly assembled hands of Marvel's instantly beloved band of wisecracking space mercenaries.
The Good
With Guardians of the Galaxy Marvel was supposed to be taking a risk on one of their least well known and strangest comic book commodities. Cynical sceptics feared talking trees and gun touting racoons would easily slip into the shadow of household names like Iron Man or Thor.  Instead director James Gunn and his expertly assembled cast surpassed the wildest expectations of fans and critics alike to deliver a wildly popular box office smash that reaffirmed everything special and fun about Marvel. Establishing the wildly imaginative cosmic scope of Marvel's shared cinematic universe the first Guardians film turned its eclectic characters into instant fan favourites. Armed with a soundtrack of iconic classic rock and a steady stream of genuinely hilarious quips the film struck a remarkably well balanced tone between epic space adventure and a surprisingly sincere emotional core.
So when an inevitable sequel was announced it's hard to understate just how high levels of expectation were. Could Vol.2 possibly replicate the unprecedented success and unique charms of the first film? The answer is a big frickin Yes… obviously.
From a euphorically fun opening title sequence set to ELO's catchy classic Mr Blue Skies, Vol.2 plays out like an accomplished and almost note perfect second album. Returning director James Gunn consistently delivers everything fans want, combining much of what worked so effectively with the first film with interesting character development and imaginative new worlds. It undoubtedly helps that unlike recent Avengers adventures this self-contained film is able to focus exclusively on the Guardians without the distraction of servicing the needs of increasingly complex interwoven Marvel storylines.
Vol.2 reunites the combined talents of a truly special ensemble cast. Chris Pratt is yet again on delightful charismatic form as self-proclaimed legendary outlaw Star-Lord, romantically bickering with Zoe Saldana's Gamora. Bradley Cooper gives smirking ill-tempered Rocket Racoon subtle depth and Dave Bautista is on utterly brilliant scene stealing as hilariously literal Drax. However in truth all their obvious combined charms are eclipsed easily by Guardians smallest secret weapon… Baby Groot.
Responding to the intense fan reactions to the brief appearance of the infant form of Groot during the closing credit of the first film, Vol.2 turns the Vin Diesel voiced character into ten inches of adorable awesomeness. It's impossible to quantify just how amazingly cute Baby Groot is, but what's even more special is the way the diminutive character lends the film both hilarious comedy and heart-breaking poignancy. Evil cynics may be quick to try and dismiss Baby Groot as shameless fan service but in truth it provides an even more powerful and sincere family dynamic for the Guardians.
Director Gunn has been quick to point out that the second Guardians adventure is very much an ensemble piece focusing on the variously dysfunctional emotional dynamics between friends, sisters, fathers and sons. Baby Groot is an invaluable component in that family tapestry, frequently lending the film heart and literally wide eyed wonder.
It's a true testament to the strength of the cast and script that amongst epic space battles and the fate of the universe each of the Guardians explores their own individual emotional journeys.
Kurt Russell's mysterious newcomer Ego and Michael Rooker's morally ambiguous space pirate Yondu both provide a surprisingly complex paternal dynamic for Peter Quill. With Vol.2 promising to resolve the lingering mystery surrounding Star-Lords true parentage and continue the emotional catharsis surrounding his mother's death. Likewise reformed assassin Gamora and her homicidal adoptive sister Nebula violently confront their own painful shared past. Meanwhile Drax enjoys a sweet new friendship with endearingly naïve new hero Mantis. Finally an ill-tempered Rocket is forced to confront his self-destructive tendencies and seek redemption after his rash actions catalyse a somewhat disastrous turn of fortunes for the Guardians setting them all on a dangerous path.
Though Vol.2 offers a predictably satisfying array of one liners, star cameos, well-chosen songs and imaginative action what makes it such a deserving successor to the first film is that it manages to recapture the heart of the original with nuance and subtle sincerity. Of course the film isn't always totally perfect but it's far closer to perfection than is usually considered possible with such large scale superhero blockbusters, especially at the second time of asking.
The Bad
You'll have to buy another ticket if you want to see it again.
The Ugly Truth
Guardians of The Galaxy Vol 2 recaptures everything that is best about Marvel's cinematic universe providing fans with a deeply satisfying and wildly fun sequel that matches sky high expectation.
Review by Russell Nelson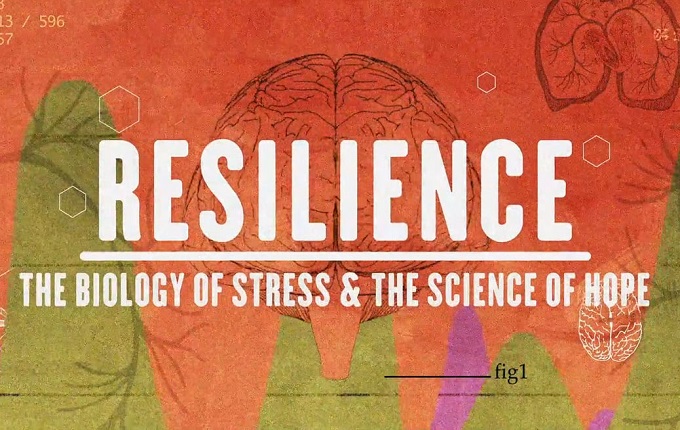 The Plot
Resilience is a documentary charting the growing medical evidence surrounding the possible links between childhood emotional trauma and physical health of adults.
The Good
Director James Redford delivers the latest in a growing series of documentaries handling medical subject matter with due sensitivity and care.  In particular Resilience explores the uncomfortable science surrounding the connection between childhood trauma and life altering physical health conditions. The film provides both an informative education of the latest evidence for this new approach to health management with a subtle investigation to some of the deep rooted public and medical reluctance to accept this new premise that relatively common psychological trauma can have serious long term health consequences.
Redford's approach combining evocative animation with calmly assembled medial and personal testimonies allows the film to cover emotional and taboo subject matter in a clear and concise manner. In a relatively short running time the film succeeds in presenting a picture of a potentially important change in the medical perceptions of the lasting impact of developmental psychology.
The film is also deliberately clear in addressing any potential argument that the notion that adverse childhood experiences have negative health impacts is self-evident or irrelevant. The film seeks to demonstrate that not only is the connection between 'toxic' psychological trauma and illness far more concrete than previously understood, it also potentially hold a key to making vital changes n preventative treatments for a wide range of serious health conditions.
The film serves as careful documentation of an originally controversial medical hypothesis and unashamedly seeks to encourage explorations of what the true impact of accepting this new reality may be.
The Bad
Despite the film's best effort and intentions, no doubt many will find that the subject matter of childhood traumas and terminal illness uncomfortable viewing. If the evidence the film presents is true about the extent to which issues like sexual abuse, violence and emotional trauma affect significant portions of global populations then it's likely this film may feel awkwardly relevant for a great many people.
While the film does it's best to focus on the potential therapeutic benefits of this new science it is difficult, especially for those more directly affected by these findings, to ignore the central premise that childhood traumas do even more lasting damage to people's lives than previously believed. This newfound understanding will likely prove little consolation for adults already living with these potentially devastating and varied health concerns.
The Ugly Truth
Resilience is a concise and well produced documentary that deals with a potentially unpalatable medical subject matter in an engaging and accessible way.
Review by Russell Nelson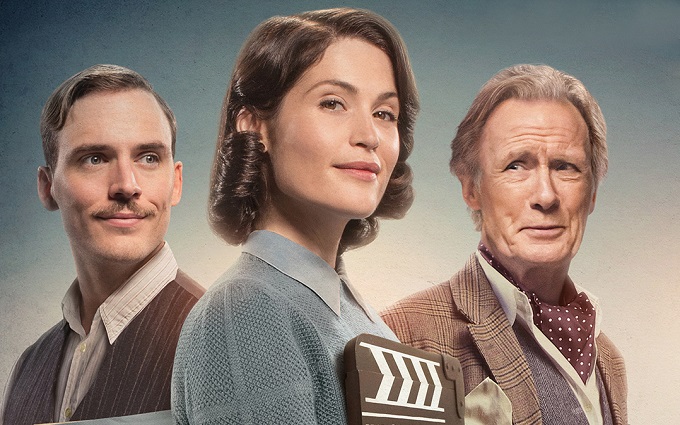 The Plot
During the grim realities of World War 2 a small team of British creative talents fight their own battle to produce a moral boosting film capable of lifting the spirits of the embattled nation and maybe even inspiring a reluctant America to finally join the fight
The Good
Their Finest is a sincere homage to a classic era of cinema magic, offset against one of the most cruel and horrific times in human history.  This unique juxtaposition of despair and hope allows the film to deliver a satisfying tale of stoic bravery that is both poignantly sombre and frequently amusing.  In particular the film serves as a dramatic and timely reminder of the eternal pride that should be felt by the people of Great Britain for their crucial role in saving the world from evil during the darkest of days.
Director Lone Scherfig has assembled a suitably fine British cast including the beautiful talents of Gemma Arterton and a fabulously moustached Sam Claflin. At the heart of the story their frequent bickering as an unlikely writing team is both playful and convincingly tense. Around these two fine young stars a supporting cast littered with familiar faces and copious amounts of talent fleshes out the film's comedy and tragedy.
Bill Nighy is on typically scene stealing form as an aging egomaniacal thespian. His trademark flair for dry wit and playful melodramatics inject frequent bursts of laughter into the cinema. Likewise his ability to subtly switch gears during more dramatic and poignant scenes is a rare gift and perfectly evidenced during some of the film's closing stages.
Likewise Rachel Stirling is a very welcome presence, playing a stereotype defying character that most directly contrasts with the unapologetically repressive social and sexual politics of the era. She frequently provides both dry humour and articulates some of the films more poignant insights.
The Bad
Their Finest seeks to strike a careful balance between the truly tragic hardships of war and the whimsical escapist joy of the cinema. While the film does a mostly fine job of this it's hard for the moments of genuine humour not to end up becoming somewhat overridden by a more pervasive sense of melancholy.  The film is admirable in its message but falls short of being the outright comedy which some audiences may have been more optimistically anticipating.
Leading lady Gemma Arterton remains radiantly beautiful and an accomplished stage actress, however her big screen performances persist in being noticeably theatrical. In particular her thick welsh accent in this role is a slightly inconsistent distraction which in truth adds little to either the story or character. It may have been better to merely allow Arterton to use her well suited natural voice and allow her to focus even more fully on the rest of her performance.
Overall the film has many fine qualities and is poignantly inspiring in places; however particularly during its final stages the introduction of both predictable and unexpected plot twists ultimately steer the film in more sombre directions. Audiences my wonder why a film that celebrates the magic of feel good entertainment can't offer up a little more of joy and a few less tears. But then perhaps that is entirely the point of the film, that cruel distinction between cinematic satisfaction and real life.
The Ugly Truth
Their Finest deals sensitively with an untold side of one the most epic struggle in mankind's history between the forces of good and evil. Although the story has quintessentially British qualities its core message of the inspiring power of art and cinema is universally entertaining and important.
Review by Russell Nelson