The Cripple of Inishmaan Review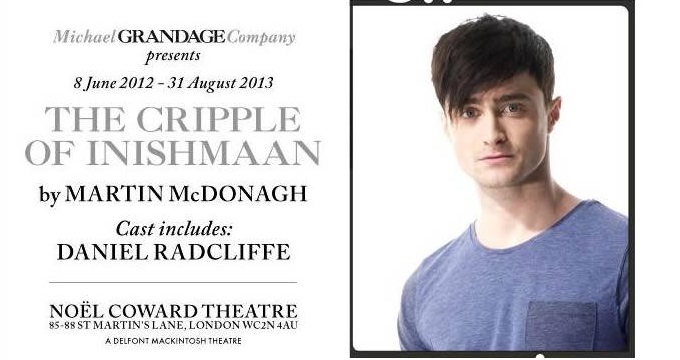 The Plot:
The Cripple of Inishmaan is a dark comedy by Martin McDonagh loosely inspired by the real life filming of the documentary Man of Aran. Set in 1934, the inhabitants of Inishmaan a small island community off the western coast of Ireland are excited to learn of a Hollywood film crew's arrival on a neighbouring Inishmore to make a documentary about island life. 'Cripple' Billy Claven, eager to escape the gossip, poverty and boredom of Inishmaan, vies for a part in the film, and to everyone's surprise, the orphan and outcast gets his chance
The Good:
The play balances its dark subject matter with the kind of jovial Irish wit and farcical self-depreciation familiar to fans of Father Ted or Mrs Browns Boys. The grim realities of island life and the sad situation of 'Cripple' Billy are offset effectively by a steady stream of black humour. Flashes of cruelty and tragedy are soon lost among jokes about cows, dirty priests, alcoholic pensioners and folk acting like a big eejit. It's precisely the kind of gentle silliness required to soften the sharp edges of the play's bleaker moments.
In the title role, Daniel Radcliffe successfully delivers a performance and flawless Irish accent that should go a long way towards convincing those sceptical that his gifts extended purely to playing bespectacled boy wizards of his genuine acting talents. For perhaps the first time, fans will see Radcliffe truly physically and vocally transformed. There's absolutely no trace of the wooden awkwardness of the young star's early Potter appearances.  It's a nice step in his on-going transformation from cringe-worthy child actor to accomplished performer of stage and screen.
Given Radcliffe's status as a real life movie star, there's something especially amusing about having his character's Hollywood dreams dismissed so bluntly by those around him. It's a subtle and convenient in-joke with the audience, which takes its place among a host of successful running gags. Though the play flirts with grim melodrama, it's never too far away from the next laugh, courtesy of a good natured ensemble of daft Irish stereotypes.
The world of Inishmaan is amusingly populated by a familiar array of local gossips, fusspot women, mean girls and idiot boys. Radcliffe may be the marquee name, but the play boasts an excellent cast that brings the rest of the dim witted island community to life. Conor MacNeill and Sarah Greene in particular steal most of the best laughs and much of the show as simple minded Bartley McCormick and his fiery tempered sister Helen. Their bickering and Helen's violent bullying are one of the play's most entertaining clichés.
The Bad:
Devoted Harry Potter fans that are simply eager to see the world's most famous wizard in person may feel a little disappointed by the fact that Radcliffe is an occasional rather than constant presence on stage. Though he performs well, many scenes play out with the 'star' of the show either entirely absent or only offering minimal contributions. Radcliffe may have the title role and be the only face on the poster, but in truth he's merely part of a talented ensemble.
Parents contemplating taking younger Potter fanatics to see their hero should also be warned that the play has dark themes and grim moments that make it obviously unsuitable. It will undoubtedly traumatize your children to see a disabled Harry getting violently physically and verbally abused. It's perhaps safer to merely take them to the stage door for an autograph instead.
Even bigger kids and grown-ups may find that the play's frequent jokes only goes so far in distracting from its somber undertones. It's not always quite so easy to laugh away the gloom of the play's more depressing moments and tragic revelations.
The Ugly Truth:
The Cripple of Inishmaan has enough star power and silliness to distract from its potentially upsetting themes and more serious moments. Titular star Daniel Radcliffe delivers a competent and unselfish performance alongside a great cast that take turns politely stealing the spotlight. The play ultimately succeeds in performing a quintessentially Irish trick of making audiences consistently laugh when in truth they should probably be crying. It's a bittersweet treat that should be appreciated by anyone old enough to recognize the fine line between tragedy and farce.
Video Interview below with Daniel Radcliffe from this year's Olivier Theater Awards talking about life on stage: