Epic Review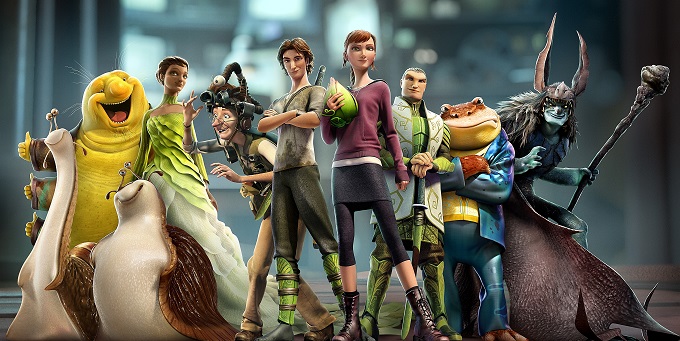 The Plot:
Epic is an animated adventure loosely adapted from William Joyce's classic children's book The Leaf Men and the Brave Good Bugs. A teenage girl called MK finds herself magically transported into a secret woodland universe where she must join a fierce battle between the forces of good who keep the natural world alive and the forces of evil who wish to destroy it.
The Good:
Animation studio Blue Sky has enjoyed great success with their playfully cartoonish Ice Age franchise. However, Epic clearly represents a bold move towards tackling a more intricate and ambitious animation style.
From lingering shots of serene forest scenery to fast paced fantastical battles, Director Chris Wedge largely succeeds in creating a magical world of endearingly tiny proportions. From this fresh miniature perspective the film turns the familiar forest into a sprawling CGI landscape that aims to rival Avatar's Pandora. It should particularly amaze and entertain younger audiences.
Epic also boasts an all-star cast, giving grown-ups the added fun of identifying the endless array of vaguely familiar voices. Amanda Seyfried, Colin Farrell, Chris O'Dowd, Steven Tyler, Beyoncé and Christoph Waltz all lend their eclectic vocal charms to the whimsical assortment of animated characters.
Enthusiastic performances by a strong cast certainly helps breathe life into a generic script and inject personality into what could easily have been disappointing character clichés. Comedian Aziz Ansari steals most of the laughs as a tough talking slug, while Farrell is stoically heroic as square-jawed  Leafman leader Ronin.
The Bad:
Though the ambition behind Epic is laudable, it still falls frequently below the impeccably high standards consistently set by Pixar, particularly when it comes to inventive and original storytelling.
If you strip away the effective distractions of pretty scenery and energetic voice actors, there's surprisingly little actual plot or emotion left at the heart of Epic. Really it's a fairly generic by-the-numbers storyline that feels transparently borrowed from countless other animated efforts, perhaps most notably Ferngully the Last Rainforrest.
Competent animation and the films other merits aren't always quite enough to create the awe like sense of wonder which the film aspires to deliver and its title implies.
The Ugly Truth:
Epic offers plenty of pleasant delights for the eyes and ears that helps deliver a fun filled action adventure, particularly for younger children. However, those cartoon charms might not be enough to entirely distract more reluctant older kids and parents from an underwhelming reliance on overly familiar themes.