Loki vs John Harrison Villain Fight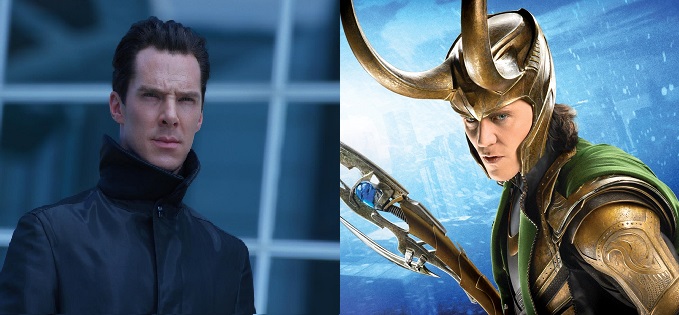 The Avengers had a great villain in Tom Hiddleston as Loki, but Star Trek Into Darkness has an impressively malevolent threat from Benedict Cumberbatch as John Harrison. Who's the best at being Bad… our detailed analysis and verdict below:
Personaility
Loki:
The rightful king of Asgard, Loki is burdened with glorious purpose and he darn well knows it. He's got a powerful hatred of his beefcake brother and more swagger than you can shake a magic spear at. He's debonair, playfully psychotic and never afraid to reduce a mewling quim to tears. Loki is the strutting definition of slick seductive evil, commanding vast armies of Chitauri and fangirls alike. When he tells you just go ahead and kneel.
John Harrison:
An unstoppable force of cunning and relentless fury, this is one genetically superior test tube terror you don't want to end up on the wrong side of. He's got a powerful hatred of Starfleet and an intellect more stunning than a fully charged phaser. He's also seemingly the only person in the future cool enough to wear black in space. He might be a one man army, but his legion of fangirls is equally vast. After all who doesn't love a surly space Sherlock?
Powers
Loki:
Loki is 'practically a god' and endowed with bona fide magic powers. He can slip seamlessly between the fabric of the universe, change his wardrobe at whim and create endless copies of himself (a great way to keep your vast army of fangirls happy). Of course the ability to instantly turn anyone into a devoted follower with just a touch of your spear or a flash of your smile never hurts. Speaking of which, being virtually indestructible is also particularly handy when a moody Green giant smashes you into concrete like an unfortunate rag doll.
John Harrison:
John Harrison has superhuman strength, regenerative healing powers and a mind that's sharper than his well chiseled cheekbones. He's more genius than Sherlock and more ruthlessly cunning than Moriarty. He can easily outsmart the whole of Starfleet whilst efficiently dispatching a small army of Klingons with his bare hands. He does seem to lack the ability to smile though!
Style
Loki:
Whether he's sporting glistening battle armour with a towering horned helmet; or keeping things more low key with a casual suit, scarf & scepter combo… Loki is always all about ostentatious accessorized excellence. Nothing says 'you were made to be ruled' quite like two foot horns and a glowing magic spear. Likewise slicked back hair, piercing eyes and a sneering grin literally screams God of Mischief.
John Harrison:
Whether you're calmly surveying the aftermath of a well-executed plan or going on a violent Klingon killing spree, nothing says super-villain swagger quite like a billowing overcoat. Evil champions always pop a collar Sherlock-style. Of course if you absolutely have to slip into a skin-tight Starfleet spandex onesie then you really can't do better than all black. It's stylish, figure flattering and guaranteed to make you stand out from the crowd.
Evil Masterplan
Loki:
The simplest evil scheme for world domination is usually the best. There's a fine balance between being clever and overly complicating things. Any plan to use a magic cube to unleash a borrowed alien armada that necessitates having yourself imprisoned (without magazines) in a perspex box whilst deliberately provoking earth's greatest superheroes to team up against you, probably isn't quite as genius as you think it is.
John Harrison:
When you're a one man weapon of mass destruction you obviously don't need alien henchmen or magic space cubes to conquer the universe. Oddly enough though you do seemingly still need to deliberately allow yourself to be captured and imprisoned in a Hannibal Lecter style plastic prison. After all nothing confuses and defeats your enemies faster than your unnecessary unconditional surrender. No wait, killing the good guys without fuss or hesitation… that definitely works better.
Preferred Method of Killing People
Loki:
Most of the time it's fine to let your evil minions take care of this ugly business for you; but if you want something done right it's best to do it yourself, preferably by impaling your enemies with the very sharp business end of your nasty looking spear. It's definitely the best way to introduce an ant to your boot.
John Harrison:
Assassinating people with the devastating arsenal of your spaceship is pretty effective, but ripping your enemy's heads off with your bare hands is pretty hard to argue with. Brains will only ever get you so far, sometimes brute strength and brutal beatings are the only way to truly make your point. Don't walk over your enemies cold dead corpses… strut.
Weaknesses
Loki:
Grandstanding theatricality and arrogant swagger are all well and good, but you shouldn't ever be overly reliant on inept alien minions. It's also always a mistake to inadvertently reveal details of your best evil schemes during an ill-advised monologue. It's precisely these kinds of clichéd super villain mistakes that will end up costing you the world. Remember the good guys probably have a Hulk.
John Harrison:
Despite his genetically engineered perfection, he seems to have a pretty hard time cracking a smile and is obviously lacking in floppy 'Sherlock' hair.  It might be a pretty superficial flaw, but a wicked grin and space bangs would undoubtedly look cooler. On a more serious note, never voluntarily send the good guys back to their spaceship shortly after explaining exactly how you plan to destroy them. No good will come of this. Always go with your first instinct of unceremoniously executing them with a phaser blast to the face.
In Real Life
Loki:
Played by Tom Hiddleston, a charmingly intelligent British thespian blessed with impressive cheekbones, piercing Green eyes and a joyous flair for the dramatic.
John Harrison:
Played by Benedict Cumberbatch, a fiercely intelligent British thespian blessed with impressive cheekbones, piercing blue eyes and a joyous flair for the dramatic.
The Final Verdict:
Your new supreme overlord is… LOKI.
Say what you like but it's hard to argue with the little frost giant that could. It's a very close contest for sure but thanks to magic powers, wicked one liners and sheer villainous style we're giving the slight edge to the God of Mischief. Had Cumberbatch had unleashed the full power of his bangs it might have been a different story. As it is the immortal Asgurdian trickster triumphs over the grumpy test tube baby this time.
Let us know what you think in the comments, and don't forget to kneel…