Oz The Great And Powerful Review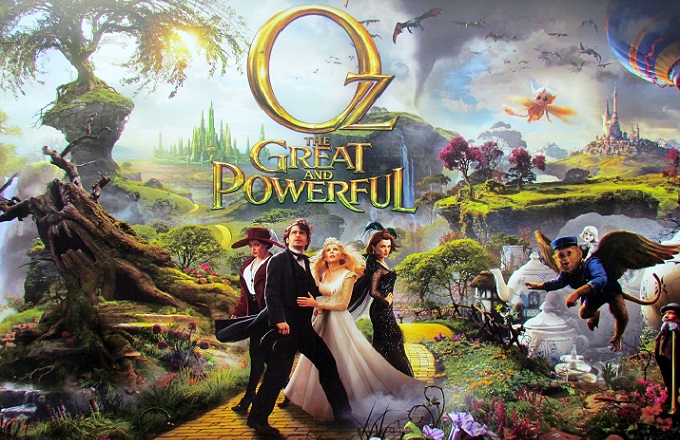 The Plot:
A selfish circus magician called Oscar Diggs finds himself carried away from the dreary troubles of Kansas and hurled into the vibrant Land of Oz by a violent storm. He's quickly drawn into an epic struggle between the forces of good and wickedness by the promise of fame and fortune. Battling witches and flying monkeys with only his con-man cunning, he must prove to both the inhabitants of Oz and himself that he truly is a great man, perhaps even a good one.
The Good:
Director Sam Raimi does a commendable job of commanding modern technology to fabricate an impressively lurid fantasy world in three dimensions. Beginning the film in Black & White with a narrowed screen and only switching to colourful widescreen as we escape Kansas and arrive in Oz is a nice nod to The Wizard of Oz and remains an effective cinematic metaphor almost 75 years later.
From the glistening green emerald city to the cheery yellow brick road, the new film borrows much from the iconic visual charms of the 1939 classic. However, it also combines that familiar camp imagery with a healthy injection of intricate CGI wizardry and whimsical weirdness. Given the film's look and Danny Elfman soundtrack you'd be easily forgiven for mistaking it for one of Tim Burton's better efforts. Of course, that isn't necessarily a bad thing.
Leading man James Franco is a natural fit for the questionably heroic magician Oscar. He convincingly treads a fine line between being charming and suspiciously sleazy and despicably selfish. Franco has an undeniable charisma, but it flirts with arrogance in precisely the way it should for a self-important illusionist.
The film also boasts an impressive trio of powerful witches in beautiful leading ladies Mila Kunis, Rachel Weisz and Michelle Williams.  Their combined aesthetic charms ensure the film is always very easy to look at. Williams in particular deserves great credit for being enchanting enough to keep the saccharine sweet Glinda the Good from ever being too unbearably earnest, instead giving her an almost serene grace.
Zach Braff provides a steady stream of light relief as Oscar's devoted flying monkey sidekick. Hi bumbling antics are more genuinely amusing as an adorable animal. Though arguably the film's most magical performance comes from young starlet Joey King, who voices a heartbreakingly sweet orphaned China Girl.
The Bad:
Past adaptations of L. Frank Baum's fantastical world of Oz have varied wildly from the Technicolor musical kitsch of The Wizard of Oz to the surprisingly dark and wonderfully disturbing sequel Return to Oz. Both have their own merits but naturally appeal to wildly different tastes. In many respects this film lies somewhere between those two extremes. It might not be quite dark enough for those who prefer their fairy tales to be more genuinely Grimm, but it also veers well away from child-friendly cheerfulness at times.
The world of Oz is pretty but sometimes obviously a CGI fabrication. It probably won't distract most people but it might disappoint those who prefer the rough textures and convincing shadows that only the real world can truly deliver. While characters like the Flying Monkeys and China Girl are flawlessly executed special effects creations, 'blue screen acting' does sometimes leave the real actors a little disconnected from the garish landscapes around them.
In terms of storytelling, after a strong opening that promises original adventure with flashes of genuine danger, the film gradually evolves into a more obvious prequel to The Wizard of Oz. Evil armies and wicked witches are inevitably conquered by magic bubbles and musical munchkins, partly taming the film's climax.
The Ugly Truth:
Older fans of the original Judy Garland classic and younger audiences uninitiated in journeys down the yellow brick road should both be left equally satisfied by this vividly colourful fantasy. A well deployed arsenal of special effects and acting talent makes this film a thoroughly enjoyable 3D adventure.
Check out full Press Conference Interviews below with the entire cast and director Sam Raimi: