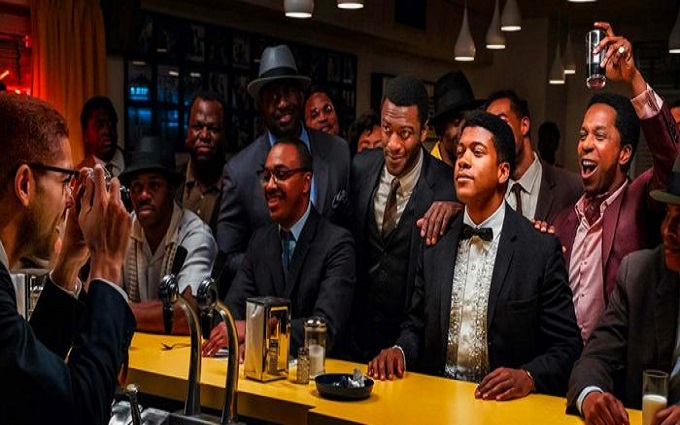 The Plot
A fictional account of one incredible night where icons Muhammad Ali, Malcolm X, Sam Cooke and NFL superstar Jim Brown gathered to discuss their roles in the civil rights movement and the monumental cultural upheaval of the 1960s.
The Good
Capturing the rare magic of this instantly recognisable collection of the most important cultural figures in African American history is a weighty responsibility. In 2020 under a climate of rising global tensions and growing uncertainty there is a particular sense of urgent significance to collectively examining and celebrating these figures.
One Night In Miami instantly succeeds in not just providing cliché impersonations of these famous men, but in giving them each a nuanced and fully human portrayal. Weaving together the lives of four men each remarkable in their own right but each speaking from very different places.
Eli Gorre is devastatingly charismatic as Cassius Clay, capturing the physical prowess and uniquely flamboyant wit of a young 22 year old Muhammad Ali. Kinglsey Ben-Adir likewise offers a variously soft spoken and fiery sincerity to his portrayal Malcolm X. Leslie Odom Jr and Aldis Hodge round out the astonishing quartet of performances as musical master Sam Cooke and Jim Brown. They each add a different flavour of passion and combine to create a genuine warm friendship full of wry charm and earnest affection.
There's an innate fascination to seeing these landmark historical figures sharing even imagined intimate moments. These invented exchanges casually explore profound and complex subject matter in exactly the way the best late night conversations among close friends often seems uniquely capable of.
The film delves into the complex spectrum of attitudes and ideals existing in the African American community during a time of immense struggle and turmoil. Each of these figures reflect a different perspective on the struggle to change the lived experiences of a community, at times flaring into genuine angry tension and conflict. It's perhaps more important today than ever to see four different men locked in earnest debate and exchange of deeply passionate ideas.
The Bad
One of the few criticisms you can make of One Night in Miami is that it's perhaps a little reckless to invent so many private moments for people whose lives have been so extensively publicly documented. You could make the same criticism of almost any other historical biopic though and the film is very clear in its intention to capture the spirit of these men and what they represent rather than to speak explicitly on their behalf.
It's may also be a little too tempting for audiences to immediately treat the period of history being explored on screen as completely interchangeable with the present day. Obviously much of the subject matter and themes explored seems deeply pertinent to an increasingly traumatic current climate, but our world today is not without its own unique myriad complexities. The voices of history speak to us vividly today but they cannot answer all our questions for us.
The Ugly Truth
One Night In Miami is well-crafted, poignant and powerful. Four sensational leading performances capture a nuanced snapshot of historical icons and a turning point in modern American history. It's a celebration of that legacy of change packed with valuable wisdom and heart.
Review by Russell Nelson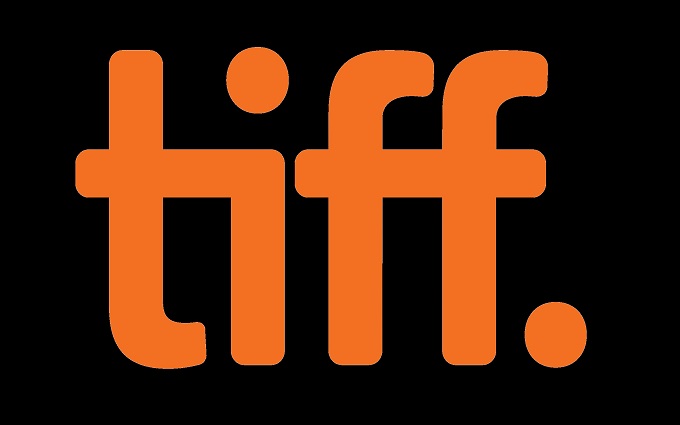 Director Spike Lee's new film American Utopia has opens this year's down scaled Toronto International Film Festival 2020. The film is a record of Talking Heads front man David Byrne's 2019 concert show and played at two open air drive-in cinemas on Thursday.
Only film fans based in the city are allowed to attend physical screenings at this year's event, which will see many of its offerings screened online. This year's London Film Festival will also use a similar "hybrid" model.
TIFF 2020 will showcase 50 feature films. Although there will be no red carpet premieres, celebrity guests will be appearing virtually to introduce and discuss their wares.
Cameron Bailey, Toronto's artistic director and co-head explained
"We still wanted to do a festival. It's important for our audience and I think we just all need some inspiration that art can provide."
Critics have praised American Utopia, which shares its name with Byrne's 2018 album and 2019 Broadway show.
American Utopia will also screen at the New York and London Film Festivals next month ahead of its HBO premiere on 17 October.
Despite being pared down this year, Toronto will still play its customary role as a launch pad for films on the path to potential awards success.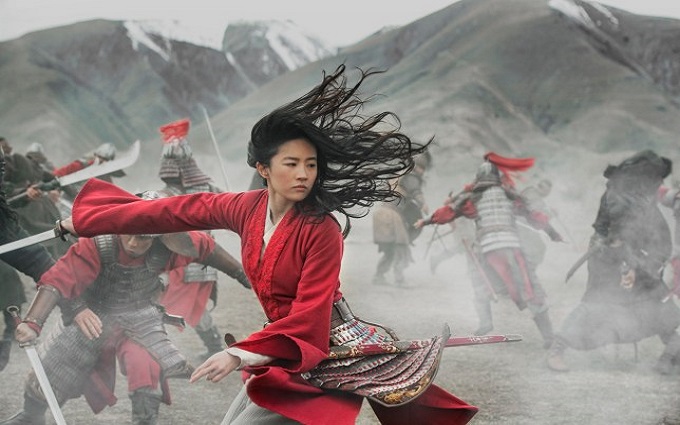 One of the many blockbusters forced to postpone their release date following the coronavirus outbreak, Mulan is now confirmed to be skipping the cinema and heading straight to Disney Plus.
The live action remake of the 1998 animated film was supposed to hit cinemas in early March, but it got pulled as the Covid-19 outbreak caused countries around the world to go into different stages of lockdown.
Since the initial delay, the movie was repeatedly delayed and then removed from Disney's calendar entirely – but now it's been announced that it's coming to Disney's streaming service and a paid premiere event.
The long-awaited film, which stars Yifei Liu as Mulan, will be available on 4 September in markets where Disney Plus is available for $29.99 (£22.00). Though it may still get a cinema release in territories where Disney Plus isn't current available and assuming cinemas aren't still subject to local lock down restraints.
Good news for the long troubled production and fans eager to see the huge budget reboot of the classic tale.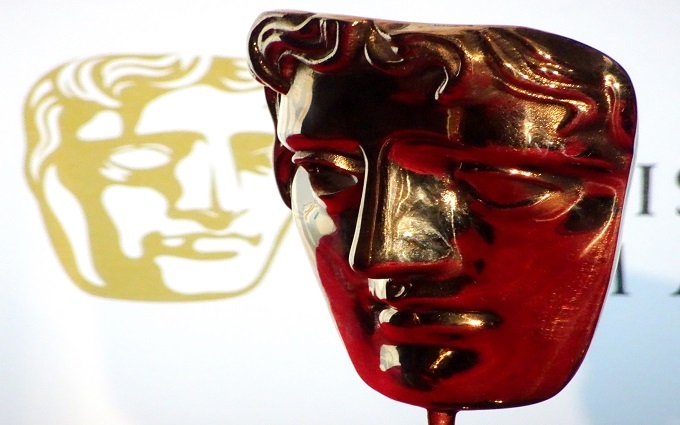 The best British TV of 2019 has been honoured at the BAFTA Television Awards, held virtually on 31 July. Here is the full list of winners and nominees:
Leading actress
Jodie Comer, Killing Eve – BBC One
WINNER – Glenda Jackson, Elizabeth Is Missing – BBC One
Suranne Jones, Gentleman Jack – BBC One
Samantha Morton, I Am Kirsty – Channel 4
Leading actor
Stephen Graham, The Virtues – Channel 4
WINNER – Jared Harris, Chernobyl – Sky Atlantic
Takehiro Hira, Giri/Haji – BBC Two
Callum Turner, The Capture – BBC One
Supporting actress
WINNER – Naomi Ackie, The End of the F***ing World – Channel 4
Helen Behan, The Virtues – Channel 4
Helena Bonham Carter, The Crown – Netflix
Jasmine Jobson, Top Boy – Netflix
Supporting actor
Joe Absolom, A Confession – ITV
Josh O'Connor, The Crown – Netflix
WINNER – Will Sharpe, Giri/Haji – BBC Two
Stellan Skarsgard, Chernobyl – Sky Atlantic
Entertainment performance
Frankie Boyle, Frankie Boyle's New World Order – BBC Two
WINNER – Mo Gilligan, The Lateish Show with Mo Gilligan – Channel 4
Lee Mack, Would I Lie To You – BBC One
Graham Norton, The Graham Norton Show – BBC One
Male performance in a comedy programme
WINNER – Jamie Demetriou, Stath Lets Flats – Channel 4
Ncuti Gatwa, Sex Education – Netflix
Youssef Kerkour, Home – Channel 4
Guz Khan, Man Like Mobeen – BBC Three
Female performance in a comedy programme
WINNER – Sian Clifford, Fleabag – BBC Three
Gbemisola Ikumelo, Famalam – BBC Three
Sarah Kendall, Frayed – Sky One
Phoebe Waller-Bridge, Fleabag – BBC Three
Drama series
The Crown - Netflix
WINNER – The End of the F***Ing World - Channel 4
Gentleman Jack - BBC One
Giri/Haji - BBC Two
Single drama
Brexit: The Uncivil War - Channel 4
Elizabeth Is Missing - BBC One
WINNER – The Left Behind - BBC Three
Responsible Child - BBC Two
Mini-series
A Confession - ITV
WINNER – Chernobyl - Sky Atlantic
The Victim - BBC One
The Virtues - Channel 4
Soap and continuing drama
Casualty - BBC One
Coronation Street - ITV
WINNER – Emmerdale - ITV
Holby City - BBC One
International
Euphoria - Sky Atlantic
Succession - Sky Atlantic
Unbelievable - Netflix
WINNER – When They See Us - Netflix
Entertainment programme
The Greatest Dancer - BBC One
The Rap Game UK - BBC Three
WINNER – Strictly Come Dancing - BBC One
The Voice UK - ITV
Comedy entertainment programme
The Graham Norton Show - BBC One
The Last Leg - Channel 4
The Ranganation - BBC Two
WINNER – Taskmaster - Dave
Scripted comedy
Catastrophe - Channel 4
Derry Girls - Channel 4
Fleabag - BBC Three
WINNER – Stath Lets Flats - Channel 4
Features
Joe Lycett's Got Your Back - Channel 4
WINNER – The Misadventures of Romesh Ranganathan - BBC Two
Mortimer & Whitehouse: Gone Fishing - BBC Two
Snackmasters - Channel 4
Must-see moment
Coronation Street, the death of Sinead Osborne – ITV
Fleabag, Confessional scene – BBC Three
Game of Thrones, Arya kills the Night King – Sky Atlantic
WINNER – Gavin and Stacey, Nessa proposes to Smithy – BBC One
Line of Duty, John Corbett's death – BBC One
Love Island, Michael recouples after Casa Amor – ITV2
Current affairs
Growing Up Poor: Britain's Breadline Kids (Dispatches) – Channel 4
The Hunt for Jihadi John - Channel 4
Is Labour Anti-Semitic? (Panorama) – BBC One
WINNER – Undercover: Inside China's Digital Gulag (Exposure) – ITV
Single documentary
The Abused - Channel 5
David Harewood: Psychosis and Me - BBC Two
The Family Secret - Channel 4
WINNER – Last Survivors - BBC Two
Factual series
Crime and Punishment - Channel 4
Don't F**K With Cats: Hunting an Internet Killer - Netflix
WINNER – Leaving Neverland - Channel 4
Our Dementia Choir with Vicky McClure - BBC One
Reality and constructed factual
Celebrity Gogglebox - Channel 4
Harry's Heroes: The Full English - ITV
WINNER – Race Across the World - BBC Two
RuPaul's Drag Race UK - BBC Three
Specialist factual
8 Days: To the Moon and Back - BBC Two
Seven Worlds, One Planet - BBC One
Thatcher: A Very British Revolution - BBC Two
WINNER – Yorkshire Ripper Files: A Very British Crime Story - BBC Four
News coverage
WINNER – Hong Kong Protests - Sky News
ITV News At Ten: Election Results - ITN/ITV
Prince Andrew & The Epstein Scandal (Newsnight) – BBC News/BBC Two
Victoria Derbyshire: Men who Lost Loved Ones to Knife Crime - BBC News/BBC Two
Sport
WINNER – 2019 Rugby World Cup Final: England v South Africa - ITV
ICC Cricket World Cup Final - Sky Sports Cricket
Fifa Women's World Cup 2019 Semi Final: England v USA - BBC One
Wimbledon 2019 Men's Final - BBC One
Live event
WINNER – Blue Planet Live - BBC One
Election 2019 Live: The Results - ITN/ITV
Glastonbury 2019 - BBC Two
Operation Live - Channel 5
Short-form programme
Anywhere But Westminster - The Guardian
WINNER – Brain in Gear - BBC iPlayer
Soon Gone: A Windrush Chronicle - BBC Four
Toni_With_An_I (Born Digital: First Cuts) - BBC Four
Special Bafta

Here is the official British Academy Television Craft Awards winners  list in full below a announced on 17 July 2020, Winners marked in bold.
BREAKTHROUGH TALENT sponsored by Sara Putt Associates
AISLING BEA (Writer) This Way Up – Merman TV/Channel 4
ANEIL KARIA (Director) Pure (ep 3) – Drama Republic/Channel 4 & Top Boy (ep 10) – Cowboy Films, Easter Partisan Films, Dream Crew, SpringHill Entertainment/Netflix
LAURIE NUNN (Writer) Sex Education – Eleven Film/Netflix
SEAN BUCKLEY (Writer) Responsible Child – Kudos, 72 Films/BBC Two
COSTUME DESIGN
CAROLINE MCCALL His Dark Materials - Bad Wolf, BBC Studios, HBO/BBC One
JOANNA EATWELL Beecham House – Bend It TV/ITV
MICHELE CLAPTON Game of Thrones – Bighead, Littlehead, 360 Television, Startling Television/HBO/Sky Atlantic
ODILE DICKS-MIREAUX Chernobyl – Sister, The Mighty Mint, Word Games/HBO/Sky Atlantic
DIRECTOR: FACTUAL
ARTHUR CARY The Last Survivors – Minnow Films/BBC Two
DAN REED Leaving Neverland – AMOS Pictures/Channel 4
MARK LEWIS Don't F**k with Cats: Hunting an Internet Killer – Raw TV/Netflix
ROBIN BARNWELL Undercover: Inside China's Digital Gulag (Exposure) – Hardcash Productions/ITV
DIRECTOR: FICTION sponsored by 3 Mills Studios
HARRY BRADBEER Fleabag – Two Brothers Pictures/BBC Three
JOHAN RENCK Chernobyl – Sister, The Mighty Mint, Word Games/HBO/Sky Atlantic
SHANE MEADOWS The Virtues – Warp Films, Big Arty Productions/Channel 4
TOBY HAYNES Brexit: The Uncivil War – House Productions/Channel 4
DIRECTOR: MULTI-CAMERA sponsored by Jackshoot
BRIDGET CALDWELL The Royal British Legion Festival of Remembrance – BBC Studios/BBC One
JANET FRASER CROOK Glastonbury 2019 – BBC Studios/BBC Two
MATTHEW GRIFFITHS Six Nations 2019 – Wales v England – BBC Sport/BBC One
PAUL MCNAMARA ITV Racing: Cheltenham Festival – ITV Sport/ITV
EDITING: FACTUAL
ANDY R. WORBOYS Untouchable: The Rise and Fall of Harvey Weinstein – Lightbox/BBC Two
JULES CORNELL Leaving Neverland – AMOS Pictures/Channel 4
KIM HORTON 63 Up – MultiStory Media/ITV
MICHAEL HARTE Don't F**k With Cats: Hunting an Internet Killer – Raw TV/Netflix
EDITING: FICTION
DAN CRINNION Killing Eve (Episode 4) – Sid Gentle Films/BBC One
ELEN PIERCE LEWIS Giri/Haji – Sister/BBC Two/ Netflix
GARY DOLLNER Fleabag – Two Brothers Pictures/BBC Three
SIMON SMITH, JINX GODFREY Chernobyl – Sister, The Mighty Mint, Word Games/HBO/Sky Atlantic
ENTERTAINMENT CRAFT TEAM sponsored by Hotcam
AMBER RIMELL, BRONSKI, MISTY BUCKLEY, TIM ROUTLEDGE Glastonbury 2019 (Stormzy) – BBC Studios, Tawbox/BBC Two
DAVID BISHOP, VICKY GILL, ANDY TAPLEY, PATRICK DOHERTY Strictly Come Dancing – BBC Studios/BBC One
MARK BUSK-COWLEY, STEVE KRUGER, IAIN STIRLING, JAMES TINSLEY Love Island – ITV Studios, Motion Content Group/ITV 2
NIGEL CATMUR, PATRICK DOHERTY, KEVIN DUFF, ANDREW STOKES The Royal British Legion Festival of Remembrance – BBC Studios/BBC One
MAKE UP & HAIR DESIGN sponsored by MAC Cosmetics
DANIEL PARKER, BARRIE GOWER Chernobyl – Sister, The Mighty Mint, Word Games/HBO/Sky Atlantic
INMA AZORIN The Trial of Christine Keeler – Ecosse Films, Great Meadow Productions/BBC One
KIRSTIN CHALMERS Catherine the Great – New Pictures, Origin Pictures/Sky Atlantic
LOZ SCHIAVO Peaky Blinders – Caryn Mandabach Productions, Tiger Aspect/BBC One
ORIGINAL MUSIC
ADRIAN JOHNSTON Giri/Haji – Sister/BBC Two/ Netflix
ANDREW PHILLIPS War in the Blood – Minnow Films/BBC Two
DAVID HOLMES, KEEFUS CIANCIA Killing Eve – Sid Gentle Films/BBC One
HILDUR GUDNADÓTTIR Chernobyl- Sister, The Mighty Mint, Word Games/HBO/Sky Atlanticc
PHOTOGRAPHY: FACTUAL sponsored by The Farm
BERTIE GREGORY, HOWARD BOURNE, JOHN SHIER Seven Worlds, One Planet – BBC Studios/BBC One
DOUG ANDERSON, ROGER HORROCKS, GAVIN THURSTON Our Planet (Coastal Seas) – Silverback Films/Netflix
JAMIE MCPHERSON, HECTOR SKEVINGTON-POSTLES, BARRIE BRITTON Our Planet (Frozen Worlds) – Silverback Films/Netflix
PATRICK SMITH, NEIL HARVEY Untouchable: The Rise and Fall of Harvey Weinstein – Lightbox/BBC Two
PHOTOGRAPHY & LIGHTING: FICTION sponsored by ScreenSkills
ADRIANO GOLDMAN The Crown – Left Bank Pictures, Sony Pictures Television/Netflix
JAKOB IHRE Chernobyl - Sister, The Mighty Mint, Word Games/HBO/Sky Atlantic
JOE ANDERSON Top Boy – Cowboy Films, Easter Partisan Films, Dream Crew, SpringHill Entertainment/Netflix
SUZIE LAVELLE His Dark Materials (Episode 3) – Bad Wolf, BBC Studios, HBO/BBC One
PRODUCTION DESIGN sponsored by Microsoft
LAURENCE DORMAN, LINDA WILSON Killing Eve – Sid Gentle Films/BBC One
LUKE HULL, CLAIRE LEVINSON-GENDLER Chernobyl – Sister, The Mighty Mint, Word Games/HBOSky Atlantic
MARTIN CHILDS, ALISON HARVEY The Crown – Left Bank Pictures, Sony Pictures Television/Netflix
SAMANTHA HARLEY, MIRI KATZ Sex Education – Eleven Film/Netflix
SCRIPTED CASTING sponsored by Spotlight
DES HAMILTON Top Boy – Cowboy Films, Easter Partisan Films, Dream Crew, SpringHill Entertainment/Netflix
LAUREN EVANS Sex Education – Eleven Film/Netflix
NINA GOLD, ROBERT STERNE Chernobyl – Sister, The Mighty Mint, Word Games/HBO/Sky Atlantic
YOKO NARAHASHI, SHAHEEN BAIG, LAYLA MERRICK-WOLF Giri/Haji - Sister/BBC Two/ Netflix
SOUND: FACTUAL sponsored by Shure
GRAHAM WILD, KATE HOPKINS Seven Worlds, One Planet – BBC Studios/BBC One
GRAHAM WILD, KATE HOPKINS, TIM OWENS Our Planet (One Planet) – Silverback Films Production/Netflix
NICK FRY, STEVE SPEED, JAMES EVANS, NICK ADAMS Formula 1: Drive to Survive – Box to Box Films/Netflix
SOUND TEAM Battle of the Brass Bands – Two Four/Sky Arts
SOUND: FICTION
DILLON BENNETT, JON THOMAS, GARETH BULL, JAMES RIDGWAY His Dark Materials – Bad Wolf, BBC Studios, HBO/BBC One
SOUND TEAM A Christmas Carol – FX Productions in association with the BBC, Minim UK Productions, Scott Free, and Hardy Son & Baker/BBC One
SOUND TEAM Chernobyl – Sister, The Mighty Mint, Word Games/HBO/Sky Atlantic
SOUND TEAM The Crown – Left Bank Pictures, Sony Pictures Television/Netflix
SPECIAL, VISUAL & GRAPHIC EFFECTS
BEN TURNER, CHRIS REYNOLDS, ASA SHOUL The Crown – Left Bank Pictures, Sony Pictures Television/Netflix
FRAMESTORE, PAINTING PRACTICE, REAL SFX, RUSSELL DODGSON His Dark Materials – Bad Wolf, BBC Studios/HBO/BBC One
LINDSAY MCFARLANE, CLAUDIUS CHRISTIAN RAUCH, JEAN-CLÉMENT SORET, DNEG Chernobyl – Sister, The Mighty Mint, Word Games/Sky Atlantic
MILK VISUAL EFFECTS, GARETH SPENSLEY, REAL SFX Good Omens – Amazon Studios, BBC Studios, Narrativia, The Blank Corporation/Amazon Prime Video
TITLES & GRAPHIC IDENTITY
ALEX MACLEAN The Durrells – Sid Gentle Films/ITV
ELASTIC Catherine the Great – New Pictures, Origin Pictures/Sky Atlantic
ELASTIC, PAINTING PRACTICE His Dark Materials – Bad Wolf, BBC Studios, HBO/BBC One
LIGHT CREATIVE Ghosts – Monumental Television, Them There/BBC One
WRITER: COMEDY
DANNY BROCKLEHURST Brassic – Calamity Films/Sky 1
JAMIE DEMETRIOU Stath Lets Flats – Roughcut TV/Channel 4
PHOEBE WALLER-BRIDGE Fleabag – Two Brothers Pictures/BBC Three
SAM LEIFER, TOM BASDEN Plebs – Rise Films/ITV2
WRITER: DRAMA
CHARLIE COVELL The End of the F***ing World – Clerkenwell Films, Dominic Buchanan Productions/Channel 4/Netflix
CRAIG MAZIN Chernobyl – Sister, The Mighty Mint, Word Games/Sky Atlantic
JESSE ARMSTRONG Succession – HBO Entertainment, Project Zeus, Hyperobject Industries, Gary Sanchez Productions/Sky Atlantic
SHANE MEADOWS, JACK THORNE The Virtues – Warp Films, Big Arty Productions/Channel 4