Olympic Gold Medalist Caryn Davies Interview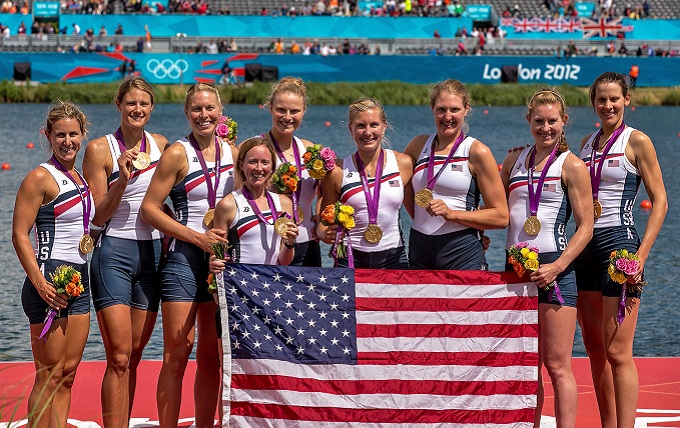 Team USA Rowing star Caryn Davies won a Gold medal at the London 2012 Olympic Games competing in the Women's Eight. Adding to the previous Gold she took home at the last Beijing Olympics in 2008, this makes her an astonishing double Olympic Champion.
Proudly wearing her new Gold Medal, Caryn spoke to our roving reporter Russ at yet another amazing night at Omega House. A Bollywood themed party hosted by real life Bollywood superstar Abhishek Bachchan.
Caryn talks about the exhilaration of wining Gold, shares her favourite Olympic memory and gives her message to the next generation of inspired athletes whilst announcing her own plans to retire from rowing as soon as the Games officially close.
How does it feel to have won Olympic Gold?
It's actually very tiring, I do think I've recovered from my race yet and it hasn't set in yet but it feels amazing and I'm really looking forward to enjoying London.
Can you describe the range of emotions you feel at that moment when you know you're a winner?
This time around the greatest emotion was relief because we were actually favourites coming into the race. So I knew that anything less than Gold this time would have been a disappointment. Four years ago when we won Gold for the first time that was more of disbelief. Like Oh my goodness I'm an Olympic champion and I will be forever. It was quite an amazing moment.
Speaking as a double Olympic champion, what do you think it is that distinguishes the Olympics form all other sporting contests?
I think actually it's the friendships formed. To start with it's about the friendships amongst teammates. Those girls that I rowed with will be my friends for life. But also the people that I meet here from other countries, the athletes, the coaches, the staff; everyone is just working so hard for one goal and there's no bond like that.
How do you think London has compared to other Olympics?
I think the crowds are incomparable. Especially at the rowing, because rowing is one of Britain's great sports. Everyone seems to know what it's about and the crowd was just probably the loudest I've ever heard and I think that was probably the best part.
Fans will have their own favourite Olympic memories, where there any particular Olympic moments which inspired you when you were younger?
My favourite Olympic moment was actually in 1998 at the Men's Downhill. When Hermann Maier crashed. It was an absolutely spectacular crash and at the time I was a skier so I was watching very avidly. At first you thought, oh my goodness he might be dead. He went flying through the air sideways and went through three fences before he came to a stop. He sat up, got to his feet and went "I'M OKAY I'M OKAY!!!". Then the next day he went on to win Gold in the giant slalom. So that was pretty incredible. It was just such a good story of coming back against the odds and overcoming obstacles.
The Olympics gives us those amazing moments but how much have you had to sacrifice to be a part of it?
I think the biggest sacrifice that I and most of our teammates have made I in our careers. All of us are college graduates and we're earning about 10,000 dollars a year rowing, when we could probably be earning closer to 100,000 dollars if we had continued with our careers. So my mom likes to think of it as playing Peter Pan. Eventually I'm going to have to get a real job; in fact I plan to right after these Games. I plan to retire and get a job. But I think the most difficult thing has been living out of a suitcase on a shoestring budget, but it does teach you want you can do with very little.
Aside from you Olympic glory what have been the proudest moments of your sporting career?
Well I wasn't living out of a suitcase at the time but my proudest athletic achievement was beating all the boys in the third grade arm wrestling competition. That can be verified by my third grade gym teacher. Though I didn't get a medal for that I only got bragging rights!
What does an Olympic Medal actually feel like?
It's definitely the heaviest medal I have ever worn and it might cause me to have a permanent lean forward for the next few weeks as I struggle under the weight of it. But I pretty much wear it under my shirt at all times and it gets warm. It pretty much seems to have a glow of its own, a warm glow.
Do you have a message for young fans who've been inspired by the Olympics, particularly when watching the magnificent rowing?
Yeah I think the biggest message is to have fun, because if you find something that you love and really enjoy doing then that's when you're willing to put in the hours and effort to get really good at it an reach the highest levels!