The Hobbit: Desolation of Smaug Fun Facts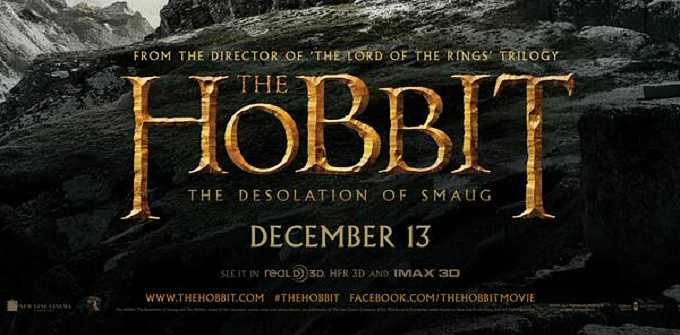 This week sees the long awaited release of the second chapter in Peter Jackson's big screen adaptation of J.R.R. Tolkein's fantasy epic The Hobbit. The Hobbit: The Desolation of Smaug continues the adventures of Bilbo Baggins as he journeys with the Wizard Gandelf and thirteen Dwarves, led by Thorin Oakenshield,  on an epic quest to reclaim the Lonely Mountain and the lost dwarf kingdom of Erebor. 
The film features returning stars Sir Ian McKellen, Richard Armitage and Martin Freeman, alongside Evangeline Lilly, Lee Pace, Luke Evans and Orlando Bloom.  Benedict Cumberbatch also lends his unmistakable vocal menace to the terrifying Dragon Smaug. Check out below some interesting facts about exactly what else went into the production of the new film and check out our own exclusive interviews with Dwarves Adam Brown  and  William Kircher.
4 Tons of Silicon were used to make the facial prosthetics used in the film.
5 Hours spent applying hair, make-up, prosthetics and wardrobe for each of the 13 dwarves.  
6 Weeks taken to build Beorn's house set.
7 km of toupe tape were used to apply all the film's beards to people faces.
9 weeks were spent on location filming the trilogy.
10 kg of actual human hair was used for wig making.
14 Tons of silicon used to mold the armor and weapons used.
48 FPS the revolutionary higher frame rate used to film the trilogy.
91 Wigs created just for the dwarves.
95 Musicians in the New Zealand Symphony Orchestra that recorded the film's score.
99 Studios sets built for the Trilogy.
100+ Hobbit feet were made just for Bilbo Baggins.
263 Beards used in the whole production.
400 Costumes created for the inhabitants of Lake-Town.
547 Traveling weapons made for the 13 Dwarves.
752 Wigs used in the whole production.
1200 Extras cast in the Hobbit trilogy.
2000 Hand-spun goblets created for Smaug's Lair.
8900 hours of continuous work from the art department to build, decorate and tear down sets.
11,862 Prosthetics made for the entire Hobbit Trilogy
170,000 Aluminium gold plated coins trickled over Smaug's Lair.