The BFG Review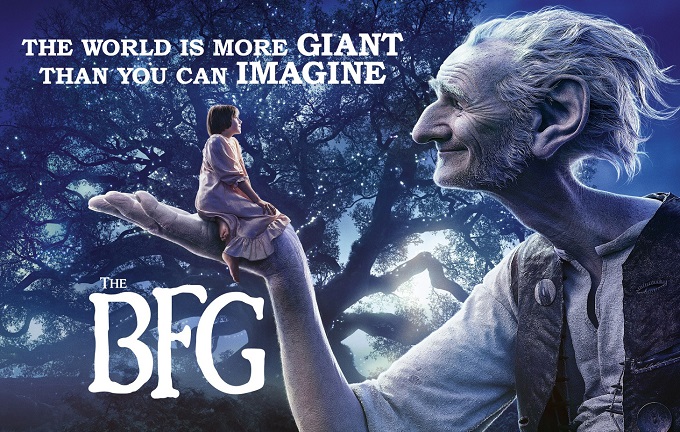 The Plot
An inquisitive young orphan girl Sophie forms a most magical and unlikely friendship with a dream delivering giant. But when the rest of giant country's inhabitants prove to be ferocious child eaters Sophie and her Big Friendly Giant must do something extraordinary to save the children of England.
The Good
Guided by the expert hands of master filmmaker Steven Spielberg this live action/CGI version of Roald Dahl's beloved children's classic perfectly captures the colourful charm of Quentin Blake's original illustrations. Building upon further fond memories of the 1989 animated version, this new imagining of the familiar tale uses the full arsenal of modern special effects to breath fresh life into the whimsical charms of Giant Country. Younger audiences and parents alike will enjoy the gloriously technicoloured fun of dream catching and the lush magical landscape of Roald Dahl's boundless imagination.
Veteran character actor Mark Rylance is rapidly becoming an unlikely global superstar and Spielberg's most consistent onscreen partner. The British star is also undeniably a perfect fit for the role of the Big Friendly Giant. His winsome face lends itself easily to subtle CGI enhancement while his soft spoken voice perfectly captures both the homely charm and unique linguistic acrobatics of the BFG. Dahl's playful flair for language was never more memorably epitomised than by the BFG and his magnificently muddle mutterings. It's easily one of the film's most endearing and entertaining attributes.
Newcomer Ruby Barnhill proves to be yet another magnificent Spielberg discovery, providing the perfect counterpoint to the BFG as the unfalteringly brave and inquisitive Sophie. The precocious young actress has a natural charm of her own and appropriately looks destined for big things. Her unlikely but credible friendship with Rylance's befuddled giant gives the film convincing heart.
The Bad
Roald Dahl is a genius storyteller who has a unique ability to combine fantastical elements with important lessons for children and adults alike. Unfortunately The BFG lacks some of the complexity and darkness of his other celebrated works like Charlie and The Chocolate Factory, Fantastic Mr Fox or The Witches. Skewing intentionally towards a young audience the original book and the film by turn has a fairly simple story to tell, mostly lacking in action sequences. This poses problems when stretched over a 117minute running time, which is notably half an hour longer than its animated predecessor.
Dahl's chocolate factory and its various big screen versions packs in a slew of memorably illustrated moral messages about flawed parenting and the greedy spoilt TV addicted children it produces. Each blackly comic lesson it teaches neatly fitting into amusing musical set pieces. In sharp contrast The BFG really only has one loosely defined message about learning from those that are different and giving new friendships a chance. The film has plenty of heart & rosy sentimentality but perhaps lacks the darker subtext more appealing to grown-ups.
The Ugly Truth
Roald Dahl and Spielberg fans who remain young at heart will welcome this beautifully realised combination of the two genius children's storytellers. Older children and more cynical minds may  find the tale a little silly and simple in places, but those with a special fondness for the previous incarnations of this much beloved classic will be as delighted as those younger audiences experiencing it for the first time.
Review by Russell Nelson