Summer In February Review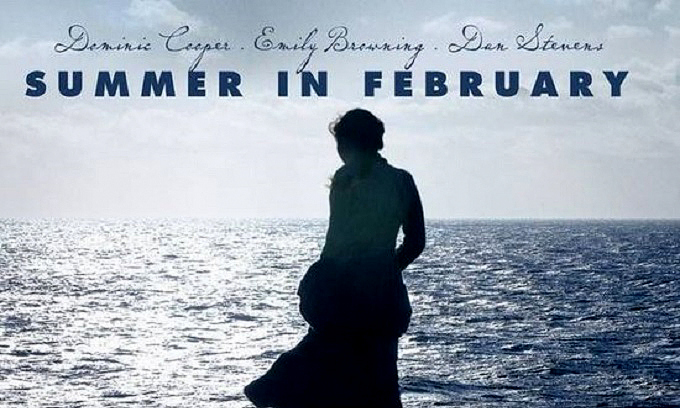 The Plot:
When a beautiful young woman moves into a lively Edwardian artist colony in Cornwall she finds herself caught up in a passionate love triangle between wild artistic genius Alfred Munnings and handsome soldier Captain Gilbert Evans.
The Good:
Based on actual events and real people, Summer In February is a slow burning period drama set against a lush Cornish seaside landscape. The film's visuals are both sumptuous and seductive, taking full advantage of the dramatic scenery of constantly crashing waves and wind swept cliff tops. It also adds an ominous inevitability of brooding melodrama. Gentle cinematography, ornate costumes and a pretty natural backdrop gives the film a particular breed of rustic glamour.
Australian starlet Emily Browning brings a convincingly fragile English rose beauty and polished plummy accent to the role of Florence. It's entirely understandable that she has two very different men both vying for possession of her porcelain doll features. She also handles the requisite mood swings from blissful happiness to hysterical despair quite well.
Dominic Cooper has a rare gift, for looking pleased with himself. Playing a caddish womanising artist he consistently beams with that typical smug satisfaction. He's effectively typecast, flirting as usual with the finest line between charming and obnoxious. Downton Abbey star Dan Stevens, armed with foppish hair and polite clipped tones, is a welcome contrast and likeably banal love rival.
The film's attractive central trio do their very best to manufacture some genuine chemistry; creating plausible flashes of friendship, love, jealousy and betrayal amongst themselves.
The Bad:
Though much beloved in the UK, the slow paced subtleties of 1920's period drama aren't of course universally appealing. Compared to the satisfyingly explicit passions of contemporary romantic drama the polite restraint and languid pace of these proceedings won't ignite everyone's interest.
If you typically loath formal melodramatics then you will likely be frustrated by a collection of characters who fabricate complex social problems entirely thanks to an irrationally steadfast refusal to acknowledge or discuss their emotions. It's difficult to witness attempts at happiness that flounder needlessly as obvious solutions are ignored merely to observe antiquated social niceties.
Whilst the film successfully captures the look of iconic period drama, it ultimately fails to deliver quite enough smouldering undertones of passions or feel-good romantic satisfaction.
The Ugly Truth:
After a bright opening full of brisk walks, poetry and sprinklings of romantic charm; Summer In February gradually turns more sullen and sombre. A well composed production boasting handsome scenery and pretty stars lends the film a little more elegance than its occasionally heavy handed Mills and Boon style plot. It should be perfect for melancholy fans of weepy romantic page turners, but won't warm colder hearts.