Karl Pilkington Caravan Book Tour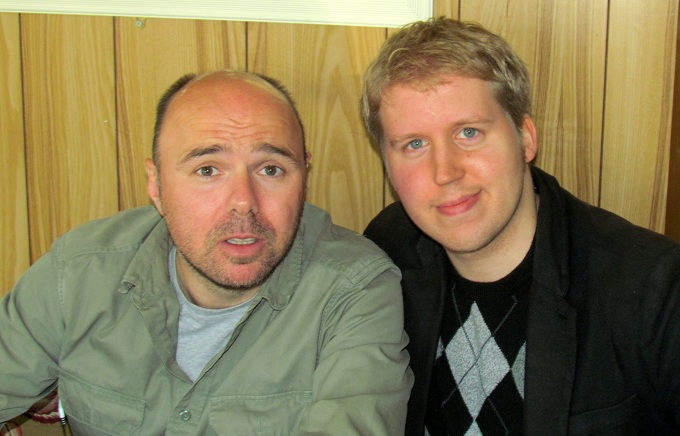 Karl Pilkington is a unique national treasure, hailed as an unintentional comedy genius by fans but derided as a round headed moron by his best friends. Over the past few years the former XFM radio producer has been reluctantly transformed into a popular media personality by his friendly tormentors Ricky Gervais and Stephen Merchant. The Office and Extras creator Gervais admits that he considers introducing the world to Karl's unique droll charms his greatest achievement.
Last weekend in a caravan in the car pack of an ASDA superstore in Watford, a lucky crowd of delighted fans finally got the chance to meet Karl in person. This was the unlikely setting for Karl's first ever book signing event, launching his latest book The Further Adventures Of An Idiot Abroad. The book documents Karl's most recent exploits, exploring the bucket list of things to do before you die in the second series of An Idiot Abroad.
By mid-morning Saturday, hundreds of people had descended on the mobile home to greet Karl, keen to take advantage of the rare opportunity to meet their hero.  They were undeterred by a sign above the caravan that proudly proclaimed "Karl Pilkington: I'd Rather Be Anywhere Else But here".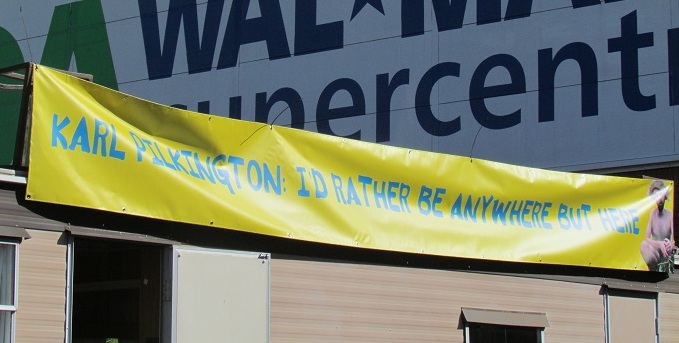 Although Karl is notoriously adverse to any kind of self-promotion or the trappings of celebrity he was in surprisingly good spirits when he emerged from his temporary home to pose for photographs. Fans were also treated to free bags of Monster Munch crisps (Karl's favorite snack) while they waited.
Karl has been busy filming the third series of An Idiot Abroad The Short Way Round with Warwick Davis, while meeting fans he admitted that it's been weird to finally have some company during his travels. Karl was also surprised to see some of the fan-art his popular musings had inspired.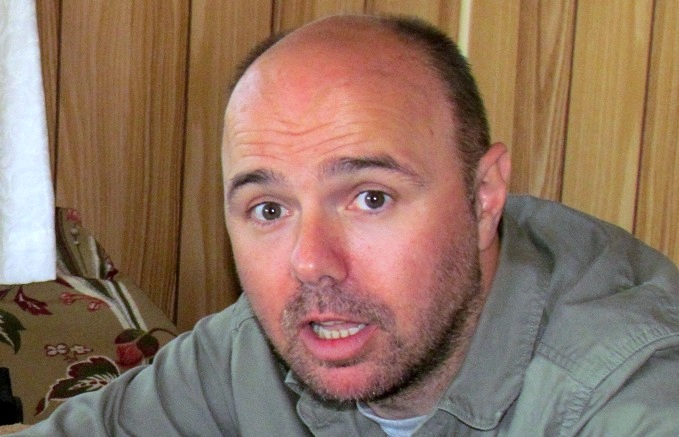 Karl was particularly confused and amused to see a fake poster for Bullshit Man, the superhero he famously created during one of his most popular rants against office bullshit. Though the internet is full of fake movie posters inspired by his words Karl admitted he'd never seen any of them before Saturday.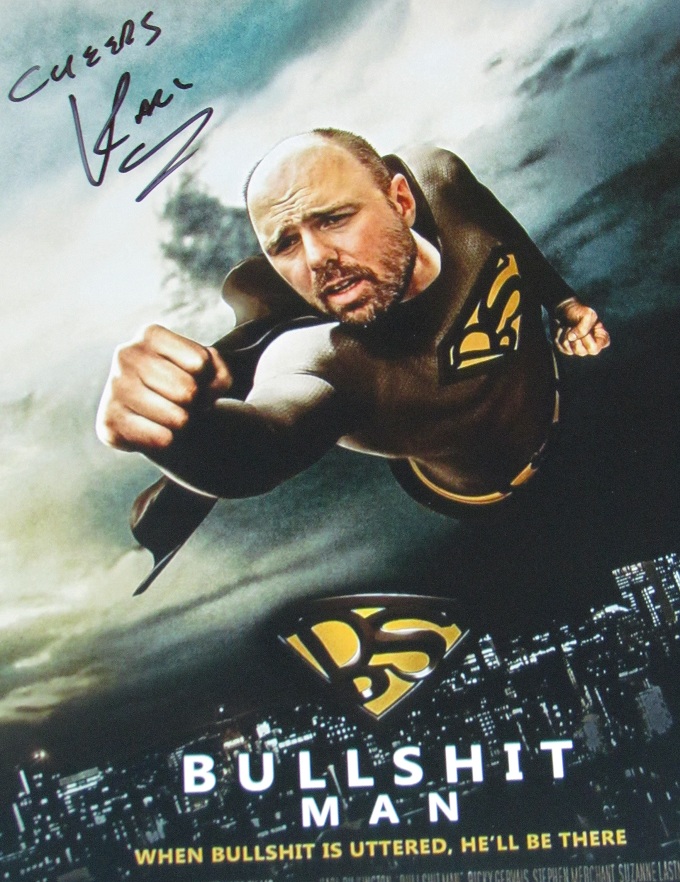 Karl will be continuing his tour of the Caravan Tour of the UK. His next confirmed date is in Manchester on 6th October at the Trafford Centre. His caravan will be parked outside the Great Hall from 1-5pm. Wristbands for this event will be available from the 1st of October on purchase of thebook at WH Smiths in Selfridges in the Trafford Centre, or by phone on 0161 629 1157.
Further dates are set to be announced potentially including Newcastle and either Sheffield or Leeds.