Game Of Thrones Kit Harington Interview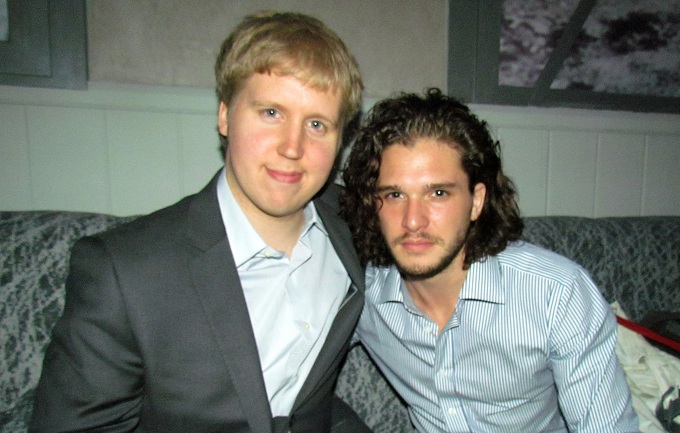 Game of Thrones star Kit Harington was enjoying some well earned time off from sword juggling adventures on HBO's popular fantasy series at the glamorous OMEGA House Launch Party  hosted by elegant Oscar winner Nicole Kidman on behalf of the official Olympic timekeepers.  In a  luxurious members only club in the heart of London's Soho Kit spoke to our very own roving reporter Russ about the excitement of the London 2012 Olympics and about playing fan favorite Jon Snow.
Kit reveals his favourite Game of Thrones character and his proudest Jon Snow moment. He also talks about working with the lovely Rose Leslie as Wilding love interest Ygritte and sharing the screen with his childhood hero Sean Bean. Finally Kit shares his excitement and hopes for the next third season of the show and has a special message for all the devoted fans of the show.
Listen or read the full interview below:
What have you thought of tonight's Omega party?
It's pretty cool they invited me here the other day and I thought I'd come and check it out. It's apparently the only private garden in the whole of Soho so I feel pretty privileged to be here to be honest it's quite cool.
London is in the midst of Olympic fever at the moment have you caught it yet?
Yeah I think I have not to be cheesy but this is my city and to have it inviting the world here is pretty special. I don't know I got a bit of a tinge; I got teary eyed when I saw the Olympic opening ceremony last night.
It was a spectacular success for Danny Boyle, was there a specific highlight for you? Any moment that made you especially proud?
Yeah there were a few, more than one actually. The lighting of the Olympic flame at the end. I can't remember who the artist is who designed it, but it's a beautiful sculpture. Generally I thought he captured the spirit of Britain pretty well.
We're talking about the Olympic Games but fans will also want to hear about Game of Thrones. Why do you think it's become a worldwide phenomenon, why do people love the show so much?
I don't know, I think it is escapism. It's a television show that takes people out of the modern world and out of reality and yet it's very relevant to how we live now and especially within politics. I don't know, I just think people want to see something that's kind of crazy and that's what Game of Thrones is!
It's a world that's populated by so many fantastic characters, who's your favourite apart from your own?
Tyrion! He's the most intelligent. That appeals to me because everyone seems to be so blindsided by things. Tyrion is the only character who sees the world as it really is.
Why do you think fans love your character so much?
I don't know, he's one of those character… you want to like him. He wants the best for people, he stands up for those weaker than himself; he's heroic in that way. I think people like him because of that.
What's it like working with the lovely Rose Leslie who plays Ygritte?
She's fantastic, Rose is just brilliant actress! It was always an important part for her character to meet my character and I was really praying that we'd get on and thankfully we do.
Do you have a favourite Jon Snow moment you've got to bring to life on screen so far?
Always the fight scenes! The Qhorin fight in particular has probably been my favourite, it was a pretty epic moment for my character and it was pretty epic to get to portray it on screen. That was probably my favourite moment for my character. But other than that I always get scenes with so many different actors and luckily with this show it has been cast so well. We have such high quality of actor that whoever you're playing opposite is brilliant.
There are so many fantastic talents on the show, is there anyone in particular you've been able to learn from?
Yeah playing opposite Sean Bean! I grew up watching Sharpe and watching some of his TV shows so I'm  a huge fan of his so getting to play opposite him in my first ever screen role was quite something yeah! I learn a lot off him.
Fans are so excited for the next season, have you read ahead in the books and is there anything you're particular looking forward to in the next season?
Without spoilers! Without spoilers yeah next season is going to be an interesting one for Jon because he properly grows up. He starts learning form his mistakes and he starts turning into that leader that hopefully you'll see him be. You know he sort of matures into a man.
Do you have a message to all the Game of Thrones fans out there?
THANK YOU!
As an added bonus, check out our recent interview with Kit's Beautiful co-star  Rose Leslie bellow: