Sherlock Gnomes Review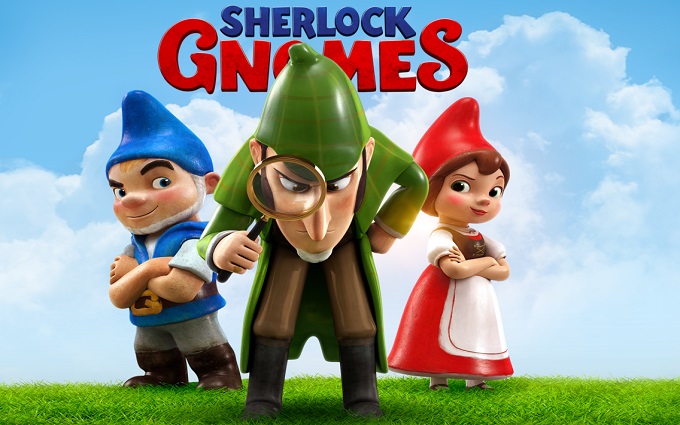 The Plot
Gnomeo & Juliet have moved to London and have a new garden home. While they're busy navigating their relationship and new roles as leaders of their combined Gnome family, tragedy strikes as Garden Gnomes across London suddenly disappear. Fortunately Gnomeo and Juliet cross paths with the world's most brilliant team of ornamental detectives Dr Watson and Sherlock Gnomes.
The Good
Sherlock Gnomes represents a significant change in style and genre from Gnomeo and Juliet's first adventure, switching gears from romantic comedy into outright action adventure. Borrowing the classic template of the greatest detective stories the film fuses it playfully with colourful animation and daft Garden Gnome antics.
Sherlock Gnomes voice cast is a sheer embarrassment of riches with returning stars James McAvoy, Emily Blunt, Stephen Merchant, David Walliams and Ashley Jensen taking their place alongside the added talents of Mary J. Blige, Chiwetel Ejiofor and Johnny Depp.
Superstar Depp is often celebrated as one of the most whimsically versatile character actors. This time yet again. His recognisable vocal charms make Sherlock Gnomes a credible character and not just a bad pun. Depp perfectly captures Sherlock's defining characteristic blend of refined illuminating charisma and flagrant arrogance. The combined vocal talents of an enthusiastic cast help inject some genuine emotion in spite of the unapologetically cartoonish visuals.
The film's colourful Gnome world is perfectly complimented by a frequently toe tapping soundtrack comprised of classic Elton john material and original songs. Executive producer Elton John generously once again gifts the film a free reign over his impressive back catalogue and helps provide new songs alongside the reimagined hits. The soundtrack quality is so high that it elevates the consistently elevates the overall appeal of the film.
Sherlock Gnomes is both mischievously silly and endearingly innocent. There's something comforting about a film aimed at a young audience that doesn't feel the need to cram in heavy handed adult themes or heart-breaking life lessons. Garden Gnomes are such a perfect symbol of kitsch childish fun that it would be a terrible mistake to abandon that welcome silliness. Thankfully this film knows exactly how to delight young fans.
The Bad
Those that weren't immediately won over by the first film's barrage of Gnome based gags and heavy reliance on silly slapstick and puns won't necessarily find this new adventure sufficiently different to change their mind.  The film's cartoonish visuals and frequent silliness is aimed most squarely at a mostly younger audience. While not lacking in charm it's fair to say that overall the film lacks the kind of layered emotional complexity that Pixar and Disney consistently manage to offer adults.
The film's catchy soundtrack and energetic vocal performances don't change the fact that endless reimagining's of Sherlock Holmes stories are becoming increasingly overly familiar. Sir Arthur Conan Doyle certainly would never have imagined seeing his iconic creations transformed into animated garden ornaments. We'll never know for certain whether he would have approved of this most unlikely transformation or merely have been mortified.
The Ugly Truth
Sherlock Gnomes is a brightly coloured and action packed romp through London's iconic landmarks and a fun detective adventure. A talented voice cast and a magnificent soundtrack make the film an easy watch for patient parents and delighted kids.
Review by Russell Nelson