The Guest Review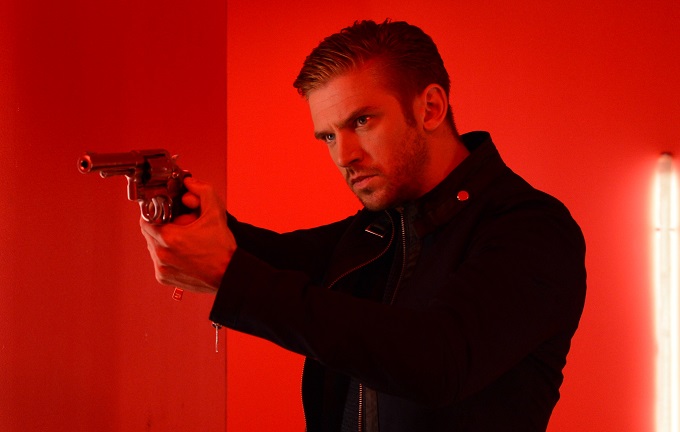 The Plot
When David (Dan Stevens – Downton Abbey) visits the Peterson family to pass on a message from their recently deceased son and his old comrade, he's almost instantly welcomed as part of the family and invited to stay a few days. But as people start dying, daughter Anna (Maika Monroe) starts to suspect that David might not be the charming young man everybody believes he is…
The Good
After the warm reception from Your Next it's no surprise that Adam Wingards latest is this years opening film for Frightfest. And quite deservedly so. The Guest has enough humour, gore and shocks to kick off the five day festival that it barely give the other films a chance.
Accompanied by a fantastically fitting electro soundtrack, Dan Stevens works his way through the film with the help of his instantly appealing approach to the role. Starting off as a pleasant young man visiting his ex partners family to give them his condolences, David really does seem like the perfect house guest. However the constant glint in his eyes tells us that this probably won't continue for too long.
As David works his way through the family gaining their trust one by one, his crazy side soon starts to come out as he tries to help each of the Petersons with the problematic people in their lives. Starting with assisting young Luke with the senior students who are bullying him before moving on to fixing Anna's boy trouble. Each mend David makes brings a worse result than the last until finally building up to the thrilling finale.
The main highlight is undoubtedly found in the films final act. Wingard uses a ridiculously over the top setting to its extent. Although it's absurd, its still a riot and rounds off the film with dazzling cinematography and a beautiful palette of colours. It's clear that he has fun with the surroundings of the horror filled setting, using jump scares and keeping that brilliant soundtrack going to give the audience as much entertainment as possible.
The Bad
Apart from the slight distraction of Brendan Meyer looking like a male doppelganger of Chloe Grace Moretz, there isn't too much to moan about with The Guest. Although it could have done with some tweaks here and there in regards to plot and characters, Stevens' performance alone is enough to distract from these minor problems. And while it may have benefitted from a less lavish finale, with perhaps a more toned down setting for the conclusion, The Guest will surely have hooked you in well before the moment comes that you'll just be having too much fun.
The Ugly Truth
If you liked Your Next you're sure to like The Guest. Adam Wingard brings his winning formula of comedic timing, jumps and carnage to the screen again while finding a previously unseen side to Dan Stevens which is sure to win him more fans. Simply put, it's a riot.