Snow White And The Huntsman Trivia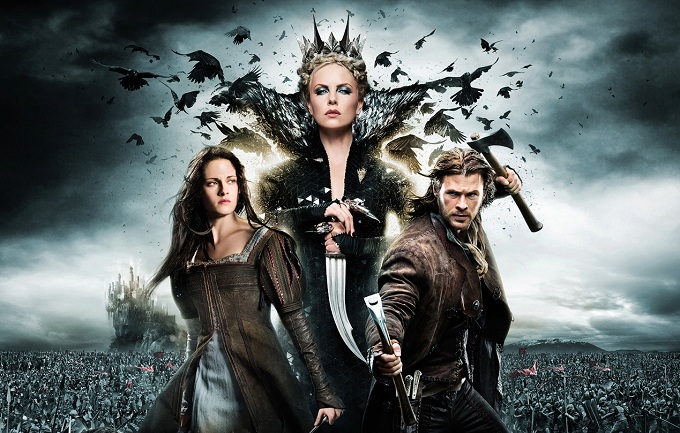 Snow White And The Huntsman is now officially available on DVD and Blu-Ray, featuring a hosts of extra's including a commentary tracks with Director Rupert Sanders and his visual effects team. Whilst fans will no doubt be very curious t hear what if anything he had to say about his leading lady Kristen Stewart, here's some of the other interesting bits of trivia that pop up during the discussion of the extended version of the film.
Director Rupert Sanders provided three drops of his own blood during the opening scene with Snow White's mother.
The opening battle scene with the King was shot at Bourne Wood, the same location as the opening battle in Gladiator.
Rupert Sanders played dramatic Handel music on set while filming the wedding scene to get the cats in the mood.
Some of the castle set was built at the Pinewood car park. The castle gate was actually added on top of the studio security gate with CGI.
The Queen's actual Mirror on the wall was made of beaten bronze.
The Mirror Man was inspired by the work of artist Kevin Francis Gray.
Charlize Theron's Milk Bath was inspired by Queen Cleopatra.
The pillars in the palace were actually copies of those found in Durham Cathedral
The 'Dark Forrest' only actually had 8 real prop trees in it. They were rearranged for each scene and complimented by extensive CGI.
The normal sized Dwarf actors had to attend 'Dwarf School' to learn how to waddle amongst other things.
Bob Hoskins' Dwarf body double was actually a woman.
The 'enchanted forest' was shot at the Queens woods at Windsor among 200 year old oak trees.
Nick Frost enjoyed swimming backstroke in the sewer because it reminded him of the trash compactor scene in Star wars.
The climactic battle beach scenes were shot in Wales but the castle exterior and interior scenes were all shot in Pinewood.
Helicopters, Cranes and cameras mounted on BMW cars were all used to capture the beachfront horses charge.
150 horse were used during the opening battle and 250 were used during the final battle.
The evil 'dark faeries' at the end of the film were each comprised of over 40,000 CGI shards of Obsidian.