Pete's Dragon Review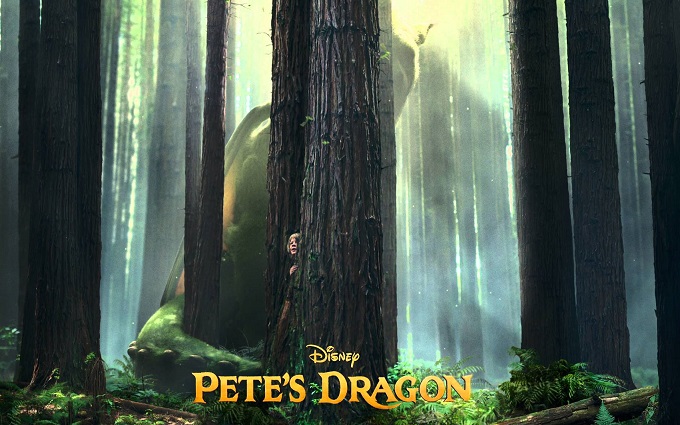 The Plot
A kind forest ranger discovers an orphaned boy called Pete living in the remotest part of the vast North America woodlands. However Pete is mostly just anxious to be reunited with his magical best friend Elliot, who happens to be a green fluffy Dragon.
The Good
The original 1977 Disney film version of Pete's Dragon fused live action and animation in a ground-breaking way that easily captured the imagination of children at the time. Nearly three decades later visual effects have been revolutionised by photo realistic CGI, allowing Disney to beautifully re-imagine this timeless story for a whole new generation.
Although the well-crafted visual effects that make the new film possible are far more commonplace today than the innovative animated breakthrough of the 70s original, they are no less impressive.  Elliot is a charming and utterly credible magical creation. He is also uniquely sweet natured, fluffy and adorable; in sharp contrast to the typically ferocious monsters Dragon's become on screen.
Elliot provides the film with its wondrous spectacle and action sequences, while his emotional connection with young Pete provides the film with its heart. Despite being a Dragon Elliot is effectively Pete's best friend, pet and surrogate parent. Though it may be an unashamed cliché, the bond of love between them is the true magic the story ultimately celebrates.
Director David Lowery and his young star Oakes Fegley  do a good job in making Pete naively wide eyed and inquisitive without allowing  him to ever become irritating. The presence of screen legend Robert Redford, Karl Urban, Wes Bentley and leading lady Bryce Dallas Howard only serves to make a well told tale even more watchable.
Redford is perfectly cast as the kindly old man, offering magical wisdom and fatherly support to Howard's disbelieving forest ranger Grace. In her own turn Bryce Dallas Howard is simply brilliant in a sweet natured and maternal role that is in total contrast to her recent star making turn in Jurassic World. Howard's character is precisely the kind of level headed and open hearted heroine that Disney adventures so often successfully rely on.
Overall Pete's Dragon is a story about family, friendship and never losing your sense of childish imagination and playful wonder.
The Bad
The most impatient of audience may wonder why it takes the adults Pete encounters quite so long to realise there's a friendly dragon in the woods, but in truth there's nothing genuinely negative that can be said about this thoroughly enchanting slice of old school Disney magic.
The Ugly Truth
Pete's Dragon is a truly heart-warming tale that epitomizes all that's best in modern special effects and the enduring magic of Disney storytelling. An all-star cast and an adorable fluffy dragon give audiences of any age something to deeply enjoy.
Review by Russell Nelson