I Give It A Year Review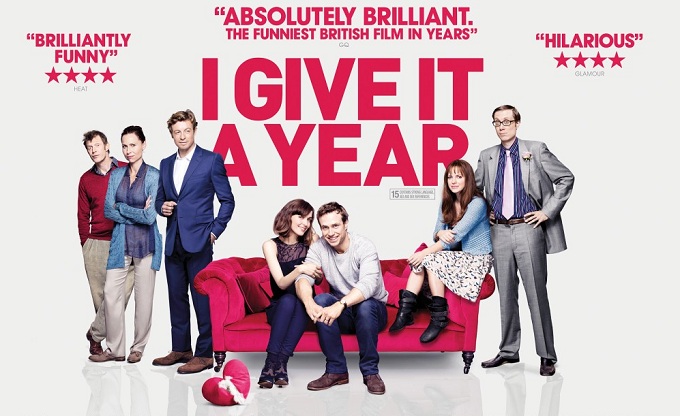 The Plot:
After a whirlwind romance an obviously mismatched couple get married, only to discover that their first year of wedded bliss brings more trouble and temptations than they could possibly have imagined.
The Good:
Working Title has an outstanding pedigree in almost single handily inventing the genre of British romantic comedy. They've previously been proudly responsible for globally adored classics like Four Weddings and a Funeral, Bridget Jones Diary, Notting Hill and Love Actually. With their latest effort they have delivered something a little less cliché and slightly more risqué than usual, but still reliably enjoyable.
As expected, the film boasts a well assembled ensemble cast of seasoned comedy performers. Bridesmaids star and Australian beauty Rose Byrne slips convincingly into a polished English accent, emulating Rene Zellweger's laudable efforts in Bridget Jones Diary. Meanwhile Mentalist star Simon Baker is a convincingly charming American hunk and Rafe Spall is a suitably buffoonish Englishman.
Anna Faris plays well against type as a dowdy aid worker and Minnie Driver has fun as a mean spirited cougar with very vocal husband hatred.
Stephen Merchant is finally emerging out of the shadows as Ricky Gervais unappreciated sidekick/writing partner to secure his own deserved comedy star status. A scene stealing performance in this film as an atrocious best man and a reliably tactless best friend should go even further in winning him a growing army of fans. Characters whose sole function seems to be providing a constant stream of inappropriate crudeness are typically obnoxious, but Merchants ungainly likeability serves him very well in avoiding that fate.
Dan Mazer's script rarely falters too badly and combining these collective comedic talents with easy set pieces like embarrassing wedding dances, disastrous dating and the world's worst marriage counsellor yields some highly amusing results.
The Bad:
The film trades cynical laughs for the usual mushy romantics. It certainly provides an easy array of crude humour, but may leave audiences seeking the uniquely intense hit of romantic sentimentality that films like Love Actually provide a little disappointed.
There's nothing quite like seeing a boy and girl finally overcoming an insurmountable array of obstacles and fumbling misunderstandings to get together in a satisfyingly saccharine finale. I Give It A Year has plenty of belly laughs, but it lacks that kind of heart.  It's simply difficult to emotional invest in the characters romantic plights. The film pokes fun at 'love' a little too often and aggressively to allow much room for genuine emotions.
The only other negative is that the individual characters lack the quirky memorable charm of some of Working Titles best efforts. In particular, Rafe Spall as one half of our leading couple is a little too drunkenly idiotic at times. It's difficult to care about the happiness of a moronic slob and easy to wonder why he's being inflicted on some of the other characters. It obviously would be easier to root for a polite mumbling underdog typically played by Hugh Grant.
The Ugly Truth:
I Give It A Year delivers a steady stream of laugh out loud moments that is easy to watch and generally satisfying, despite lacking some of the usual gushing romance of standard British rom-coms. To an extent it almost feels like a parody of the genre and Working Title's previous classics bit it is still enjoyable in its own right.
I Give It A Year London Premiere interviews below: