Eugenius! Review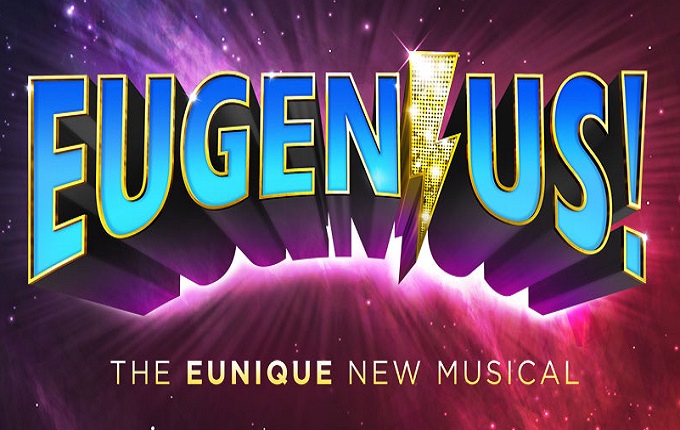 The Plot
In the magical heart of the 1980s, a teenage geek named Eugene spends his nights dreaming of superhero adventures in far flung galaxies and his days turning those visions into comic books. Little suspecting that the heroes and villains he's dreaming of are actually all real. When Hollywood decides to turn Eugene's creations into a blockbuster movie it looks set to change the lives of Eugene and his loyal best friends. But things quickly get much more complicated when the world of Hollywood make believe starts colliding with real life adventures.
The Good
Eugenius! is a truly joyous comic book homage that utterly embodies the most beloved elements of the genre. Undeniably original and fun throughout, the show strikes a nice balance between knowing comedy and genuine heart.
Musically Eugenius! does a magnificent job of fully capturing the quirky magic of the 1980s, with original songs showcasing a wide array of crowd pleasing genres. The show has more toe taping rock anthems, seductively cheesy love songs, awkward raps and belting power ballads than you can shake an electric keytar at. Song title's such as 'Comic Book Kind of Love' and 'No Pants Dance' give a flavour of the abundant playful charm on display. The biggest challenge for audiences is not singing along, particularly during catchy choruses and a memorable finale.
Eugenius! has a wonderful ensemble cast that do full justice to the often demanding score while also delivering acting performances bursting with effortless enthusiasm. Liam Forde is a well-chosen fit for the reluctantly heroic Eugene, his boyish frame and powerful voice make for an endearingly awkward leading man. Likewise Dan Buckley is shamelessly entertaining as Feris, Eugene's loyal ally who regularly proves to be a show stopping self-deluded delight. Perhaps the show's most valuable asset though is the dazzling vocal power of Laura Baldwin, giving a literally note perfect performance as Eugene's love lorn fellow geek Janey.
Surrounding this central trio of west end superstars a versatile cast that breath hilarious life into Hollywood cliché's and characters like Tough Man and Superhot Lady. The production does a fine job in particular of recycling its modest ensemble in a compact performance space. The show's choreography deserves special praise as well for consistently packing blisteringly energetic displays into almost every scene. The dance performances add an extra dimension of spectacular spectacle to proceedings, crafted with a loving fusion of classic 80s moves and modern musical magic.
The overall look and feel of Eugenius! is a colourful mash up of classic comic book charm and 80s throwbacks. Smoke machines, knowingly cheesy special effects and spectacular spandex perfectly embody the true spirit of the production. Mark Hamill lending his instantly recognisable voice to a robot sidekick is also an extra special treat for fans. It's hard to imagine a more perfect sign of just how loving well-crafted this production is than the fact that Luke Skywalker himself has given it such a vocal seal of approval.
The Bad
Audiences that are either too old or too young to have any affectionate memories of the 1980s and its timeless pop culture charms will obviously be a little less delighted by this shows relentless barrage of in jokes and playful references. Thankfully most of the show's inspirations are iconic enough that even those with merely a passing knowledge should be able to laugh along quite easily. While the show's silly slapstick sense of humour won't appeal to more sombre cynics, thankfully there's nothing more infectious than irrepressible joy.
The Ugly truth
Eugenius! is a delightful explosion of musical madness fuelled by power ballads and pop culture. A brilliant ensemble cast, catchy original songs and camp clever comedy combines to make this show a truly delightful treat. Eugenius! is absolutely essential viewing for comic book fans, 80s obsessives and all musical theatre lovers. We urge you, book tickets for this show now, if you want a better life.
Review by Russell Nelson