Southpaw Review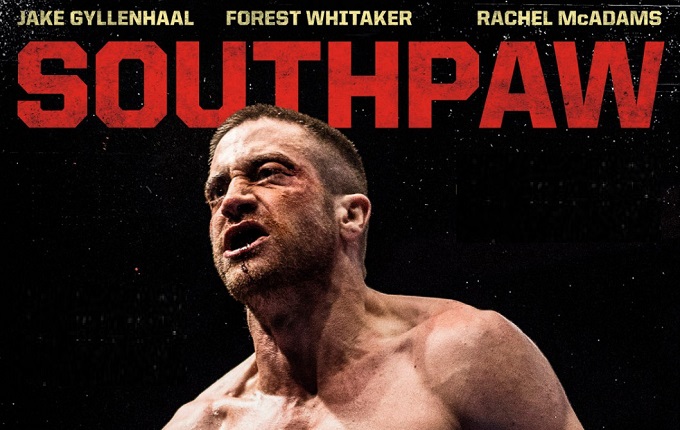 The Plot
When a bitter feud with a fellow boxer threatens to destroy his family and career, fighter Billy Hope (Jake Gyllenhaal) seeks the help of trainer Tick Willis (Forest Whitaker) to turn his life around and bring him back on top.
The Good 
Director Antoine Fuqua's follow up to last years The Equalizer packs a much more emotional punch this time around with some incredible performances that are sure to bring a tear to your eyes. Adopting an occasional first person point of view in the boxing match final act is a nice touch that brings the fight right to the audience, almost making us feel every punch.
Considering his noticeably gaunt figure in last year's Nightcrawler, leading man Gyllenhaal has shown an undeniable commitment to the role with his astonishingly quick bulking up. He certainly physically convinces as a viciously toned fighter fueled by barely restrained rage.
Meanwhile Forest Whitaker's Tick Willis is a wonderful addition to the cast as Hope's strong and silent trainer who helps bring him back to his glory days. Praise must also go to Oona Laurence and the amazingly truthful chemistry with her on screen father Gyllenhaal. For such a young actress, Laurence has proven that she has what it takes to go up against Gyllenhaal and even come out on top in certain scenes.
While for the most part it is very formulaic and hits all the expected notes, Southpaw does bring some genuine shocks and raw emotion which comes with themes of family, suffering and anger. Director Antoine Fuqua demonstrates yet again his usual flair for gritty realism.  Rocky fans and boxing movie fans in general will certainly leave entertained and moved.
The Bad
Unfortunately if you've seen the trailer, nothing is surprising. While the story itself is formulaic enough, the promotional advertising has sadly given everything away and strips a lot of the emotion out of it. With a few smart tweaks the trailer could have easily avoided giving away certain crucial plot points to allow for more shocks. Ironically most of the films best emotional punches are robbed of any impact.
Compared to his Oscar worthy turn in Nightcrawler, Gyllenhaal's performance, while undoubtedly incredible, feels almost a little too easy for him. This performance has already been surrounded by whispers of awards season glory, but should he finally take home that best actor statue next year, it'll be for the wrong role.
The Ugly Truth
If you've not seen the incredibly spoiler filled trailer, Southpaw will work much better for you. If you have, it'll still bring tears to your eyes and works perfectly fine. Brutal, emotional and uplifting, Southpaw is everything a boxing movie should be. It's not quite Rocky but certainly do.