Michael Phelps Olympic Interview London 2012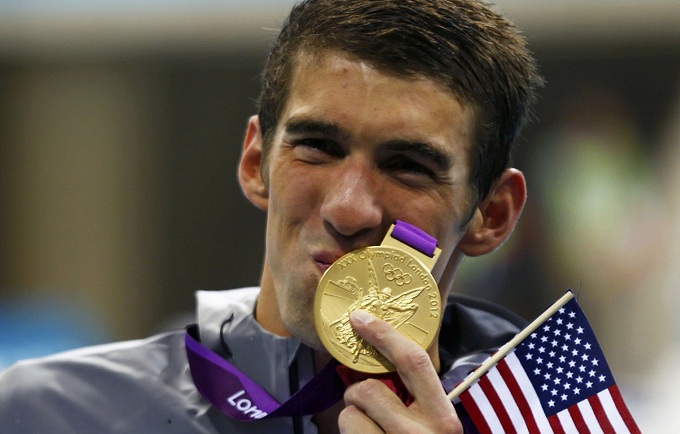 Michael Phelps won a fitting four gold medals while competing in his forth Olympic Games at London 2012. In doing so he broke the record of  Larissa Latynina to become the most decorated Olympic athlete of all time with an astonishing 22 Medals.
Speaking at the Omega Spotlight on Swimming event, Record breaking champion Phelps spoke about plans for his retirement and shared his reaction to new young swimmers like Chad Le Cros and Ye Shiwen at London 2012. Michael Phelps explained what he thinks the secret of his success in the pool was and what he thinks the true magic of the Olympics is.
He also revealed what happened during his recent amazing encounter with Soviet Olympic gymnast icon Larissa Latynina, where the Russian star gifted Phelps with one of her own prized medals in recognition of his astonishing achievements and in a show of support for his successful bid to break her long standing Medal record.
Read the full Interview Below:
You seem like the most appropriate person alive to ask, what do you think defines the Olympics and distinguishes it from all other forms of sporting competition?  In particular is there one Olympic moment that inspires you or that you might consider to be the greatest?
I think it is hard say which one Olympic moment is the greatest. I think the coolest thing about the Olympics is that people from all over the world come together for two weeks. The best athletes in the world come together. We're all in one gigantic Olympic Village. We all eat in the same dining hall we all see each other, I think that's something that I love the most. You get to see everything! Like all the basketball players in the village, people who are like eight feet tall! Well probably not quite that tall but still, I remember walking past these three women in the village and I literally had to look up at them. I mean I thought I was tall but that was pretty cool.

So yeah I think it's just the experience of everyone from all over the world coming together in one city and competing. It's something that's been pretty amazing for me. Being able to represent the United States and wear the stars and stripes for four Olympics has been a dream come true! I got that opportunity to stand at the top of the medal podium while listening to the national anthem play with the gold medal around my neck. It's been pretty fun, it's really very special.
For Team GB winning gold at these games will feel like the pinnacle of their career, but can you explain what motivated you to extend your career to keep coming back to the Olympics and keep winning medals?
I think one of the things that I think would be pretty cool would be to be able to win a Gold medal in your home country. That's got to be a pretty special feeling, doing it for a home crowd. That was one thing I thought would be pretty cool if I'd been able to swim my last Olympic race in front of a home crowd. London has been a great Olympics for me, not only in the pool; I've been able to experience some pretty great parts of the city. I've been able to have fun and you know the only thing that kept me coming back were the goals that I had. I knew I wasn't done.

There were still things deep down inside of me that I wanted to accomplish before I retired and I wasn't going to retire until those things were accomplished. After looking back at the last four years, sure it was very challenging and I had ups and down throughout, but I wouldn't change anything this has all been a great experience for me. I prepared for this Olympics how I wanted to.  I can now retire and say I've done everything I've ever wanted to. That's how I always wanted to retire and go out.
Many former champions continue to play once they retire out of a love of the sport. Do you plan to spend time in the pool now you're officially retired? Do you truly enjoy swimming?
I won't be swimming masters; I won't be doing any of that. The competitive side of me swimming is no longer there. That's finished. Maybe when I go on vacation and I'm by the pool or the Ocean and I feel like jumping in I will, but it won't be something that's on the top of my to do list.
What are you looking forward to now that you're out of the pool?
I mean I think the biggest thing is just being able to relax. I want to relax; I want to be on my own time. If I wake up one morning and say I want to go here, I want to just go do it. It's kind of cool that I have my freedom. I've got a box at the Raven, who knows I might get into horse racing. There are a lot of options and it's kind of cool to just not have anything to do. That freedom's pretty special.
Quite a few former Olympians have enjoyed competing on shows like Dancing with the Stars, is that something you'd ever consider?
I haven't really been known for my dancing but who knows. I've talked to Apollo and Natalie about it and they said that they enjoyed it and had a blast. I'm not saying I'd rule anything out so who knows it could be fun. I don't know who I'd choose for a partner though. That's a good question, maybe Natalie because she's gone through it all before. Natalie and I have been on a lot of teams together before.
Can you articulate your mental drive and focus on a race day?
Not really too much goes through my head. I know that once I'm at a swim meet I've done all that I can do to prepare myself and at that point the only to really do is get out there and race. I've always been able to really just tune everything out and I think you do need a good combination of being mentally tough and of course being physically in shape as well. I think you need all parts of that equation to be great at something. That's something that Bob and I have just always worked on. You Know I think Bob is not just prepared me to swim as fast as I can; he's helped me be prepared for anything. Whether it's my goggles filling up with water, problems with my suit or my goggle are cracked or something. I've just prepared myself for anything that could happen so it doesn't take me out of being focused on what I'm there to do.
Where do you think that extraordinary focus came from?
I think I've probably just always been someone who's been a very goal orientated person. Whenever I don't achieve a goal it kind of like failing. I try to put myself always in the right spot to be able to accomplish a goal so I can move onto the next one.
Did you feel something special when you broke the record of Soviet Union Olympian Larissa Latynina?
We actually spent a day together in New York a couple of months ago. You know being able to be around such an Olympic icon like that was something that was really fun. The language barrier was a little tough but she gave me a medal. It was a 1960s gymnastic medal from whet h Soviet Union competed against the USA and she won it and she gave it to me. It was pretty cool feeling to see her and spend the whole day with her. Also she told me that she was behind me and supporting me. That was something that was amazing for me to hear. I was able to do something that I put my mind to. I'm sure someday this record will be broken, all record are there to be broken. I hope I can watch it get broken and see what happens.
You recently said you didn't want to be a swimming coach because of what you put your own coach through, can you elaborate on that?
I could be pretty annoying person to coach. I could be frustrating. There are things that Bob and I argued about. I like purposely frustrate him I deliberately do stuff to annoy him. It can be like anything, I've been around him for so many years that I know the small things that literally drive him up the wall and I do them sometimes just for laughs.

When I was younger I used to always just take my cap off and that would always upset him. It was a little way of showing him that I just don't care. I'd like take it off in the middle of a warm up. I'd just throw it and you could just see him starting to steam. Like steam was coming out his ears. He was so frustrated. He'd storm off sometimes and drink a cup of coffee then he'd come back relaxed afterwards again. I don't think I could deal with that. It's not really for me.
Do you see Chad Le Clos as perhaps a successor?
You know watching Chad over the last year, he's somebody who's a great competitor, he' very tough. Obviously he has a lot of goals and things he wants to accomplish. Him and his coach work great together and you really see that. Him and his coach are as close as Bob and I are. They work well together just like Bob and I work well together.  They are very passionate about what they do, they are very passionate about what they do and Chad does have all the talent. You know he can swim anything from the 100 to the 400 and he can swim alternate strokes.

So it's going to be cool for me to follow his progress over the next four years. There's definitely going to be at least some good races in the future especially with Ryan. Those guys are going to be racing each other to see who's faster. It's going to be fun.
What have you thought of the performances you've seen in the pool at London 2012, particularly the astonishing form of some of the very young swimmers from America and China?
I've been able to watch all of the swimming here. Some of the most impressive swimmers were like the men's 1500. The winner could easily go like 14.25 without question. He's so talented, his stroke is perfect, his catch, his kick is literally flawless. There are some things I'm sure Dennis is going to help him on in the future and I mean watching that mile was absolutely incredible.

The women's 400IM I was happy I was able to out split everyone on the last couple of lengths. I think I squeaked through by like a couple of hundred tenths. We had a laugh about it, everyone was joking about it in the dining hall afterwards.

It's cool being able to see swims like that because you see people who actually want to work hard and love the sport. They're out there setting goals for themselves and they're going out an achieving them. If there's one thing that I'm very excited about over the next four years it's to keep following the production of swimmers all over the word and see what they're capable of and the faster they go. We have a lot of new faces but it's going to be fun.