Metal Hammer Golden Gods Awards Winners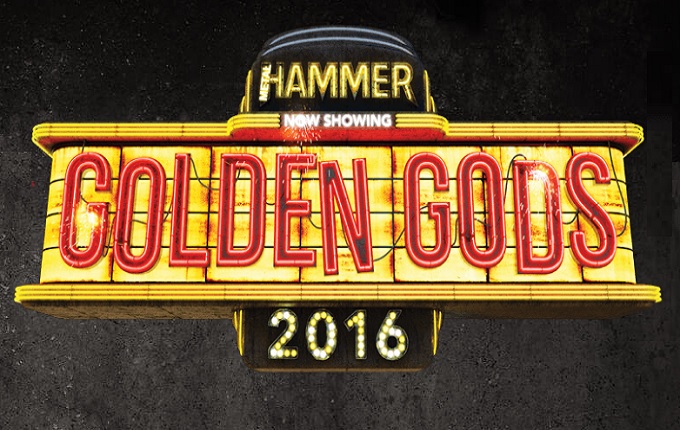 The Metal Hammer Golden God Awards in association with Fireball blew the roof off a sold-out Eventim Apollo in Hammersmith last night, and honoured the very best of the past 12 months' metal and rock from around the globe.
Hosted by Hatebreed's Jamey Jasta, this unique and special night is all about the fans. There are no tables, no sit-down dinners, no industry backslapping – this is a room full of genuine fans who have voted in their hundreds of thousands to see their favourite bands be victorious. Plus, all profits from the Golden Gods ticket sales went to Heavy Metal Truants, an annual charity cycle ride, sponsored by TeamRock, from London to Download Festival to benefit Nordoff Robbins, Teenage Cancer Trust and Childline.
One of the most celebrated drummers of the past 30 years and former member of Slipknot, Joey Jordison was announced as 2016's Golden God, following in the footsteps of Dave Mustaine, Lemmy and Marilyn Manson. Among other winners were Asking Alexandria for Best UK Band, whose 2016 album 'The Black' entered the US Billboard Top 10 and UK Official Chart Top 15. Iron Maiden's Number One album 'The Book Of Souls' won Album Of The Year. Ghost, Sweden's iconic and internationally celebrated occult rockers, won Best International Band. Sixx:A.M.'s Nikki Sixx picked up Icon, thrash metallers Anthrax won Inspiration and Lamb Of God picked up Best Live Band.
Interwoven with the award presentations were live sets from Grammy Award-winners Halestorm, French metal innovators Gojira and the immense and unwavering Amon Amarth, in what were the only UK summer shows for any of the bands outside of festival appearances.
Closing the evening was A Salute To Lemmy – a monumental celebration of the life of one of music's biggest icons. Lemmy was, and will always be, a godfather of rock. A renegade, an innovator, an icon and an inspiration, there is no doubt that our music scene would look very different today if it wasn't for him. A Salute To Lemmy was a unique celebration of the man. Saxon, one of Britain's greatest rock bands – who in their own right have sculpted and inspired the world of rock today and influenced generations of bands – performed Lemmy's three favourite Saxon songs and were then joined onstage by Motörhead guitarist Phil Campbell and drummer Mikkey Dee and performed Motörhead's 'Ace Of Spades', 'Born To Raise Hell'  and 'Overkill'.
"There's only one publication in the world capable of putting such a broad range of talent under one roof, and that's Metal Hammer," says Alexander Milas, Metal Hammer's editor-in-chief. "For our 30th anniversary we pulled out all the stops, but it's really our Salute To Lemmy that's hit the loudest note. His legend will always live on."
This year, TeamRock and the Metal Hammer Golden God Awards teamed up with Pinewood Live to film the event. Pinewood Live is part of the Pinewood Studio Group, a leading provider of studio and related services to the global creative industries, synonymous with world-class British and international film and television productions.
The 2016 winners are…
Best New Band – Creeper
Best Underground – Enslaved
Best UK Band – Asking Alexandria
Best International Band – Ghost
Breakthrough – Beartooth
Best Live Band – Lamb Of God
Best Independent Label – Prosthetic Records
Dimebag Darrell 'Shredder' – Lzzy Hale
Best Album – 'The Book Of Souls' Iron Maiden
Riff Lord – Phil Campbell
Inspiration – Anthrax
Icon – Nikki Sixx
Global Metal Band – Chthonic
Golden God – Joey Jordison
Best Video – Parkway Drive