David Brent Life On The Road Review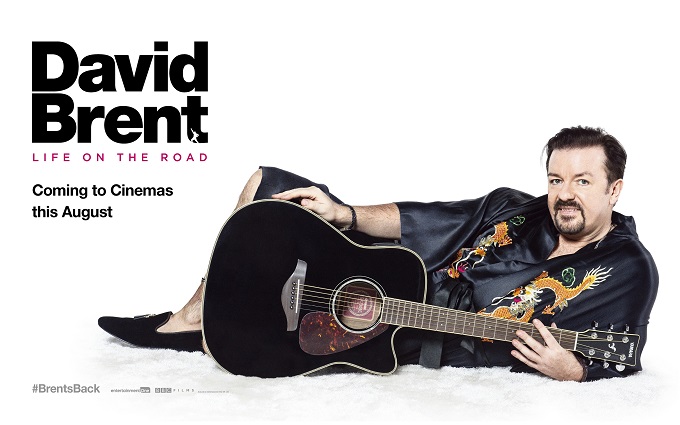 The Plot
A camera crew catches up with David Brent (Ricky Gervais), the former star of The Office, as he now fancies himself a rockstar on the road.
The Good
Ricky Gervais' most infamous creation returns to our screens and is bigger and better than ever in a new mockumentary that follows everyone's favourite manager as he attempts to make it big in the music industry. It's been thirteen years since The Office left our television screens but David Brent is still the same hilariously cringy character we know and love. Now working as a sales rep, Brent decides to use all his savings including his pension to take his band, Forgone Conclusion on the road for a tour.
As usual, Gervais' writing is spot on with a constant stream of laughs from the very beginning. Part of this genius is in the songs which Brent performs himself with hilariously factual lyrics such as 'Slough'  ('equidistant 'tween London and Reading') and Native American' ('We're more like west eurasians crossed with Siberians'). Each song drips with Brent's trademark awkwardness.
Where the film works best however, is in its heartbreakingly funny scenes. Brent was always a character who was just devastatingly funny and it's no different here. Whether he's being kicked off his own tour bus to follow behind alone in his car, or having to pay his band to hang out for a post-gig drink, Gervais manages to tread the line of humour and empathy perfectly.
It's not all about Brent though. Doc Brown gives a wonderful performance as Dom, Brents long-suffering rapper for the band who is brought on stage to accentuate certain songs thanks to his ethnic background. Not only is Brown a fantastic rapper, he also gets plenty of chances to showcase his acting skills as he puts up with Brent.
The Bad
As fun as it is however, Life On The Road does hit some bumps along the way especially towards its final third. Gervais' directing style tries to stay true to its mockumentary origins but often slips into certain shots that just don't fit the aesthetic. There's also at least one slight glimmer of Gervais projecting a touch of Derek, his last TV character which, if you manage to spot it, can take you out of the film for a brief moment.
The Ugly Truth
Gervais brings some genuinely heartwarming moments and sidesplittingly hilarious ones to David Brent's big screen outing. While there are issues with the films overall style, the substance is often more than enough to make you forget about it pretty quickly. Frankly though, it's worth the price of admission for the soundtrack alone.
Review by Johnny Ellis