British Independent Film Awards 2014 Winners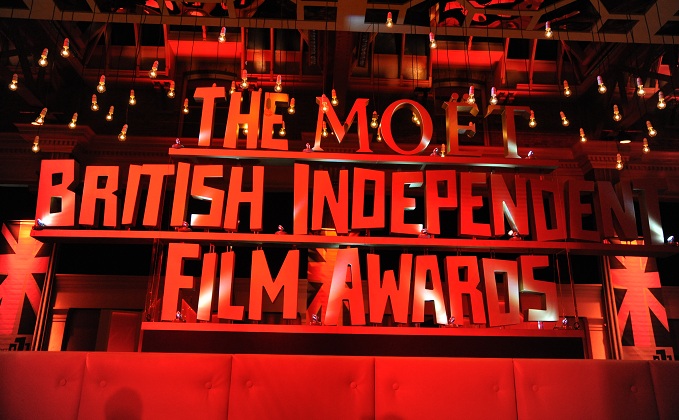 A glittering array of talent turned out this evening for the 17thMoët British Independent Film Awards. The winners were announced at the star-studded ceremony, held at Old Billingsgate, which was hosted by The Inbetweeners star, Simon Bird.
The lucky winners took home the iconic award designed by Fredrikson Stallard and created by Swarovski as well as a personalised, Swarovski crystal encrusted magnum of Moët & Chandon.
Best British Independent Film was won by PRIDE. Yann Demange won Best Director for '71, Gugu Mbatha-Raw won Best Actress for BELLE and Brendan Gleeson won Best Actor for CALVARY. Andrew Scott collected his award for Best Supporting Actor for PRIDE and Imelda Staunton took home her award for Best Supporting Actress also for her role in PRIDE.
PRIDEwon the most awards on the night, picking up Best British Independent Film, Best Supporting Actress and Best Supporting Actor.
Joint Directors; The Moët British Independent Film Awards Johanna von Fischer & Tessa Collinson said: "In our final year as Directors it is terrific to see such an amazing mix of the established and new being represented in our honourees tonight. The range of diverse and unique talent in this country is awe inspiring. Our jury has had some truly tough decisions to make. We hope these results will excite audiences and encourage more people to search out these films creating a greater demand for British Independent cinema. 2014 also sees us celebrate five years of a fabulous partnership with title sponsor Moët & Chandon, who add that extra sparkle each year for which we are incredibly grateful."
As previously announced, Emma Thompson was awarded the coveted Richard Harris Award for outstanding contribution by an actor to British film, and Benedict Cumberbatch the Variety Award, which recognises an actor, director, writer or producer who has helped to shine the international spotlight on the UK. The Special Jury Prize went to John Boorman.
The Raindance Award was won by LUNA. Elliot Grove, Founder of BIFA and the Raindance Film Festival added; "British filmmakers are at the top of their game and amongst the most creative in the world, covering a diverse range of stories, passionately told and featuring outstanding acting talent. BIFA is proud to lead the celebrations at the start of the Award season."
The Moët British Independent Film Awards are proud to announce the following winners for 2014 (highlighted below in red):
BEST BRITISH INDEPENDENT FILM Pride
BEST DIRECTOR Yann Demange – '71
BEST DEBUT DIRECTOR Iain Forsyth, Jane Pollard – 20,000 Days on Earth
BEST SCREENPLAY Jon Ronson, Peter Straughan – Frank
BEST ACTRESS Gugu Mbatha-Raw – Belle
BEST ACTOR Brendan Gleeson – Calvary
BEST SUPPORTING ACTRESS Imelda Staunton – Pride
BEST SUPPORTING ACTOR Andrew Scott – Pride
MOST PROMISING NEWCOMER Sameena Jabeen Ahmed – Catch Me Daddy
BEST ACHIEVEMENT IN PRODUCTION The Goob
BEST TECHNICAL ACHIEVEMENT Stephen Rennicks – Music – Frank
BEST DOCUMENTAR Y Next Goal Wins
BEST BRITISH SHORT The Kármán Line
BEST INTERNATIONAL INDEPENDENT FILM Boyhood
THE RAINDANCE AWARD Luna
THE RICHARD HARRIS AWARD Emma Thompson
THE VARIETY AWARD Benedict Cumberbatch
THE SPECIAL JURY PRIZE  John Boorman
Now in its 17th year, the Awards were created by Raindance in 1998 and set out to celebrate merit and achievement in independently funded British filmmaking, to honour new talent, and to promote British films and filmmaking to a wider public.
Previous winners of the prestigious Best British Independent Film Award include METRO MANILA, TYRANNOSAUR, THE KING'S SPEECH, MOON, CONTROL, SLUMDOG MILLIONAIRE, THE CONSTANT GARDENER and THIS IS ENGLAND.
Proud supporters and patrons of The Moët British Independent Film Awards include Mike Figgis, Tom Hollander, Adrian Lester, Ken Loach, Ewan McGregor, Helen Mirren, Samantha Morton, James Nesbitt, Michael Sheen, Trudie Styler, Tilda Swinton, Meera Syal, David Thewlis, Ray Winstone and Michael Winterbottom.