A Royal Night Out Review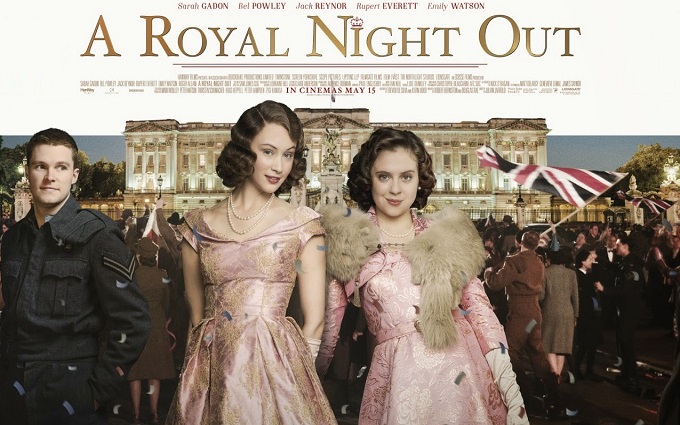 The Plot
On V.E day in 1945, Princesses Elizabeth (Sarah Gadon) and Margaret (Bel Powley) are allowed to join the celebrations outside the palace and throughout London. Cue a night of excitement and romance…
The Good
The format of Royals mixing with common folk is usually a safe bet when it comes to british period dramas – case in point: The Kings Speech and Mrs. Brown - and A Royal Night Out is no exception. With the 70th anniversary of VE Day having just passed by, what better time to tell the story of Princess Elizabeth and Margaret's first foray into the Real World past the palace gates.
Both Gadon and Powley are as lovely as you'd expect two young princesses to be, as they roam around London figuring out how to fend for themselves in amongst the lower class. Their performances are quite endearingly quirky and the fact that they look an awful lot like sisters definitely helps. Meanwhile, the two chaperones assigned to them bring plenty of humour as the most inept guards/chaperones you'll see. After losing the princesses in what I'm sure is record time, they barely even try to find them and give into the temptations of the celebrations around them.
We also get a sprinkling of The Kings Speech with King George (Rupert Everett – who replaces Oscar Winner Colin Firth) and his stuttering VE Day speech. Both Everett and Emily Watson who plays his on screen queen give as good a performance they can with the few scenes they're given.
The Bad
While it's certainly all jolly good fun to see the princesses mixing with the rabble down below, it seems that, though the main plot is indeed apparently true, writers Trevor De Silva and Kevin Hood have allowed themselves a bit too much artistic freedom. The idea of Princess Margaret somehow finding herself in the seedy underworld of Soho's sex trade or Princess Elizabeth finding a new, and possibly romantic, friend in the form of an AWOL soldier are fun ones but start to seem outright absurd the further along the story gets.
The Ugly Truth
A Royal Night Out isn't as high brow as the previous Royal Family stories we've seen, which makes the whole premise appear quite preposterous towards the end. But it also allows for much more fun.
Review by Johnny Ellis