Safe Haven Author & Cast Interview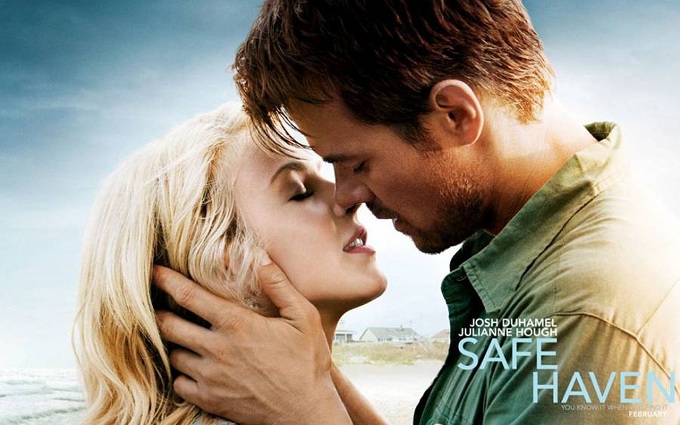 Bestselling author Nicholas Sparks (The Notebook, Dear John) and stars Julianne Hough and Josh Duhamel gave an in-depth public Q&A in London to promote the UK release of new romantic drama Safe Haven. Check out a full transcript below and a lovely gallery of pictures from the event as well.
Q. Nicholas what inspires your work?
Nicholas:
Early on the stories were inspired by my family. The Notebook was the story of my wife's grandparents. Message In A Bottle was inspired by my Dad after my Mom died. Walk To Remember is the story of my younger sister. Then it started of being maybe people that I knew. It always stats with that seed where you're just trying to come up with a story that people will like. I do my best to make the novels feel as different as they can. You should be able to watch the Notebook then turn right around and go out to watch Safe Haven and enjoy that too. It feels totally different, fresh and new; but it's also kind of the same in the way that you like it. You're constantly trying to thread that needle between telling a brand new story and still giving people the threads of familiarity they've come to like. That's why for instance my stories are always set in North Carolina; we don't want to change everything.
Q. Where did the inspiration specifically come from for this book?
Nicholas:
The idea for any novel always just starts with a small seed that grows form there. I thought adding an element of danger would make for an interesting story so I said well how do I do that… It became a dangerous person and became a woman feeing from this person. So little by little you sort of build this story together. The real challenge though was to balance the thriller elements with the more romantic elements. You work through it throughout the novel then you adapt it to a film.
Q. Did the tone of the script and the darker elements surprise you?
Julianne:
Absolutely, In fact I read the script before I even knew it was based on a Nicholas Sparks book. Then I found out that it was and it was so different from his other work. It has this thriller, darker, edgier aspect to it. For me I love any kind of action because growing up as a dancer the physicality makes things more attractive to me. I loved doing my own stunts and all of that.

Josh:
One of the things that really attracted me to the project was the idea that it was a little bit different. Of course I'd always wanted to do one of these movies, I admired the guys who had done the other Nicholas Sparks movies, but his one stood out for me because it was darker. It had more of a sense of danger than what I'd read from Nicholas before. So that was definitely something that attracted me to it.
Q. Can you tell us about your choice of director?
Nicholas:
Lasse Hallestrom had directed Dear John before and we knew exactly what he would d and exactly how he worked. This time when we came in everyone on the producing side, we knew exactly what was going to happen. The cats hadn't worked with him before, so all I could do was tell them that he was an actors' director. He'll pull these performances out of you in his own way. It's not easy to work with kids and work around the set, but our director was there to set the culture and he was a terrific choice I thought.
Q. Lasse is a Director who is famous for using improvisation, how was that?
Josh:
It was scary for me at first. Julianne started two weeks before I started and she said to me "Don't worry he lets you improvise all you want, you don't even have to follow the script". I was like "What do you mean? I've never done that before!". After working a couple of days and understanding what that meant. It was one of the most liberating and empowering things I've ever been through as an actor. He really listened and a lot of people get creative and collaborative. Ultimately he just wanted the most human story we could tell and by doing that he just let us go.

Julianne:
I would say the same thing. I felt like for the first time trusted. I felt like I was really hired as an actress for this film. I felt confident because I was trusted and there were no wrong decisions. He loved the awkward quirky little things. If you see the movie, one of my favourite scenes is when I meet Josh's character's daughter and she just says whatever's on her mind. It's the cutest thing and so charming. It's probably my favourite scene because her natural awkwardness makes the scene just so perfect.
Q. What was it like working with your young co-stars?
Josh:
We could actually learn a thing or two from the kids. It actually makes it better. I'd much prefer to work with kids because they bring an energy that you can't manufacture otherwise. They definitely added an element to the shooting of this movie which made it an experience I'll never forget.

I actually spent a lot of time with the kids before we started shooting. That relationship between my character and his kids was just as important as my relationship with Julianne's character in this movie. So I tried to spend as much time before we started shooting and offset with them as I could, so that when we did roll camera they could be themselves. They were really delightful kids and the more that we could bring that out in them for the movie the better. I'm really proud of what Mimi and Noah did in the movie

Julianne:
The kids really made the relationship between Alex and Katie work. Katie is so guarded and the kids help break down that guard so that they could find love. Her guard goes down in like an hour and a half, when usually that would take months. So the kids were definitely a huge help.
Q. Nicholas how do you feel about taking such an improvised approach to your work?
Nicholas Sparks:
Every director brings a different style and I was very comfortable with Lasse's style having worked with him before. It was really important in this film to allow the actors to bring these characters to life emotionally. Although there were a lot of great thing written in the script when you read it, even as a producer and the person who wrote the novel, you thought that they're going to have to bring a lot and find how to bring an interest to the characters.  They needed to do that through the quirky things they do and their expressions, all of these little elements. I thought you needed to have a good director who would give the actors the freedom to do it with a little more or say things how they would in their own lives. That's kind of how Lasse works. By the end you've captured everything you're supposed to but it comes across in a more natural way.

Josh:
I have to say Nicholas was very open. I actually called him the night before I started my first day and I said "Okay Nick I have some ideas, what do you think about this? It's a little bit different from what the character was in the book." He was really supportive about just making sure whatever I did I didn't make the character boring. Nicholas wanted me to find the ups and the downs, to make him playful, to explore whatever peaks and valleys I could find with this guy. He wanted me to go for it because at the core that's what this character is. We say that we improvised a lot of the script and there was a lot of that, but the script was actually very good and really the story was great. Nicholas wrote a great story and what we really tried to do was to tell that story as honestly as we could.
Q. Julianne how did you prepare for the role?
Julianne:
I don't want to give too much away but my character definitely goes through some things that are emotionally traumatizing and physically traumatizing  So I would go and talk to women in shelters about what it was lie to be in an abusive relationship or something like that. It was really fascinating and really encouraging to see the growth that they had and the journey they took. Knowing that it's through friends and family that make a safe place for them to do that. That's really what this whole movie is about. Maybe Southport is a wonderful safe place, but it's about the people who really let you be you and be safe and comfortable with what you're doing.
Q. What was it like filming on location in North Carolina?
Julianne:
It was amazing we were literally living at the beach so every weekend when we weren't shooting I'd be there just playing. I had my two dogs and we'd run up and down the beach and in the water. The food was amazing and it was all fried. So before my bikini scene I wasn't eating the food there, I was having salads instead. I think that the restaurants, the people, everything was amazing. They would make us cookies on set because they lived there and then we'd sit on their front porch and eat it. It's such an amazing town. Because of the size of the place you do kind of feel like time slows down being there. You get to really calm your energy there, whereas I feel like in places like LA, New York or even London I'm constantly anxious about the next thing. There I really was just present and enjoyed every moment. I think that was the same for my character because she just really wanted to get away from big cities and all the anxieties and unease that come with those. But the second she lands there she feels the comfort in it.

Josh:
I think we did a good job capturing that in this movie. Our director did a beautiful job contrasting the city and Katie's problems with this new place she discovers. Once you get to Southport North Carolina, you can just breathe and there's something very relaxing about it.

There's something special about the beaches in North Carolina. They're very regulated in the conservation of the beaches there and maybe that's why they don't populate as much, because you can't really build on the beaches there. To me that is what I found so beautiful down there, it's one of the best kept secrets in the US. The water is warm, the sand is soft and the beer is cold. So there's something about this place that feels very rustic almost.

Nicholas:
I live about 80 miles away from where we were filming so I could drive back home when I wanted to. That's what it looks like where I live and I think it's really beautiful. It's slow and it's hot, everything makes it feel like the days are just a little bit longer there because you have the chance to be not busy. Which is a nice thing to have.

It's an interesting state because the closer you get to the coast the smaller the towns become. If you look at LA, New York or New Orleans all the big cities tend to be on the coast. But for whatever reason not so in North Carolina. By the time you get to Southport here's like 1000 people living down there. This is the prettiest spot though, so I don't get it.

I think because you have so many of these small towns you have an environment that lends itself to having people takes the time it takes to get to know each other. In small towns you bump into people and it's kind of what makes Safe Haven work.  When Katie shows up played by Julianne, she's guarded and she doesn't want to connect with anyone at all, but she has to continue to interact with this guy Alex because he owns the store and whether she wants to or not she has to buy stuff from him.
Q. There's a romantic spontaneous dancing scene in the film, apparently you weren't so sure about it at first?
Julianne:
It was maybe just a little far-fetched for two people to  just get up and dance. Initially I was excited that this was the first movie where I didn't have to dance, so that was my reasoning behind it. But it's not like a full on dance routine so it was really about just falling into it. It was charming and cute. If someone did that with me in real life my heart would just met!

Josh:
I wasn't comfortable just because by nature I'm not comfortable dancing, but it was one of those scenes where you initially thought "Who just ends up dancing like that?" But then I talked to the director and Julianne a lot about it and we sort of figured out a way to make it feel like a guy is being playful. When you first start dating a girl at some point you have to make like a bold move and that was kind of that moment. So a scene that I was really apprehensive about actually turned out to be one of my favourite scenes in the movie.
Q. What was the hardest scene to film?
Julianne:
Making out with Josh!… Actually no I'm not going to go there. All of the scenes were so fun to do but the love scene was very hard for me to do because it was my first time doing one and it was very nerve-racking. Honestly every scene was so enjoyable because it was so natural ad fun and I loved every single person I worked with. I think a lot of the stuff in Boston was hard to shoot, when you see the movie you'll understand that emotionally was a bit heavier and darker. But the actor I was working with for those intense scenes is probably one of my best friends for life now. The kids were amazing; Josh was amazing it was such a fun movie to shoot. It is challenging but it wasn't a hard movie to do because it was so awesome to be there.
Q. So what's next for all of you?
Nicholas:
I'm selling my most recent novel hopefully in the next couple of days. I have The Best Of Me starting filming in a couple of months. That will be with a different studio but I'm excited about that. Probably also doing some TV, Broadway and I'll have to write again.

Julianne:
I've been so lucky the last few years. It' definitely been hard work and it might have seemed like it just happened over night but it's been such a struggle and I'm so grateful. Next I did a film with Diablo Cody called paradise and ta should come out later this year.  It's a pretty intense script, it's about a Christian evangelist who got in a plane accident and now has burned over two thirds of her body. So she's a burns survivor and she grabs that identity and she has a wild night in Vegas because she wants to just sin. It's a really fun story .

I haven't announced it yet and I don't think I can but my brother and I actually have a really cool project planned. I lived here in London for a while and I think the UK audiences in particular will really enjoy it. I can't really say too much more but it's exciting and it's on the other side of the camera.

Josh:
I'm done with Transformers now, although I got a call last night from Michael Bay congratulating me on the little one on the way. Obviously I'm over the moon about that news. March 23rd I'll be hosting the Kids Choice Awards which I'm very excited about. I also have a movie opening at the south by south west festival in a few weeks. I'm just hustling you know.