Despicable Me 3 Review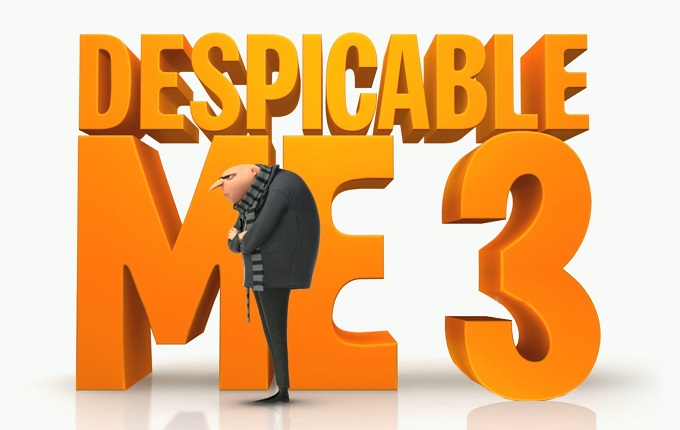 The Plot
Reformed supervillain Gru finds his new life as a hero thrown into turmoil thanks to a new adversary Balthazaar Bratt and the discovery that he has a long lost twin brother Dru. Meanwhile his loyal Minions question their place in Gru's crime free adventures and his new wife Lucy comes to terms with being a mom to their adorable adoptive daughters.
The Good
Despicable Me perfectly combines the key elements of classic children's entertainment. The absurdly popular Minions provide silly slapstick humour, an infectious soundtrack propels colourfully inventive action set pieces and Gru and his girls deliver a genuinely emotional message about 'family'. It's an increasingly well practiced formula which allows the forth film in the ever growing franchise to largely match audiences high expectations.
Steve Carrell slips effortlessly back into his vaguely eastern European drawl as criminal mastermind turned family man Gru. The Office star also manages to find enough vocal variety to play Gru's flamboyant brother Dru as well, giving distinctive personalities to the Gru-some twosome as they bicker and bond.
Kristen Wiig clearly delights in returning as super-agent Lucy, giving her quest to become a 'super mom' a perfect balance of humour and heart. South Park co-creator Trey Parker is also a great fit for new villain, the 80s obsessed Balthazaar Bratt. It's a fun character that lends the film an excuse for plenty of playful action and continues the fine villainous pedigree of the series.
In truth though it's Nev Scharrell as the adorably unicorn obsessed Agnes who shamelessly steals every scene she's in. It's her endearingly wide eyed glee that best capture the true spirit of the franchise, perhaps even more than the irrepressible Minions.
While the Minions are of course still a constant presence, Despicable Me 3 wisely avoids being too overly reliant on them. Having had a whole spin off film to themselves this new sequel uses them a little more sparingly, helping to further preserve their unique charm.
Overall Despicable Me 3 is a worthy continuation of the series and packed with a near perfect balance of humour, heart and cartoon magic.
The Bad
The stunning box office success of the original Despicable Me made sequels and spin-offs absolutely inevitable. While countless children still can't get enough, some parents might be suffering from a little bit of Minions overload. Especially after the recent spin off movie focussing shamelessly on the banana loving gibberish speaking sidekicks.
Given how perfectly resolved the plots of the first two Despicable Me films were, some cynics may also have wondered whether or not the never-ending series is merely being prolonged to facilitate the vastly lucrative burst of Minions merchandise that accompanies each new release.
Though there's undeniable a commercial incentive for the studio to keep going, thankfully there's still enough depth and sincerity in these increasingly beloved characters to deliver a deserved continuation of their stories.
The Ugly Truth
Despicable Me 3 is a warmly fun addition to a franchise that knows exactly what it's doing. Capturing all the elements which have made the previous films such a crowd pleasing success guarantees that fans of all ages will leave the cinema just as happy this time around.
Review by Russell Nelson