Concrete Cowboy Review TIFF 2020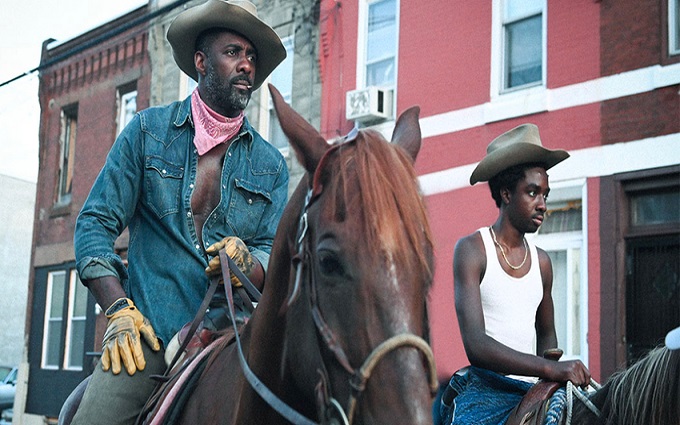 The Plot
A troubled teen is sent away to live with his estranged father in Philadelphia and is plunged into a surreal world of inner city cowboys. A black community living with horses in their homes and as the last proud survivors of a forgotten portion of the rich western legacy.
The Good
Concrete Cowboy is a unique experience of two deeply unexpected world's colliding in a surreal urban dreamscape. The juxtaposition of modern settings with literal cowboy culture captures a visceral spirit of the West. While the sight of horses and low dipped Stetson hats alongside a bleakly concrete urban wasteland is jarring initially, it's soon obvious that there's a strange connection between them.
The parallels between the fiercely dangerous and barren city streets and the once untamed western wilderness are powerful and richly realised in the conversations of the new inhabitants. There's a stoic determined independence to this community as they battle against poverty and hardships that speaks to what it really means to be a Cowboy and a man.
The film's well-chosen soundtrack helps emotionally fuses these two world seamlessly with a compelling combination of classic western score and propulsive rap music. It ties them together at the same time it reminds of the fierce conflict between these two powerful identities. The film offers frequently vivid and powerful commentary on those that resit the coming tide of tamed gentrification and maintain the true dignity of western independence. It's an articulate and important voice.
Caleb McLaughlin is amazingly effective playing Cole, the young boy on the uncertain cusp of manhood, torn between the obvious temptation of 'street life' and the unlikely new home within the welcoming embrace of his father's cowboy community. Idris Elba brings his considerable gravitas to bear playing Cole's father with a typically gruff voiced intensity. He imbues this stoic western archetype with fresh relevance and heart. The strained tensions and ultimate connection between these two characters is the true heart of a film that gradually reveals itself to be a love story between a father and son.
The film is by turns softly reflective almost spiritual and then thundering with dangerous intensity. That heady mix of heartfelt ruminations and visceral action gives the film a uniquely compelling aura throughout. Concrete Cowboy is luxuriously shot and astonishingly timely, speaking to the present with a voice richly hued from the past.
The Bad
People may be initially off put by the unaccustomed concept of an urban set cowboy tale. But anyone who is willing to give the film a chance should soon brush away those apprehensions of misconceptions.
The Ugly Truth
Concrete Cowboy is truly original storytelling that speaks vividly to both the forgotten spirit of the west and the 'black experience'. It is a raw and powerful tale packed with true tension and heart. Terrific lead performances do justice to a sorry with clear ambitions to say a lot about identity and manhood.
Review by Russell Nelson