Beautiful Thing Review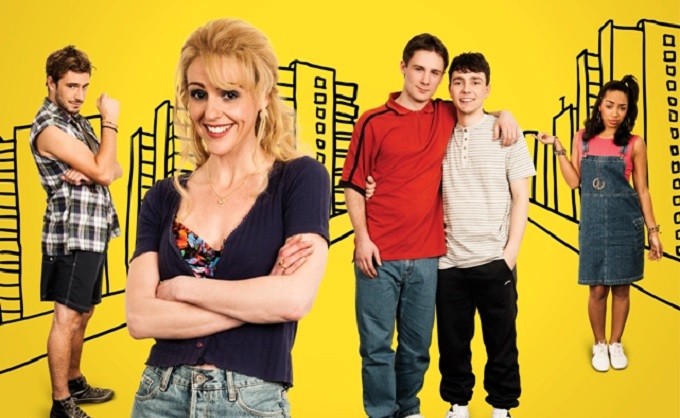 The Plot
Set on a rough-diamond of a Thamesmead estate, mouthy single Mum Sandra holds together an eclectic bunch of disenfranchised kids. Her son, 15 year old Jamie is beginning to experience the joys of bunking PE lessons much to his mother's feisty disapproval. Meanwhile, Sandra's posh hippie lover-boy doesn't see what  the fuss is about, choosing to don his girlfriend's skimpy dressing gowns and prance about the stage.
Friend and next-door neighbor, Leah, has been excluded from school and so has turned her attentions to perfecting her Mama Cass impersonation. The final piece in this concrete jigsaw is neighbor Ste, who finds refuge in Sandra's flat as he escapes his abusive father.
Of course, as so often good stories are, this is a love story through and through as a relationship blossoms between Ste and Jamie and the pair fall head-over-heels in love.
The Good
Quite simply, this is the most stunning, beautiful, hilarious, powerful and (oh heck) the best play we've ever seen in the West End. In a nutshell,  the play combines the intimacy and realistic acting that we all know and love from film and telly with the immediate presence and raw, live experiences of theatre. It's a winning combination.
Beautiful Thing superbly explores the challenges, pains and joys of first love. Though it's rightly praised for it's sensitive handling of specific issues surrounding gay relationships the social and emotional themes tackled by this flawless production are universally applicable. Though the play cannot avoid having political significance, particularly given the current global debate about gay marriage, it goes beyond soapbox politics to effect audiences in a much more profound and emotionally effective way.
The play's core cast of Suranne Jones (Sandra), Jake Davies (Jamie) and Danny-Boy Hatchard (Ste) are all absolutely fantastic as they breath dramatic life into the respective  tribulations of parenthood and endearingly tentative romance. Watching a believable family and young couple deal with gay love offers an undeniably  effective argument for tolerance and gay rights.
The Bad
It's rare even for the high standards of the West End, but for once it's hard to find a flaw in this production.
The Ugly Truth
It's twenty years since Jonathan Harvey's gay coming-out/coming-of- age story first took to the stage and it continues to grow more relevant and poignant. The play's run has coincided (almost, too) perfectly with the rest of the world's antics. The opening night just so happened to fall on the same day that New Zealand passed legislation in support of gay marriage. We urge you to support this superb production and visit the Art theatre before it's run end son 25th May.
Exclusive Cast Interviews below from the official After Party: