The New Corporation: The Unfortunately Necessary Sequel Review TIFF 2020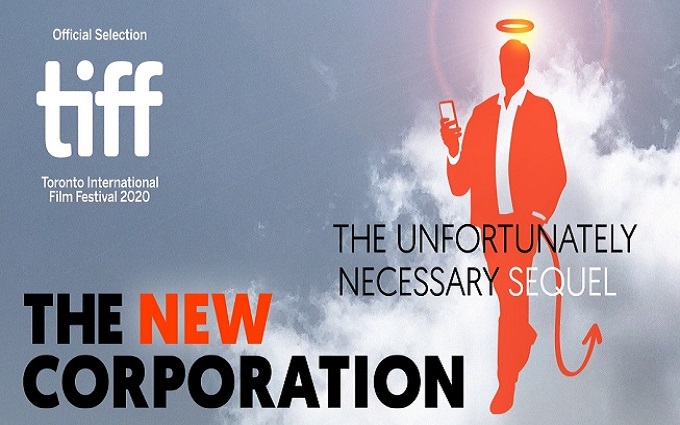 The Plot
A documentary sequel to the landmark 2003 film The Corporation. The original tackled the evolving and problematic effects of Corporations on the economy, environment and society at large. This sequel picks up that damning character assassination by examining the past 17 years of corporate crimes and misbehaviour, including the 2008 global economic collapse.
The Good
In 2003 The Corporation was a piece of documentary cinema that fundamentally changed the public perception of what that word meant, by shining a light on the destructive often outright criminal behaviour of these all powerful and increasingly pervasive global business institutions. It was a damming critique of the greed and borderline psychotic actions of companies fuelled by a constant need for shareholder returns in spite of an astonishing human cost.
This astonishingly well produced sequel proves to be just as well evidenced and articulated a reminder of these deeply uncomfortable truths. Shamelessly intelligent and densely detailed, this new documentary systematically pulls apart the marketing manipulations and false promises of Corporations that have battled to restore their image in the face of an increasingly self-aware and enraged public.  Step by step the film outlines the ways in which Corporations have sought to disguise their persistent misdeed with cynically calculated marketing campaigns and by cynically adopting a new language of 'social responsibility'.
The original documentary examined the inherent dangers of treating corporate entities legally as the equivalent of actual people. In practice often affording them even greater rights and legal protections than individuals. This new documentary now sets out to pose the equally troubling observation that those same Companies are now effectively being treated as the equivalent of major countries. This phenomenon occurring because the sheer scale of economic power held by these companies individually is now actual directly equivalent or even in excess of many national GDPs.
It has long been a universally accepted truth that individuals have no power to hold Corporations to account. The troubling question this film now asks is whether it's even possible for national political, financial and social institutions to exert any meaningful control on Companies which innately control every aspect of our economic and technological existence. Is it even possible for any one country to fulfil that function, faced with trillion dollar multinational corporations? Entities so vast and beyond the scope of any one jurisdiction that they effectively operate without any form of restraint, totally free of consequence.  How can we ever hope to regain any shred of control over Companies which can now treat $14 billion dollar fines as a minor inconvenience, dwarfed by their incalculably vast revenue streams?
This film does a remarkably good job of examining these unsettling questions and establishing the real risks that Corporate interests may ultimately succeed in replacing all basic functions of governments  and in so doing extend their control over our lives to even greater and more dangerous extents. The documentary is ruthless in explaining every steps in the worrying road already taken and the obvious perils that lie ahead if we continue our reckless march towards abandoning freedom for the corporate convince of new technologies and seemingly simplified daily lives.
The Bad
As the self-aware title suggests it is unfortunate that this film needs to exist and that the urgent warnings provided by the 2003 original have not stopped any of the abundantly troubling events of the past 17 years.
Though the original film in part catalysed urgent PR offensives to rehabilitate the public images of major corporations, perhaps those shameless attempts to once again trick people into accepting the actions of global corporations as a necessary evil or at least an inescapable reality, have been far too effective. It remains to be seen whether or not this new film can have an even more significant impact on the perceptions and behaviours of Corporations.
While this film is uniquely well crafted it's also fair to admit that many people will simply want to outright ignore this troubling subject matter, or at least consume it in a far less concentrated form. Although each piece of the film is methodically produced and simply explained, it is apologetically intelligent and demanding viewing.
The Ugly Truth
The New Corporation is an undeniably necessary documentary that should be compulsory viewing for anyone struggling to understand the seemingly complex nightmare of vast global financial ruin and social collapse that ordinary people have endured in recent decades. I urge you in the strongest possible terms to equip yourself with the knowledge to confront these deeply disturbing truths and… WATCH THIS FILM.
Review by Russell Nelson