The Inbetweeners 2 Review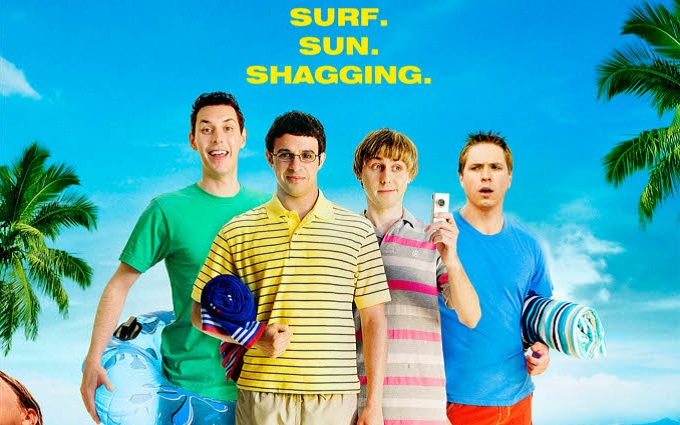 The Plot
Simon Bird, James Buckley, Joe Thomas and Blake Harrison return in the inevitable but much anticipated sequel to their 2011 big screen debut in The Inbetweeners 2. When Neil (Harrison) gets an email from Jay (Buckley) telling him about his lavish lifestyle in Australia, Will and Simon decide to tag along and surprise him for a summer holiday. Cue hilarity as the boys get into all sorts of usual bother down under.
The Good
Since the first film took over £41 million in the UK box office alone and achieved official status as the most commercially successful British comedy ever made, it was inevitable that The Inbetweeners would return to the silver screen soon enough. With the boys just 6 months older but most definitely not wiser or more experienced, The Inbetweeners 2 is certainly bigger. But is it better?
There are plenty of laughs to be had as the boys ill-advisedly venture to the land down under. The film start with a fantastically funny glimpse into the filthy fantasy world of the ever boastful and untruthful Jay. The shameless exaggerations of his sweet life as a superstar DJ  and 'Aussie clunge magnet' seems too good to be true as he talks Neil through a day in the life of his mental Australian Gap Year. As always it's a cringe-worthy treat to see the Inbetweeners most deluded member set himself and the rest of the gang up for inevitable humiliation and mostly deserved shameful suffering.
The hapless lads all remain entertainingly unevolved. Will willingly abandons common sense and his snobbish pretentious at the first sign of hope a pretty girl might actually like him.  Simon has an abusive psycho girlfriend he's too wimpy to dump. While Neil remains utterly clueless with an unfortunate knack of covering most situations with a disgusting variety of bodily fluids. There is still a certain charm in their lack of charm and a more malicious satisfaction is seeing their misguided best intentions end in utter disaster.
The film boasts some memorable set pieces in particular, with dolphin abuse, irritable bowels and ill-advised outback survival techniques among the worst of the depraved antics. It should please long term fans of the original show and entertain or disgust in equal measure.
The Bad
The Inbetweeners 2 offers fans plenty of the same humour that made the previous film such a guilty pleasure, however it veers towards being a little more cruel and dark, particularly during it's latter stages. While the first film felt vaguely euphoric as a jubilant send off for mostly likable characters, writers Damon Beesley & Iain Morris seem determined to be less kind this time round.  The plot quickly undoes any sense of progress made over the previous series and first film, pushing each of the lads toward being an even more pathetic caricature of adolescent obnoxiousness. This does makes it harder to ever laugh with them, but perhaps a little easier to laugh at them.
This sequel was understandably inevitable given the astonishing box office success of the first film. It at least serves as a gratuitous encore and a thank you to a devoted fan base.  Though record breaking box office hauls will no doubt tempt the writers and cast to return for a third time, in truth it's difficult to see exactly where they could take the characters.
The Ugly Truth
The Inbetweeners 2 could have easily been just a lazy ploy to greedily cash in on the huge success of it's predecessor, but it has enough genuine laugh out loud moments to prove that the writers did work hard on producing something fans will enjoy. A slightly less effective and downbeat  final act prevents the film flowing as well as the last, but for the most part, The Inbetweeners 2 is an enjoyable comedy which will keep fans satisfied.
Interviews below with stars  James Buckley & Blake Harrison: