Rush Review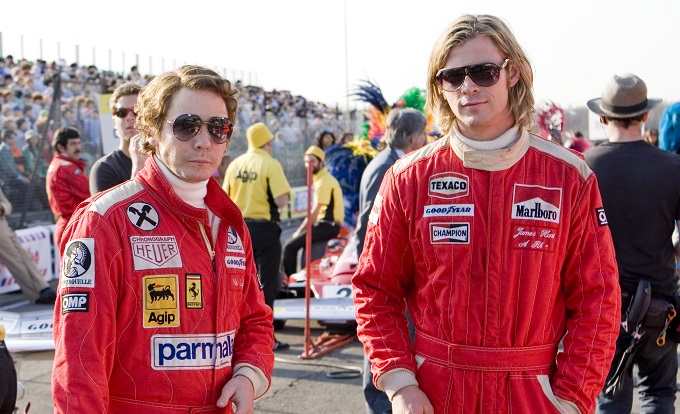 The Plot:
Ron Howard re-creates the world of 1970s Formula One, dramatizing the electrifying rivalry between James Hunt and Niki Lauda, both on and off the race track. It's a fascinating portrait of two very different champions; one a playboy daredevil and the other a neurotic technical genius. Focusing on their fierce battle for the 1976 world championship and the near fatal events which made it infamous.
The Good:
Simply put, Rush is a 200mph thrill ride packed with adrenalin, passion and personality. Screenwriter Peter Morgan proved with Frost/Nixon and The Queen that he could expertly craft the real life story of iconic figures locked in intimate battles. With Rush, Morgan once again provides a well worded study in contrasts, sincerely dramatizing familiar characters in their public and private moments.
A flawless cast, led by a star-making turn from Daniel Bruhl as fiery tempered Austrian Niki Lauda and a predictably charismatic performance by Chris Hemsworth as James Hunt, helps ignite the engine of a great script. Bruhl does a remarkable job of mimicking Lauda, expertly channelling his instantly recognisable voice and wry angry humour. Hemsworth likewise may surprise some people with his competent posh English accent and ability to add subtle layers to his innate rugged charms.
Hans Zimmers pulsing soundtrack exquisitely compliments the deafening roar of supercharged engines. A convincing combination of archival footage, CGI magic and on board cameras also puts audiences right in the driving seat of vintage Formula One races. Director Ron Howard showcases astonishing cinematography and a dedicated eye for historical detail. Overall the film easily equals past efforts like Apollo 13 and arguable represents his finest work to date.
The Bad:
It's hard to find fault with the superb ride Rush offer audiences. Ron Howard delivers a near perfect package of technically accomplished action, fuelled by wit and passion. You certainly don't need to be an expert Formula One fanatic to enjoy great storytelling.
The harshest of historical critics may quibble over the extent to which the film sensationalises the rivalry of two men who were in truth actually more friends than bitter adversaries in real life. However given everything the film does right it's only fair to forgive it a little Hollywood oversimplification. Reducing Hunt and Lauda to caricatures, the playboy and the perfectionist, is a deliberate choice to streamline the narrative and ramp up the tension.
The Ugly Truth:
Rush is easily one of the finest films on release this year and an obvious early contender in several Oscar categories. Excellent storytelling makes it just as accessible for the uninitiated as for dedicated racing fans.
Red Carpet video Interviews below from the Rush World Premiere in Leicester Square: