Red Review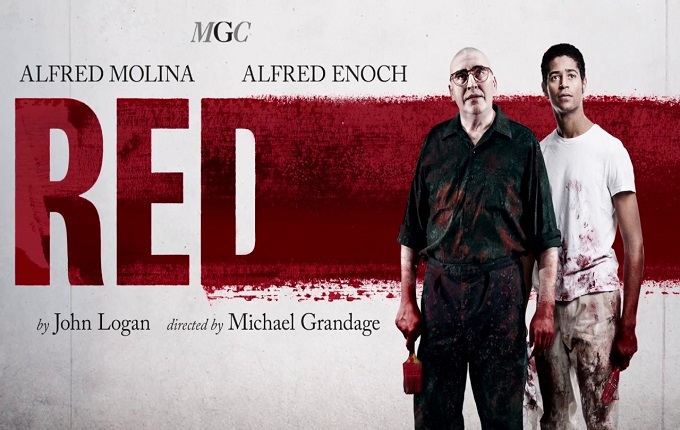 The Plot
Iconic contemporary artist Mark Rothko and his young assistant Ken work together over the course of several years on a series of iconic paintings that would prove to be one of Rothko's defining artistic achievements and tragically significant. Along the way the pair exchange fiercely passionate ideas about the true power and purpose of art.
The Good
Alfred Molina is a veteran actor widely celebrated for his varied and accomplished work on both stage and screen. It's testament to his truly impressive range as a performer that he is just as comfortable playing a robot limbed Spider-Man villain as he is portraying one of the most complex icons of serious contemporary art. Having originated the role of Mark Rothko in the original production nearly a decade ago Molina has only grown more into the piece. Consequently this latest production sees Molina imbued with even more gravitas and wizened intensity.
Opposite Molina, young Harry Potter star Alfie Enoch has a daunting task as Rothko's young and initially overawed assistant Ken. The role had previously bene played by Eddie Redmayne and Jonathan Groff, leaving impressive shoes to fill. It's a credit Enoch that he never feels overshadowed by his predecessors and manages to stand toe to toe with Molina's commanding performance. In particular he does well at playing both a timid student and emboldened idealist.
One of the play's most rewarding features is the genuine chemistry between this talented new pairing, in a fiery relationship that evolves frequently throughout a brisk 90 minute running time. Crucially the New York Studio setting of their fractious debate is bought to life frequently with the very real activity of paint splattered canvases. It's easier to understand and lend credence to their discourse on artistic theory while witnessing the actual creation of art.
Beyond the personal dramas of Rothko and his young apprentice this production carries a simple message that art in all its varied forms is important. This is a timely reminder in a world which is largely more cynical about celebrating this fact than it perhaps once was.
The Bad
Those that struggle to find meaning and emotional significance in the world of modern art will perhaps be less receptive to the production's lengthy musings and unashamed celebration of art's self-declared importance.
While Molina is an undeniably charismatic performer, it's also fair to say the Rothko is a complex, turbulent and at times difficult figure. His stubborn drive and single minded focus are a key feature of his genius but it is sometimes daunting and perhaps even off-putting. Especially for those that struggle to share that same sense of desperate urgency over a paint drenched canvass.
Indeed while the production is insistent on showcasing the actual work of being an artist. Those who don't find a sense of wonder in the end results will be left less enchanted by the relative mundanity of paint mixing and frame assembly.
The Ugly Truth
This fresh revival of John Logan's acclaimed and award winning production gives London audiences another chance to experience a visceral performance from Alfred Molina and examine the explosive passion behind one of the seminal artists of our time.
Review by Bernadette McIntyre