The Plot
Set in 1970s Belfast, '71 follows Gary Hook (Jack O'Connell) a British soldier fresh out of training who is sent to Northern Ireland in the heart of the troubles. It's not long after  his regiment arrives that violence breaks out and Hook finds himself cut adrift from his comrades. Now Hook must survive the night and find his way back to the army base before he's caught by the enemies on Belfast's dangerous streets.
The Good
Director Yann Demange brings a raw realism to the look and feel of 1970's Belfast and sets the tone for the film quickly. With gritty backdrops of Irish streets and a dull grey tone to accompany the film's dark story, Demange has certainly proven his talent in his first feature length film. With a simple yet effective story, Gregory Burke's script leaves a lot for O'Connell to chew over. With the sectarian hostility being the films main interest, portraying it through the perspective of a young British soldier gives an interesting and often captivating depiction.
O'Connell is undoubtedly the star of this fearless drama. Much of the action is built around the tension he brings to the screen as Hook tries desperately to stay hidden with the help of a young loyalist boy, played by Corey McKinley. Though McKinley's thick accent becomes often hard to understand, in spite of this he gives a strong performance for a young child actor and injects welcome humour in an otherwise dark storyline.
The Bad
Although it stays tense and thrilling throughout most of the 96 minute running time, '71 occasionally suffers from overlong scenes which somewhat diminish the film ever so slightly. While it works in most areas, one or two scenes could have been helped with a touch of trimming down. As well as this, David Wilmot, who plays Boyle, Hooks main threat in the film, could have done with a bit more to do. Wilmot brings a menacing and often terrifying performance in '71 but is not focused on as much as he could have been.
While Demange's filmmaking style and techniques work incredibly well for much of the film, his chase sequences are left quite messy with a Bourne-esque shaky cam effect in use which some will find dizzying and feels a touch overused at times.
The Ugly Truth
Yann Demange has done incredibly well with his first feature length, tackling the tough subject of the Irish sectarian conflict. Setting it through the eyes of a young British soldier certainly gives it an interesting perspective and lead actor Jack O'Connell gives his all. Although it struggles with maintaining the tension at parts, '71 still manages to come out as an incredibly strong drama which will keep you entertained and enthralled.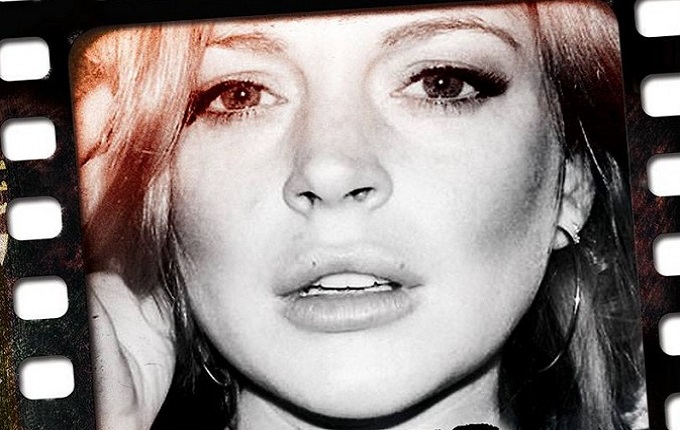 The Plot:
Two friendly but jaded Hollywood executives celebrate their good fortune after landing a major star for a sure fire box office hit. But after an encounter with a seemingly naïve young secretary, one of them struggles with an awkward newfound conscience.
The Good:
David Mamet's Hollywood satire is a deceptively simple but sharp three hander that slices through the familiar clichés of shameless egos, insincerity and self-serving agendas that so often seems to fuel show business. 16 years after its Broadway debut the play is still an accurate and acerbic character assassination of sordid studio executives.
With leading man Richard Schiff unable to perform due to illness (a worrying sign less than a week into performances) his role is filled tonight by understudy Adam Morris. Morris is perhaps most familiar for playing a dim witted Robin Hood in cult classic kids TV series Maid Marian and Her Merry Men. This evening he does an admirable job of playing fast talking movie mogul Bobby Gould. He hits his marks and works through the frantic banter with competence, albeit occasionally lacking some of the gravitas and nuance that you expect West Wing star Schiff might have offered.
Stage veteran and Four Lions comedy star Nigel Lindsay is another saving grace for tonight's production. He delivers most of the laughs with a consistently entertaining performance as foul mouthed and violently ambitious wannabe producer Charlie Cox. His snarling sweaty performance helps capture some of the fire and wit of Mamet's writing. He's evidently the most familiar and at ease with the material, helpfully dragging his less assured co-stars along.
The Bad:
Lindsay Lohan has had her credible teen stardom steadily eroded away by a decade of self-inflicted scandal, disappointments and tabloid journalism. It has left her with unenviable notoriety and very vocal critics. As such, news of her stage debut in London was quickly dismissed by most as ill-advised stunt casting and a misguided bid for career redemption. Sadly on the basis of Lohan's initial performances, those accusations seem painfully accurate.
West End audiences expect perfection, perhaps a reasonable request when tickets cost up to £90 each. At times the troubled former film star falls so short of those high standards it threatens to become a source of cynical amusement.
During the first act, despite her limited stage time and sparse dialogue, Lohan is an evidently nervous and distracting presence. It's awkward watching her fumble to make her minimal mechanical contributions amongst the fast paced scenes. It's also immediately clear that prematurely wearied features and real life Hollywood infamy are a poor fit for playing a supposedly naïve young woman. At just 28 Lohan already feels too familiar and worn out to convincingly play the wide eyed ingénue.
During the second act Lohan finally gets the opportunity to deliver meaningful chunks of dialogue, albeit with many of them literally read from a book. As has been widely reported, tonight during one of the few off-book monologues, she is indeed prompted for a line by an embarrassed voice from off stage. It's an inexcusable low point in an overall unsatisfactory and uneven performance.
Even if you generously excuse the occasionally fluffed line as a symptom of early run nerves, it can't disguise the fact that it's a performance that would at times be more at home in a school play than at the pinnacle of live professional theatre.
Finally it's worth noting that after the curtain fell on an awkward on stage apology from Lohan for Richard Schiff's absence, theatre goers who waited patiently by the stage door for nearly an hour to at least have their program or ticket stubs signed, were informed that she had just ducked out of a side exit to avoid facing them. Leaving fans with a final disappointing act of self-sabotage.
The Ugly Truth:
Speed The Plow remains a quick witted piece of relevant and amusing material, but sadly this current production doesn't yet seem equipped to capture that. It's worth acknowledging that the show still has a long run to polish out the obvious flaws of its early previews. Perhaps guided by a recovered Richard Schiff and a quickly improved display from Lohan the production may still find its feet.
An Interview with the charming and highly talented Richard Schiff below: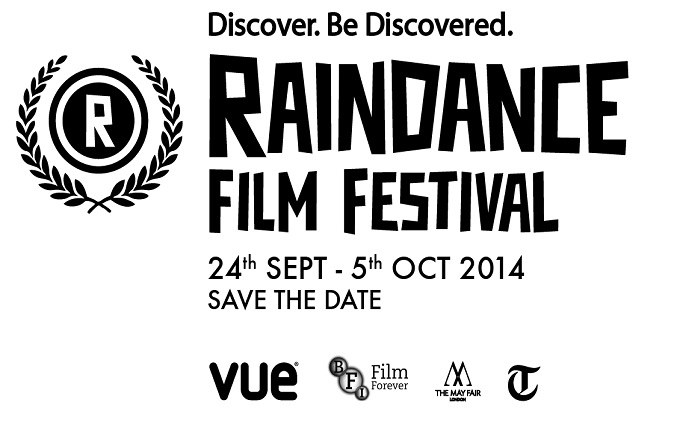 The annual Raindance Film Festival kicked off in the heart of the west end last night with the red carpet premiere for I Origins, the intelligent science fiction follow up to Another Earth from Director Mike Cahill. The film stars Boardwalk Empire's Michael Pitt and Brit Marling. The festival celebrates the best in independent film making from around the world bringing first time directors and accomplished veterans together.
Check out interviews below from the opening night: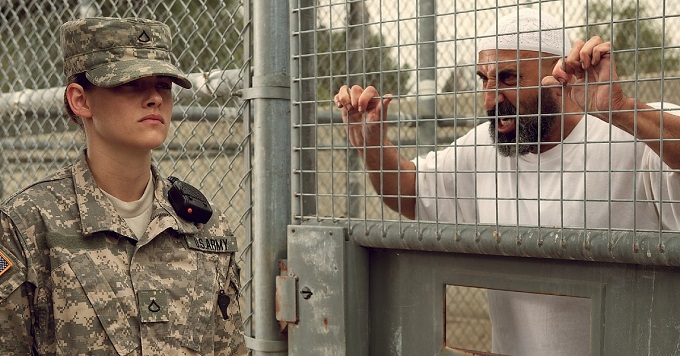 The Plot
A young American soldier stationed as a guard at Guantanamo Bay finds herself discovering an unlikely and at times reluctant connection with one particular 'detainee', throwing into question her view of right and wrong.
The Good
Guantanamo Bay and the questionable ethics behind America's infamous prison camp for 'evil doers' has been the subject of much political soap boxing and geo-political debate. The success of Camp X-Ray is that it doesn't allow itself to ever be distracted from a simple but compelling human drama by political controversy. The film isn't driven by any overt political agenda and doesn't waste time with heavy handed dialogue and sermons. Defying expectations and assumptions, this isn't a film about American foreign policy or religious extremism. It's actually a much more simple but poignant examination of incarceration and freedom.
Twilight star Kristen Stewart is a very good fit for the increasingly troubled Pvt Amy Cole. Having long ago perfected a pained but stoic expression, she easily captures the constant unease of her character. Her typically restrained performance matches the claustrophobic surroundings and situation perfectly.
Peyman Moaadi is an absolute revelation as Ali, the detainee who forges an unlikely bond with Stewart's young soldier. The film wisely avoids making the issue of his guilt or innocence ever feel like a relevant question. He is neither an evil enemy combatant nor a symbolically innocent victim. He is simply a rational man stripped of dignity and at times sanity by 8 years of oppressive confinement. His performance is the true heart of the film and the source of much of its emotional credibility.
Watching the film's two leads exchanging furtive conversations mostly through a tiny prison window gives the audience an even greater sense of the true claustrophobic reality of this place and these people's lives. Whether tinged with humour or hatred, their exchanges are consistently honest and intensely intimate. The ultimate affect and the film's biggest achievement is to give the audience an immersive experience which is somehow both horrific and hopeful.
The Bad
Kristen Stewart divides audience opinions almost as much as Guantanamo Bay divides political opinion. Those unimpressed by her acting talents or media persona will no doubt find plenty of ammunition to criticise her performance as awkward or sullen. However those criticisms perhaps wilfully miss the entire point of this film. Her character deliberately wears a gaunt troubled expression as a permanent piece of armour, against the hatred and oppression which surrounds her, meaning that when a rare smile does break through it actually truly means something.
Those hoping for some kind of an examination of the complex political and military realities that lead to the continued existence of the infamous Gitmo prison may be disappointed that the film doesn't delve into these issues. However in truth the film gives audience an insight into the human experience of those working and imprisoned inside. Proving a far more persuasive and subtle voice of protest than any number of grandstanding speeches about justice and freedom.
The Ugly Truth
Kristen Stewart continues to establish herself as a credible dramatic talent outside of the assured box office success of the Twilight Saga. Helping Camp X-Ray deliver a compelling insight into one of the most mysterious and controversial places on earth. Though the film leaves audiences to draw their own political and emotional conclusions its impact is undeniable.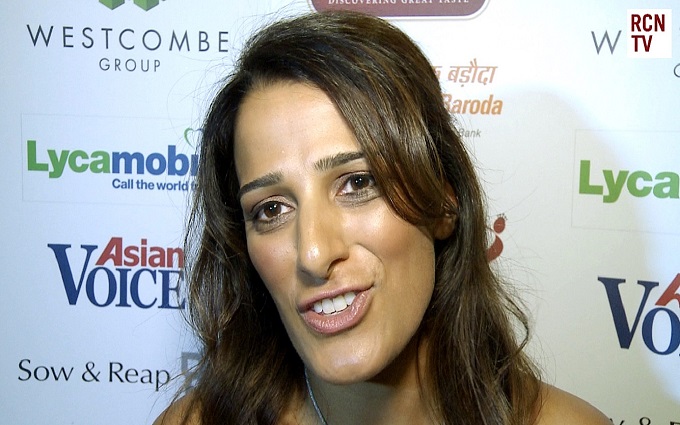 Award winners talked to Red Carpet News at the 14th annual Asian Achievers Awards ceremony in London at a star-studded gala event at the Grosvenor House Hotel, on London's Park Lane.
Winners included Hanif Kureshi CBE for Media, Arts and Culture; Mahmud Kamani, co-founder of boohoo.com for Business Person of the Year; and Wasim Khan MBE, the first British-Pakistani to play professional cricket in England, for Achievement in Community Service.
Picking up the Editor's Award for Rising Star, was ground-breaking music producer, Naughty Boy, aka Shahid Khan, who shot to fame and critical acclaim last year with his hit single, 'La La La'; and also the late Flight Lieutenant Rakesh Chauhan, whose parents collected the Editor's Award for Bravery and Patriotism. Fl Lt Chauhan tragically lost his life in Afghanistan during a routine flight and was honored for his service to his country.
Full 2014 Winners list below:
Business Person Of The Year – Mahmud Kamani Co-Founder boo.hoo.com
Entrepreneur Of The Year – Dr. Richie Nanda
Executive Chairman, The Shield Group, the UK's largest independent Total Security Solutions provider
Sports Personality Of The Year – Dilawer Singh MBE
Sports Council for Glasgow Elected Director
Uniformed And Civil Services – Nazir Afzal OBE
Chief Crown Prosecutor for the North West
Media, Arts And Culture – Hanif Kureishi CBE
Playwright, screenwriter, filmmaker and novelist. In 2008, The Times included Kureishi in their list of "The 50 greatest British writers since 1945″
Woman Of The Year – Priya Lakhani OBE
Ethnic food entrepreneur, founder of Masala Masala, an Indian stir-in sauce
Achievement In Community Service – Wasim Gulzar Khan MBE
Chief Executive, The Cricket Foundation and  CEO, Chance to Shine.
Professional Of The Year – Prof Sir Tejinder Singh Virdee, FRS
Experimental physicist and Professor of Physics at Imperial College London and one of the 'founding fathers' of CMS
Editor's Award for Rising Star – Shahid Khan, aka Naughty Boy
Music producer, acclaimed for his global summertime hit single 'La La La', featuring Sam Smith and A-list collaborations
 
Editor's Award for Bravery & Patriotism – The Late Fl Lt Rakesh Chauhan
29-year-old RAF Officer who died in Afghanistan when his helicopter (Lynx) crashed during a routine flight.