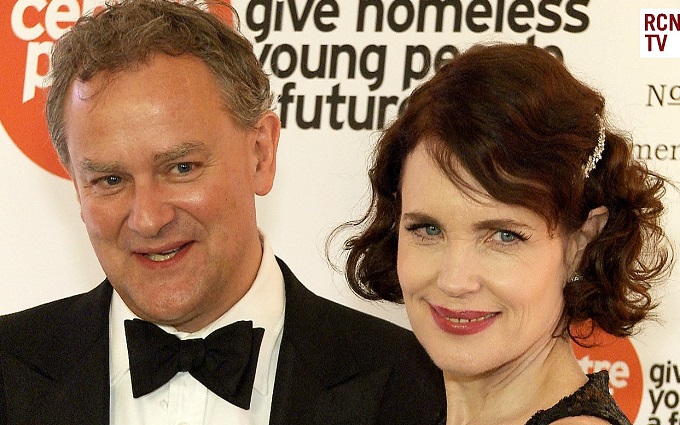 The cast of Downton Abbey joined former co-star Allen Leech last night in London at the world famous Savoy Hotel to raise money for homeless charity Centrepoint. The cast took time out form filming the sixth and final series of the beloved period drama to celebrate and support the work of the charity which helps give young people a safe home and the best start in life.
Red Carpet News spoke to the cast about the importance of the work the charity does and about how filming is going on the new series. Check out exclusive video interviews below including Laura Carmichael, Jim Carter, Allen Leech, Matt Barber, Samantha Bond and Sophie McShera.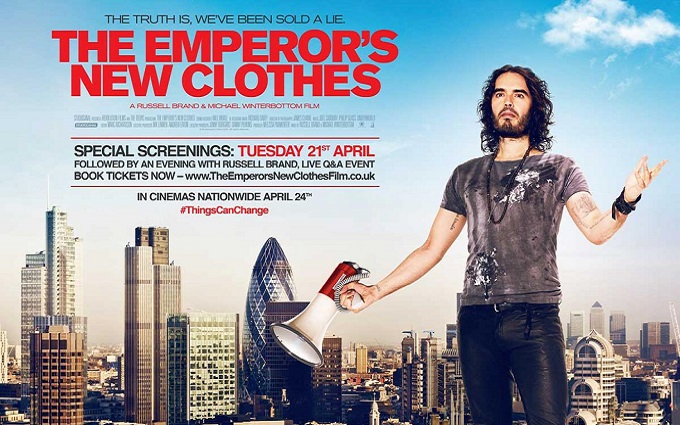 The Plot
Russell Brand brings his successful viral video series The Trews to the big screen with the help of director Michael Winterbottom, as he tackles the complex subject of the financial crisis in a mere 100 minute documentary.
The Good
Anyone who's viewed a video on Russell Brand's The Trews Youtube Channel will know just how passionate a man he is when it comes to politics and finance. You need simply view a couple of minutes of any of his videos to figure out instantly, how this, his latest documentary will turn out.
Opening with Brand reciting the classic titular story of the Emperor who is fooled into wearing invisible clothes, The Emperor's New Clothes moves swiftly on for the remainder of its surprisingly short runtime (given its extremely tough subject matter) with Brand throwing an alarmingly dense amount of information in his usual jovial manner. And yet, it still manages to keep you informed, entertained and most importantly, interested. While the financial status of the world today is an incredibly tricky subject to present in a way that doesn't bore audiences, Brand, for the most part, manages to pull it off.
At no point are we, the audience made to feel stupid as he rambles on and on about the 1% in between various case studies (for want of a better phrase) that shows just how the current financial state is affecting the average Briton.
Praise must also be given for pulling off an impressive collection of information and statistics in such a small amount of time. Brand certainly has a knack for presenting his ideas in a mostly coherent way.
The Bad
Unfortunately, with Brand presenting the entire documentary, his characteristics become quite important to how audiences will react to the information given. At one point he even takes a dig at himself when he admits that he is essentially part of this 1% which he constantly reduces to an act of a typical antagonist, which sends an impression that perhaps he isn't to be trusted completely when it comes to this subject. However, he becomes much more tolerable as the  film goes on.
It's also a shame that nothing particularly new comes to light at any point in the documentary. The impressive, fanciful way in which he gives his presentation is indeed entertaining, but ultimately falls flat when his conclusion is the same as anyone else's really. No amount of interviewing the general public or trying and failing to infiltrate and interview the big banking bosses is going to change anything it seems. And if it does, Brand most likely won't be the person who does it.
The Ugly Truth
Russell Brand brings his usual comic self to some good use but ultimately fails to produce anything particularly groundbreaking with it. At its true essence, The Emperor's New Clothes is simply an extended episode of The Trews, and we can get that easily enough by just making a playlist on Youtube now…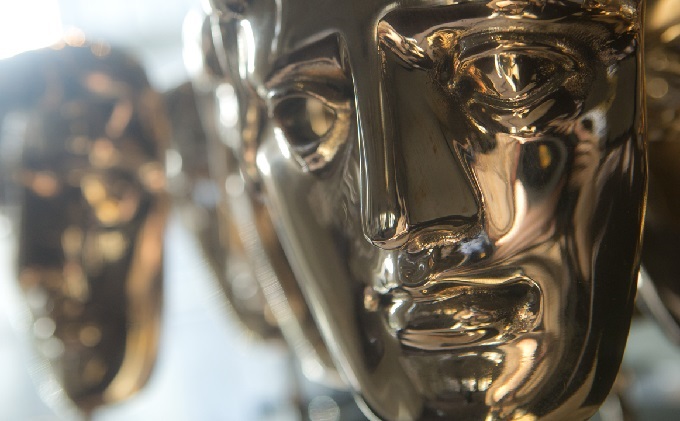 Red Carpet News TV spoke to winners backstage at the BAFTA Television Craft Awards 2015, where Sherlock and Penny Dreadful were among the big winners. Stars Mackenzie Crook were among the other winners on the night.
Check out the videos below for interviews with every winner and some of the celebrity presenters:
British Academy Television Craft Awards winners in full:
Special Award - Hilary Briegel
Breakthrough talent - Marc Williamson (The Last Chance School)
Costume design - Phoebe De Gaye (The Musketeers)
Digital Creativity - Live From Space: Online
Director, factual - Dan Reed (The Paedophile Hunter)
Director, fiction - Julian Farino (Marvellous)
Director, multi-camera - Paul Mcnamara (2014 FA Cup Final)
Editing, factual - Jake Martin (Grayson Perry: Who Are You?)
Editing, fiction - Yan Miles (Sherlock)
Entertainment craft team - Dave Davey, Robert Edwards, Falk Rosenthal (The X Factor)
Make up and hair design - Enzo Mastrantonio, Nick Dudman, Stefano Ceccarelli (Penny Dreadful)
Original music - Abel Korzeniowski (Penny Dreadful)
Photography, factual: Marcel Mettelsiefen – (Children On The Frontline, Dispatches)
Photography and lighting, Fiction - Mike Eley (The Lost Honour Of Christopher Jefferies)
Production design - Jonathan McKinstry, Philip Murphy (Penny Dreadful)
Sound, factual - Mike Hatch, Kuz Randhawa, Matt Skilton (Messiah At The Foundling Hospital)
Sound, fiction - John Mooney, Douglas Sinclair, Howard Bargroff, Paul Mcfadden (Sherlock)
Special, visual and graphic Effects - MILK VFX, REAL SFX, BBC WALES VFX (Doctor Who)
Titles and graphic identity - Mark Roalfe, Tomek Baginski, Ron Chakraborty (Winter Olympics 2014)
Writer, comedy - Mackenzie Crook (Detectorists)
Writer, drama - Sally Wainwright (Happy Valley)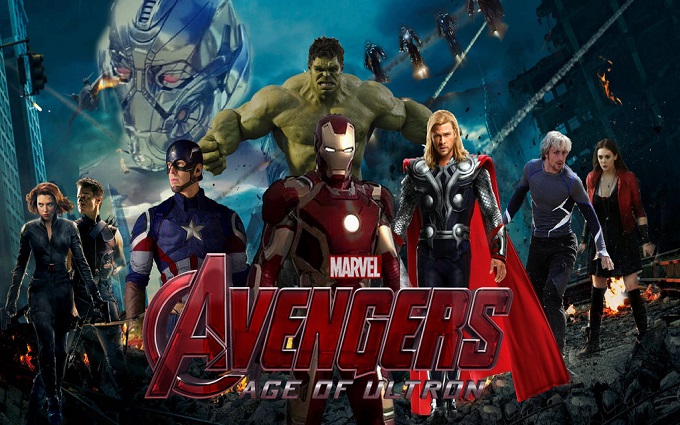 The Plot
The world's greatest heroes the Avengers find their unity and the safety of mankind once again tested when they inadvertently unleash an unstoppable artificial intelligence determined to control the world and destroy them.
The Good
Marvel has carefully transferred their astonishing universe of heroes and villains to the big screen with a consistent success that left long term rivals DC comics embarrassed and hopelessly outclassed.  Avengers Age of Ultron rests comfortably on the laurels of the past nine Marvel big screen adaptations, again doing justice to the high standards of the studio and director Joss Whedon.
An all-star cast, past success and an unlimited budget is never a guarantee of quality of course, but in Whedon's capable hands the billion dollar franchise continues to strut nicely towards another inevitable box office triumph.
Robert Downey Jr., Chris Hemsworth and Chris Evans all clearly enjoy reprising their now well established characters. However, it's actually Scarlett Johnasson, Jeremy Renner and Mark Ruffao who benefit most from an opportunity to add depth to Black Widow, Hawkeye and Hulk respectively. Largely without the benefit of a solo movie, these characters still have the most room left or exploration and development. In particular the chemistry between Ruffalo's tormented Bruce Banner and Johansson's catsuit clad Black Widow is satisfyingly both subtle and surprising. Combined with Hawkeye's unexpected revelations it provides the film with some genuine heart amongst the CGI mayhem.
James Spader is a particularly welcome addition as the voice of titular villain Ultron. His gravel voiced performance is suitably menacing and breathes considerable life into an otherwise two dimensional villain. The film also boasts a few crowd-pleasing action set pieces, most notably the much anticipated fight between a rampaging Hulk and Iron Man in full Hulk Buster armour.
The Bad
The first Avengers film was the culmination of a decade's preparation, launching a billion dollar franchise with the near perfect blend of comedy, action and convincing comic book drama. Matching those standards and meeting fans sky high expectations was always going to be a near impossible task for any sequel, even for Marvel's accomplished creative team.
Age of Ultron largely follows the formula of the first Avengers adventure, but ultimately feels like a holding point as Marvel gears up for even bigger and more spectacular storytelling in the already announced sequels. Comic fans and those familiar with the Marvel cinema universe will already have a good idea of what to expect for the Infinity Wars films and Marvels ultimate villain Thanos. Particularly for comic fans there may be some impatience at how slowly Marvel is building towards that heavily foreshadowed climax.
Though James Spader is an excellently villainous actor, Ultron is a fairly generic threat with the usual army of evil robots. Those that found the climactic battles of Avengers Assemble to be a little repetitive and lacking in real danger will likely feel much the same about the seemingly endless battles with Ultron's easily disposed of minions. Outside of notable set pieces like Iron Man's Hulk battle the film's action often lacks a little variety.
While the film does add depth to some characters, particularly those who haven't had solo films like Hawkeye and Black Widow, the more established heroes have a considerably less room left to grow. Iron Man, Thor and Captain America have already had much of their issues resolved across eight films. Amongst the increasingly crowded cast new characters Scarlet Witch, Vision and Quicksilver also don't have nearly enough time to establish themselves. It must be admitted that the most recent X-Men film Days of Future Past which also featured super-fast hero Quicksilver embarrassingly upstaged Marvel's own lycra clad version.
Overall Age of Ultron takes the predictable path of making things 'darker'. Ever since Star Wars took this route with Empire Strikes Back, it seems to be acknowledged as the only way to surpass or match auspicious first films. Unfortunately the film is forced to increasingly sacrifice humour to make more room for more angst and inevitable brooding.
The Ugly Truth
Avengers Age of Ultron is another satisfying slice of comic book escapism featuring all your favourite Marvel heroes. It continues to introduce new faces and lays the groundwork for amazing things yet to come. Less ardent fans may find the non-stop action a little repetitive during the film's lengthy second half but it's hard to deny the undoubted quality of Marvel's work. The real challenge for the future will be how the studio maintains its accessible mass appeal as the cinematic universe become as increasingly complex as their vast and complex comic book world.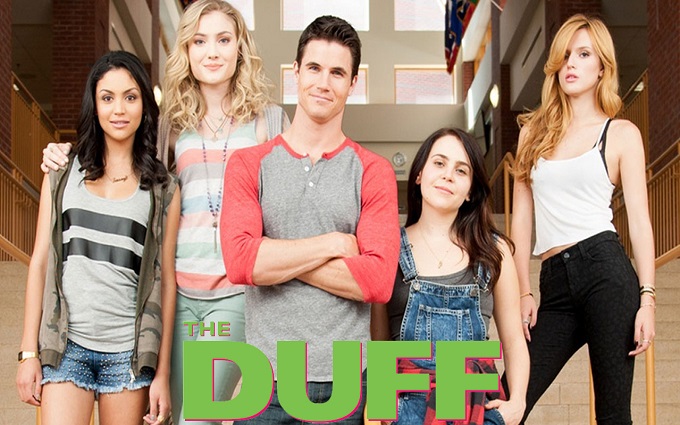 The Plot
When high school teen Bianca (Mae Whitman) discovers that she is the DUFF (Designated Ugly Fat Friend) to her more popular friends, she seeks the help of her childhood friend to get strip herself of the label.
The Good
It feels almost wrong to describe The Duff in the way it will no doubt be compared to considering the two films tiny difference of only eleven years between release dates, but it truly feels like a modern Mean Girls! Just typing that out felt wrong. Mean Girls is such a tremendously popular film that still rings true to new audiences eleven years later, but here's where the difference lies between it and The Duff. Strange as it may seem, Mean Girls was made in a time when the social groups were just starting to change. The geeks have now inherited the earth and this is partly due to the social networking boom that's been growing more rapidly over the last decade.
The Duff takes this in it's stride and works with it to create a new high school rom com which just feels simply much more up to date with it's constant referencing to Twitter, Tumblr, Vine, Instagram and every other social networking platform imaginable right now.
The real trouble with The Duff is it's premise. A film which has a main premise of an idea that every friend group has a Designated Ugly Fat Friend who is deemed the more approachable in order to flirt with their friends is a dangerous one that could have had a more disastrous outcome. Fortunately The Duff comes out mostly unscathed. This is due mainly to the incredible talent of Mae Whitman. She holds the film on her own spectacularly and with a much respected grace that skims lightly over the line of offence and never crosses it. While the supporting cast do have their moments, such as Robbie Amell's cute role of the best friend, and Ken Jeong and Allison Janney occasionally popping up for a golden moment or two, Whitman is the force that holds this film together.
The Bad
For a film which tries to defy the status quo and send the message that we don't need to be labelled, The Duff still manages to hit many of the traditional rom-com rules, to the point where it feels like it's unfortunately following each step of the rom-com gospel word by word. Because of this the film becomes predictable almost from the very beginning. To all rom-com fans it won't be anything particularly groundbreaking unfortunately.
The Ugly Truth
The Duff has a good idea as its main premise, and brings a good flow of plenty laughs throughout. However it's determination to stick to the rom-com guide brings down its chances of being a Mean Girls for a new generation.