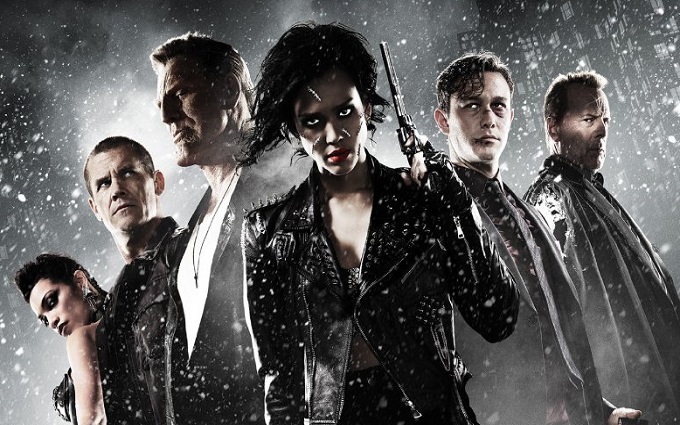 The Plot
Robert Rodriguez and Frank Miller team up again to bring a second dose of stories from Miller's ever popular graphic novel. Bruce Willis, Powers Boothe and Mickey Rourke are among the returning faces, whilst newcomers Joseph Gordon-Levitt, Josh Brolin and Eva Green are added this time around.
The Good
It's been 9 years since cinemagoers were first introduced to the beautifully shot streets of Sin City, with its nods to film noir and incredibly well adapted scenes which, quite literally brought Frank Miller's comic book series to life. But finally Robert Rodriguez and co-director Miller have managed to gather the previous actors together as well as add in a few new faces for a selection of more stories from the city where 'you go in with your eyes open, or you don't come out at all' as Joseph Gordon Levitt's Johnny so eloquently puts it.
This is perhaps the best way to describe Sin City: A Dame to Kill for. It's certainly a wonder to watch as Rodriguez and Miller bring the same beauty that made the first film such a hit. The stories explored this time around feature the aforementioned Gordon-Levitt in The Long Bad Night as Johnny a smug young gambler who swaggers into Sin City in the hopes of embarrassing Powers Booth's Senator Roarke in a game of poker. We also have Eva Green joining the film in the titular storyline, A Dame To Kill For as femme fatale, Ava Lord who has Dwight McCarthy (with Josh Brolin replacing Clive Owen as a younger version of the character) wrapped around her little finger in the way that someone only of Green's calibre could do.
Wrapped around these stories we also have the return of Mickey Rourke looking and sounding as gruff as the last time we saw him as Marv, in Just Another Saturday Night where he has a run in with some frat boys attacking a homeless man. And finally, Bruce Willis returns as John Hartigan along with Jessica Alba's Nancy Callahan in Nancy's Last Dance.
Each of the four stories weave effortlessly in and out of each other with characters popping up here and there before taking the stage for themselves in their own stories. While it's nice to see Willis and Rourke back, the highlights this time around are undoubtedly Eva Green and Joeseph Gordon-Levitt. Gordon-Levitt becomes instantly likeable as the cocky Johnny but Green eventually tops him as she charms the audience just as easily as she does Brolin's Dwight.
The Bad
The nine year gap has not helped Sin City in the long run. Though it is just as amazing to watch as it's predecessor, A Dame To Kill For doesn't have anything really new or ground-breaking to warrant it's existence. If it had been released maybe a year or two after the first, we could have had a strong franchise on our screens by now. However as entertaining as a third instalment would be, if the gap between films is even half as long next time round, interest will surely have died out altogether.
Another wrong move in the sequel is the cameo's. While Christopher Lloyd just about gets away with his, the appearance by Lady Gaga feels incredibly out of place. This is a film which certainly doesn't need cameo's like this to keep it interesting so why Rodriguez bothered to include her for such a blink and you'll miss it scene is just plain confusing.
The Ugly Truth
Joeseph Gordon-Levitt and Eva Green shine brightest in the long overdue sequel to the dark adaptation of further stories from Sin City while Bruce Willis and Mickey Rourke bring a sense of familiarity with them. Although it has issues with the lengthy gap between the first instalment and this one, and it's unnecessary cameos (mainly Lady Gaga's), fans will definitely get a kick out of returning to the beloved setting.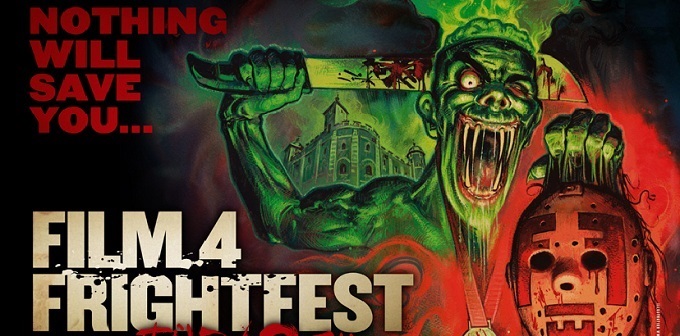 After 4 days of scares, Frightfest comes to a close with day 5. Here's a look at what was on offer to round the festivities off:
Nymph:
Also known as Killer Mermaid in America, Nymph fails to deliver on it's main selling point, namely the killer mermaid. Instead we get a rather poor attempt at a character driven horror filled with all the usual cliches. The only thing that keeps this film remotely interesting is the inclusion of Franco Nero as the traditional creepy old guy who warns our protagonists not to go to the bad place for them to ultimately ignore his protest. Featuring an abandoned submarine tunnel and an abandoned island-prison, yet not even two scenes to rub together involving killer mermaids, Nymph is truly one of the more disappointing films of Frightfest this year.
X Moor:
Luke Hyams brings a North Devon set woodland thriller in which an American couple go in search of the mythical panther which roams the moors. Equipped with enough cameras to turn the area into big brother and a hunter acquaintance who knows the land like the back of his hand, the trio soon find something worse than a panther. With hints of found footage, Xmoor is creepy enough, but fails to keep up with the pace in the end. Alleluia: Lola Duenas brings a stunning performance in Fabrice du Welz's quirky take on real life serial killers Martha Beck and Raymond Fernandez (also known as the Honeymoon Killers).
Truth Or Dare:
Without a doubt the most disgusting film showcased at this years Frightfest, Truth Or Dare is a shocking low budget piece of torture porn in which a group of YouTube sensations play the most brutal game of truth or dare you'll ever see. If your squeamish in the slightest, this film is most certainly not for you.
VHS VIRAL:
The third in the series of short film anthologies brings more directors to the franchise as they each attempt to shock and scare with a short film. Highlights include a look at alternate universes in a short from Open Windows director Nacho Vigalondo entitled 'Parallel Monsters', and a thrilling mockumentary around a magician and his cloak in 'Dante The Great'
The Signal:
Lawrence Fishburne's latest slow burning, chiller is an unfortunate choice for this years closing film. Centered around three friends who go off in search of a master hacker known only as Nomad, The Signal soon takes a very different turn as Nic (Brenton Thwaites) awakes in a mysterious hospital and has to figure out how to escape this new nightmare.
An now  time for the Final Frightfest Daily Awards:
Highlight: Truth or Dare
Low-light: Nymph
Most imaginative kill: death by spiky bones to the back in X Moor
Quote of the Day: 'looks like England isn't just about Supernanny and Prince Harry' an interesting observation from our American cousins in X Moor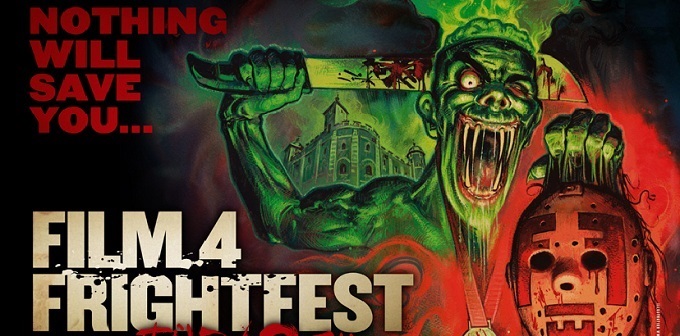 As the penultimate day ends, here's a look at what horrific highlights were screened at day four of Frightfest:
Faults:
Mary Elizabeth Winstead (Scott Pilgrim vs The World) and Leland Orser (The Guest) star in this intriguing drama which takes a look at cults. rose plays Ansel, an expert in cult organisations who is hired by concerned parents of Claire (Winstead) to de-programme her brainwashed mind after she is taken in by a new cult organisation known a Faults. An engaging script and powerful performances by Orser and Winstead makes Faults an invigorating watch.
Among The Living:
French horror directors Julienne Maury and Alexandre Bustillo (Inside, Livid) bring a new nightmare to Frightfest about a mysterious masked maniac who hunts down three young boys after they discover him in an abandoned film studio. Part slasher, part home invasion, Among The Living is entertaining enough. While the young actors aren't quite as strong as they could have been, their performances don't really affect the film enough to bring it down too much.
Open Windows:
Elijah Wood stars in this fantastically presented high tech thriller. When Nick Chambers (Wood) wins a competition to meet his favourite actress Jill Goddard (Sasha Grey) and interview her for his website devoted to her, he's over the moon. But things soon become sinister when he's contacted by an unknown man who has access to her mobile phone and plenty more. Open Windows brings the found footage genre to an entirely new place, keeping the focus entirely on Nicks desktop. Multiple twists in the final act takes away from the inventive filmmaking but it manages to keep you enthralled from beginning to end.
The Shining:
Frightfest brings Kubrick's classic back to the big screen in this one off screening of an extended version. A perfect place to present such an iconic film.
Home:
The Pact director Nicholas McCarthy brings a whole new set of jumps and tension in Home. Real estate agent Leigh (Catalina Sandino) gets more than she bargained for when she assesses a new property to put on the market. Before too long, her sister, Vera gets sucked into the haunted mishaps too. Though jump scares are often viewed as cheap in the horror genre, McCarthy will no doubt make it worth your while as they come in droves and bump the terror up to 11!
The Samurai:
This German horror about a young police officer's attempt to track down a werewolf in his home town eventually turns into one of the festivals craziest films this year when a samurai sword and a man wearing a dress are added into the mix…
Frightfest daily Awards
Highlight: Open Windows
Low-Light: The Samurai
Most inventive kill: death by hardback book in Faults
Quote of the Day: 'All work and no play makes Jack a dull boy' The Shining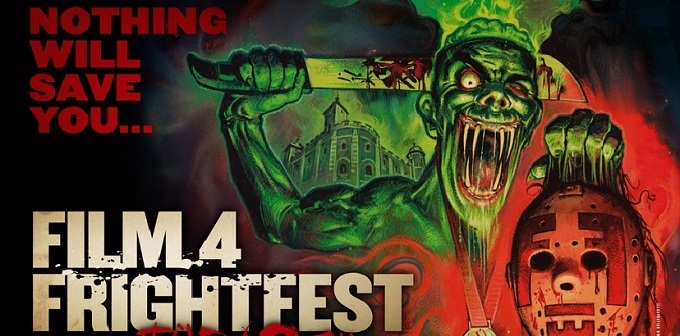 The halfway mark has officially been reached for this years Frightfest. Here's a brief look at some of the offerings on yesterday's horrific menu of movies:
Starry Eyes
Cheap Thrills producer brings this commentary on Hollywood in which Sarah Walker, a young waitress desperate to make it big in movies gets the role of a lifetime with the mysterious Astraeus Pictures. After some uncomfortable auditions, she comes face to face with her producer and eventually accepts the role in Scream Queen. What follows is an extremely gruesome transformation as Sarah becomes more and more removed from her previous self to entirely envelope herself in the role. Whilst it has some good moments, Starry Eyes fails to stay entertaining for most of the second half.
The Harvest
Michael Shannon and Samantha Morton star in this incredibly tense thriller as parents of a dying boy, Andy. When Maryann moves into the area she soon forms a friendship with Andy, but is quickly stopped from seeing him by his ever increasingly insane mother (Morton). But when Maryann finds the secret in their basement, she must act soon to save Andy's life. With extremely strong performances all around, The Harvest quickly asserts itself as one of the highlights of this years festival.
I Survived a Zombie Holocaust
With plenty of zombie movies already out there, I Survived A Zombie Holocaust tries to create something more creative by being set on the making of a zombie B-Movie. But when the extras get contaminated by the water supply, their acting becomes stronger than before. A fun filled zombie flick, I Survived A Zombie Holocaust is sure to keep fans of the franchise happy to be along for the ride.
The Babadook
Essie Davis (The Matrix Reloaded) stars in this tension filled horror about a terrifying book entitled the Babadook. Relying more on atmospheric scares than jump scares, The Babadook will chill you to your bone and make you keep the lights on for a week…
Life After Beth
Dane DeHaan and Aubrey Plaza star in this rom-zom-com. Mourning the death of his girlfriend Beth (Plaza), Zach (DeHaan) starts to spend a bit more time with her parents. But when they suddenly start to avoid his calls, he finds that Beth is back and her grave is empty. It's not long before Beth starts to change and soon enough the whole town is threatened with the arrival of a zombie. Although Life After Beth has an interesting idea behind it, it fails to keep it entertaining after the first half. Co stars John C Reilly and Anna Kendrick try their best to bring more but ultimately fail.
Time for today's Daily Frighfest Awards:
Highlight: The Harvest
Low-Light: Life After Beth
Most Inventive Kill: Death by zombie sex – I Survived A Zombie Holocaust
Quote Of The Day: 'Baba… Dook. Dook. DOOOOK!' The most terrifying thing heard at Frightfest so far…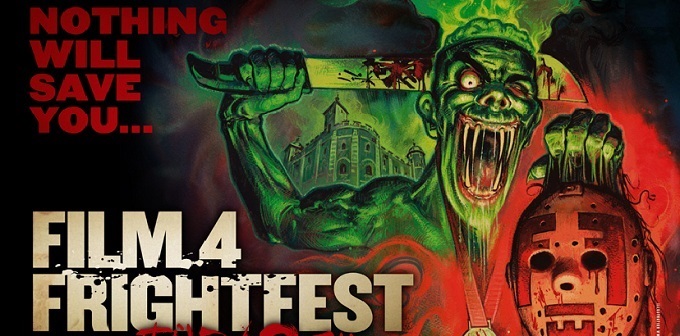 With opening night out of the way, day two of Frightfest brings even more horror to entertain fans with not only 6 films playing in the three separate main screens, but 12 more in the two discovery screens. This of course means that choices have to be made and films must be sacrificed. Here's a look at a select few of the films playing during day two
The Green Inferno
With release date problems attached to Eli Roth's latest, The Green Inferno is perhaps one of the most exclusive screenings of the festival this year. Taking it's title from the cult classic Cannibal Holocaust Roth has created a masterpiece and is truly at the top of his game right now. With gruesome deaths and truly terrifyingly uncomfortable scenes, The Green Inferno is an incredible piece of filmmaking.
Wrong Turn 6
Hosting it's world premiere here at Frightfest, the inbred canniballistic franchise is now moving to it's 6th instalment. This time focussing around a long lost family member of the savage cannibals who arrives at the derelict Hobb Springs hotel to find out more about them. Fans of the franchise will still have fun with the bloody deaths, however it takes a good while for it to truly begin…
Late Phases
Featuring a knockout performance by Nick Damici, Late Phases is a story of one mans fight against a Werewolf. The only problem is, this man is blind. Although it's rather slow moving, Damici's performance is strong enough to keep Late Phases interesting and entertaining along with director Adrian Garcia Bogliano's use of practical effects.
The Last Showing
Horror legend Robert Englund is back in the genre with this extremely meta thriller. Englund plays Stuart, a former cinema projectionist who decides to make his own film with the help of two of the cinemas patrons. A fantastically written film which gives great commentaries on the state of modern cinema whilst mixing in plenty of thrills.
Dead Snow 2
Red vs Dead Director Tommy Wirkola brings the sequel everyone wanted to his Nazi Zombie smash hit. Picking up right where the first instalment left off, Dead Snow 2 is bigger and better, with more laughs and most importantly, more zombies!
Now time for the Daily FrightFest Awards:
Highlight: The Last Showing
Low-light: Wrong Turn 6
Most inventive kill: using someone's intestines to siphon petrol for a tank in Dead Snow 2. Those smart Zombies!
Quote of the Day: 'Hey! I didn't know there was an ugly face convention in town!' Which is clearly the best way to distract an army of Nazi Zombies…