Julieta Review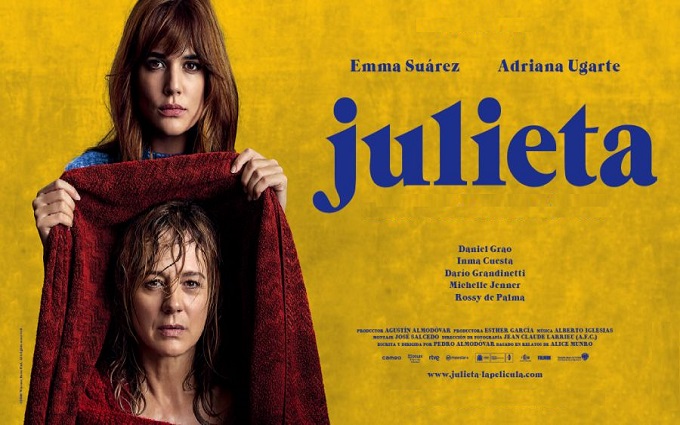 The Plot
After a chance encounter a woman is forced to confront the painful truths about her past and her mysteriously troubled family life.
The Good
Iconic director Pedro Almodovar has a unique flare for delivering slow burning dramas infused with compelling quantities of sexual and psychological intrigue. In Julieta he grips audience's attention firmly thanks to an enchantingly ominous soundtrack and subtly brilliant lead turns from Emma Suarez and Adriana Ugarte.
Julieta features many of the key themes that typically dominate Almodovar's work; most notably family dysfunction, sexual betrayal, debilitating madness and identity crisis. His subtle and stylish approach manages to introduce all these elements without straying too far into melodramatics. As with much of his work, Julieta is built around a convincingly credible emotional core that is strong enough to support a series of odd coincidences and  a deceptively  languid pace of storytelling.
Taking dual responsibility for the lead role of Julieta, Emma Suarez and Adriana Ugarte do a magnificent job of portraying both the youthful and older versions of the same character. Both actresses manage to imbue the character with the same emotional and physical qualities, providing an unbroken chain of continuity as the narrative winds back and forth between present day and the dramatic events of Julieta's past.
While the film offers a superficially simple tale of family tragedies,  Almodovars direction and fine acting elevate proceedings considerably. They combine to inject enough flashes of humour and hints of danger to make the film's central mystery more sustainably compelling. Ultimately Almodovar's greatest strength as a filmmaker is that it is often difficult for audiences to predict precisely where his slowly evolving stories will ultimately lead.
The Bad
Those familiar with Almodovar's trademark style will enjoy the film's slow meditative pace. However a less initiated audience may find themselves waiting for plot twists or frantic action that never quite arrives. Those unappreciative of the film's graceful cinematography or subtle inherent symbolism might easily find themselves dismissing the film as merely an art house equivalent of generic paperback romance novels. Anyone uninspired by the director's previous efforts will find little here to substantially change their enthusiasm.
The Ugly Truth
Fans of Almodovar's steadily growing body of critically lauded work will be delighted to have yet another cinematic effort to enjoy. Meanwhile those unfamiliar with the director's past work will likewise find much to grip their attention in a thoroughly well-made cathartic drama dominated by strong central performances.
Review by Russell Nelson