Alien Themed Nostromo Fashion Week Show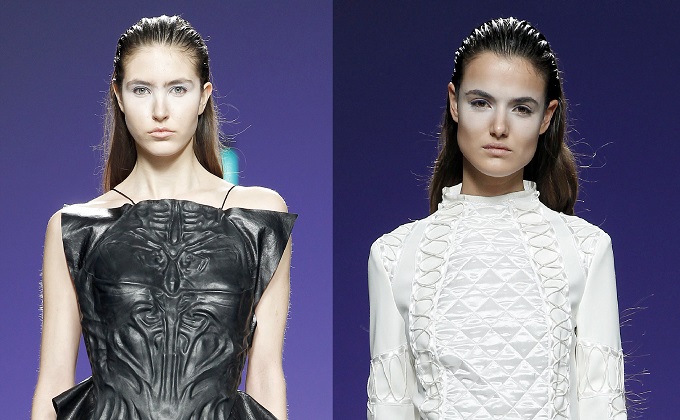 Check out a gallery of images from the Fashion Week runway show form designer Leyre Valiente inspired by Ridley Scott's sci-fi  classic Alien. The shapes and patterns of NOSTROMO, as well as the materials, are inspired by the spacesuits (work of Moebius), structures and interiors of ships, as well as the anatomy of the creatures and textures that appear both in the Alien saga films and in the work of the artist H. R. Giger.
Quilted fabric and simile neoprene create structured outerwear, mikado combines with technological organza which creates plastic glazes, and the skin is pierced and pembossed to give life to the dermis of the alien along with pleated satin. A collection of futuristic lines that mingle with biological textures to use from morning to night. The collection of jewelry is the result, once again, of the Leyre Valiente collaboration with sculptor Imanol Quero (IQ by Imanol Quero).
The scenery of the show has been made by dP ANDROMEDA, with the collaboration of Imanol Quero as author of the alien eggs. Because nothing says high-fashion more than a pulsating space egg containing a terrifying face-hugger….
Check out the surprisingly chic collection below: