Triple 9 Review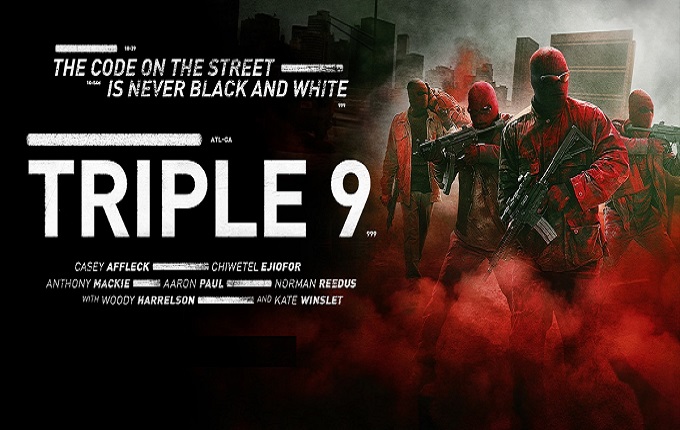 The Plot
A gang of criminals and corrupt cops find themselves resorting to increasingly desperate measures to meet the demands of a scheming mob mistress. With increasingly limited options, planning their biggest heist yet might mean they have to cross the ultimate line and kill one of their own..
The Good
Director John Hillcoat has a celebrated pedigree for bleak and distinctly violent drama. His work in adapting The Road and box office hit Lawless demonstrated a knack for balancing stark brutality with emotive storytelling. In Triple 9 he has assembled a host of talented and very familiar faces to bring a world of ruthless corruption to life. The film's dirty visual flare matches the mood of the subject matter well. Likewise the film succeeds in injecting tangible senses of urgency into its frequent action sequences.
It's hard to fault a cast that includes Chiwetel Ejiofor, Kate Winslet, Casey Affleck, Aaron Paul, Norman Reedus, Anthony Mackie, Clifton Collins Jr and Woody Harrelson. The film even throws some casual eye candy from Gal Gadot and Teresa Palmer at audiences. The cast all deliver committed and earnest performances that make the very best of the by the numbers action thriller material.
Chiwetel Ejiofor deserves particular credit for playing viciously against type, likewise recent BAFTA winner Kate Winselt for lending her award winning class to a decidedly trashy mobster role. Woody Harrelson and character actor Clifton Collins Jr add some typical flamboyance to proceedings while a convincingly heroic Casey Affleck gives audiences at least one good guy to root for.
Indeed Affleck's success at establishing himself as an honest cop and likeable young family man is key to the film maintaining tension when his life quickly comes under threat from the corruption that surrounds him. The film at least tries to offer some depth and motivation for each character in its ensemble cast but Affleck's rookie cop is at the centre of almost everything.
The Bad
Despite an impressive cast and acclaimed director Triple 9 struggles at times to distinguish itself from the rest of the increasingly saturated genre of heist thrillers and 'dirty' cop action flicks. It's particularly hard to avoid obvious comparisons to films like Training Day and The Town. This film combines many elements of both those contemporary classic, largely treading across overly familiar ground no matter how competently it struts.
The film's mostly bleak narrative and frequent bouts of violence won't appeal to everyone of course. Audiences seeking the uncomplicated escapism of a blockbuster action film won't welcome the effort to inject serious melodrama into satisfying mayhem. Likewise those mistakenly anticipating the latest thoughtful Kate Winselt dramatics won't appreciate having a shotgun frequently brandished in their face by gang members & crooked cops.
The Ugly Truth
Triple 9 is a violent crime drama elevated from countless similar films mostly by an impressively assembled all-star cast. Though far from feel good the film remains at least compelling from its opening moments till its final shot.
Review by Russell Nelson