Spy Review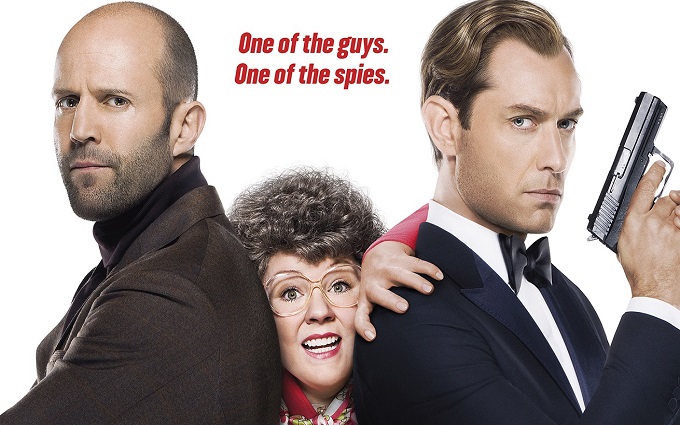 The Plot
When a deadly arms dealer (Rose Byrne) finds out the identities of all the CIA's top operatives, it's up to desk-bound analyst Susan Cooper (Melissa McCarthy) to finally show her worth as she goes undercover to infiltrate the sale of nuclear weapons.
The Good
Melissa McCarthy's latest comedy, her third with writer-director Paul Feig, is undoubtedly her strongest since she first became a household name after 2011's Bridesmaids. This time she plays a lowly CIA operative Susan Cooper, who longs to go out into the field while pining after Jude Law's aptly named suave secret agent Bradley Fine. McCarthy gets to showcase a wide variety of comedic skills as well as show off her knack for action in an incredibly funny spy-spoof. The laughs begin as soon as the bond-esque opening credits start rolling out.
The plot is certainly nothing groundbreaking, but for a spy comedy it doesn't need to be. Thankfully this allows for McCarthy to focus more on her brilliant comedic timing and constant aggressive mannerisms. Her furious foul mouthed tirades may be familiar to audiences by now but those furiously funny charms   work so well for this film in particular. Since Bridesmaids it seems that she's been giving almost the same performance in each film, however with Spy she gets to play both sides of the comedic spectrum. Starting off  downtrodden and clueless she's the hapless victim of most of the jokes, until she finally finds her confidence when confronted with Rose Byrne's scenery chewing villainess.
Surprisingly enough, McCarthy is not the best thing in Spy, that particular title goes to Jason Statham. Shedding his reputation for generic 'hard man' action heroics, Statham puts in a scene stealing turn as a clearly  deranged and delusional rouge spy. His constant and increasingly bizarre boasting about his ludicrous past exploits gifts Statham with most of  the film's best comedic lines. It's enough for Statham to prove beyond a shadow of a doubt that he is much more than just an action star. While his previous films have of course had their fair share of humour, in Spy his supporting character gets the chance to fully relish in it for the first time.
The Bad
Unfortunately Statham's scene stealing does take the focus away from McCarthy somewhat. While she holds up the film perfectly well on her own, perhaps it's the 2 hour run time that eventually turns Spy into a bit of a drag at certain points. It also almost feels that we're just waiting for Statham to reappear, perhaps due to the fact that this is the first time he's been allowed to truly mock himself.
Peter Serafinowicz also crops up as a sleazy Italian agent who spends his entire time trying to 'woo' McCarthy in a series of hit and miss jokes that are more miss than hit.
The Ugly Truth
It's more Austin Powers than Kingsman on the bond spoof spectrum, but Spy is certainly worth trying out if not to see Melissa McCarthy in her least annoying role since Bridesmaids then at least to see Jason Statham in a brilliantly hilarious turn that could easily (and hopefully) start a new stage of his career.
Review by Johnny Ellis
Red Carpet Interviews below from the film's European Premiere in London: