Money Monster Review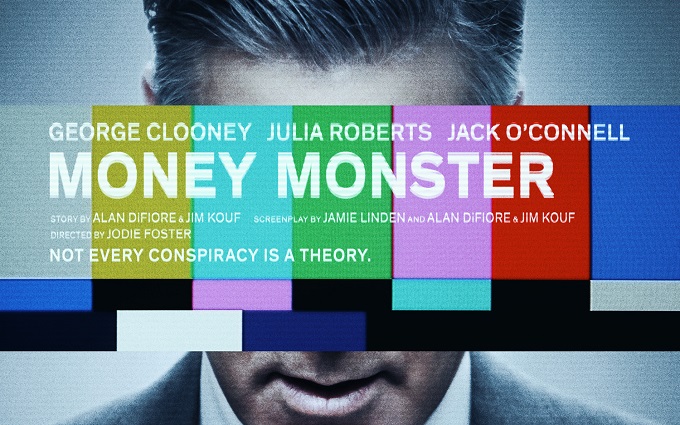 The Plot
Financial TV host Lee Gates (George Clooney) and his producer Patty (Julia Roberts) are put in an extreme situation when an irate investor takes over their show.
The Good
Jodie Foster directs this utterly thrilling drama which pits a desperate everyman against Wall Street with the help of a TV studio held hostage. George Clooney on knowingly obnoxious form, kicks things off superbly as cringeworthy financial guru Lee Gates. His smug TV hysterics are brought to a swift end as Jack O'Connell's disgruntled investor, Kyle takes over the show at gunpoint. Now with a suicide vest strapped to him and Kyle's finger on the trigger, its up to Lee to find out exactly what made his latest 'sure thing' stock tip plummet, causing Kyle to lose his life savings.  Kyle wants answers and if he doesn't get the right ones his finger comes off the trigger and Lee goes everywhere…
O'Connell brings a thunderous role to life as a dangerous New Yorker with nothing left to lose, keeping the tension high and genuinely shocking the audience at times. Meanwhile Julia Roberts grounds the story as long-time producer Patty tries to keep things calm from the edit room, talking to Lee and trying to delay Kyle from taking his finger off the trigger, while trying to track down IBIS CEO Walt Camby (Dominic West) to get some answers.
While it all sounds tense and very edge of the seat stuff, writers Jamie Linden, Alan DiFore and Jim Kouf manage to inject some wonderful moments of humour throughout the story which director Jodie Foster  handles with ease.
The Bad
Also joining the mix, though mostly outside of the confines of the studio is Giancarlo Esposito as the tough no nonsense police captain Powell who spends his time desperately trying to intervene and bring this madness to an end as soon as possible. Unfortunately he feels short changed for the most part. This seems to be a common occurrence with his work in film since his ground-breaking performance in Breaking Bad. As soon as he appears, fans of Gus Fring will no doubt get excited but inevitably feel let down.
While the story promises to dig deep into the subject of corruption in finance, it mostly slips into the generic dramatic thriller element and leaves the meatier subject untouched for the most part. If you're going in hoping for a smart film in the likes of The Big Short, you'll ultimately leave wanting more.
The Ugly Truth
Jodie Foster directs a fun and tense thriller with three great leads, and plenty of humour along the way. If you go in expecting that and nothing more you'll be sure to have an absolute blast!
Review By Johnny Ellis