Maze Runner: The Scorch Trials Review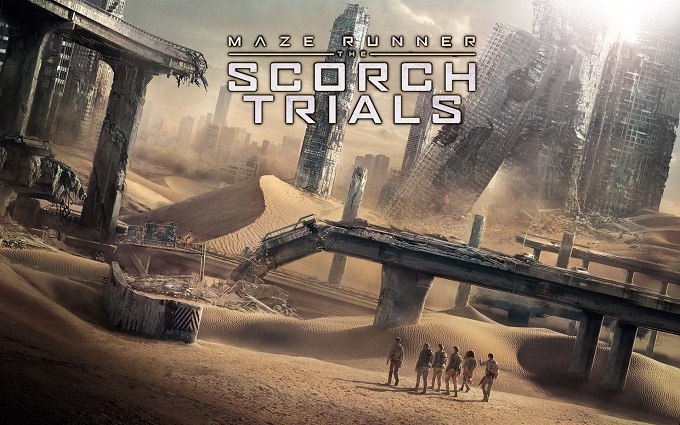 The Plot
Having escaped the maze, Thomas (Dylan O'Brien) and his fellow survivors seem to be  finally on their way to a safe haven with the help of the mysterious Janson (Aidan Gillen). But when his true intentions are revealed, escaping his clutches is the least of their problems…
The Good
Picking up immediately after the dramatic conclusion of the first film, Scorch Trials delivers an extremely strong opening half which matches or a times even surpasses competing young adult franchises like Divergent and The Hunger Games. This trilogy seems to be starting to hit it's stride as it begins to explore a wider post-apocalyptic world, introduces interesting new characters and digs deeper into serious themes of morality and questioning authority.
The introduction of Aiden Gillen is a welcome addition to the series. Armed with a goatee and polo-necked jumper he makes the villainous Janson a convincingly  devious and dangerous threat. Likewise Breaking Bad star Giancarlo Esposito is a scene stealing delight as Jorge, a cunning mercenary with complex motives and shifting allegiances.
Rounding out the adult cast, Patricia Clarkson returns as the cold and calculated WCKD leader Ava Paige. Though given significantly more screen time, she remains a mysterious presence. leaving plenty of room for big revelations in the final chapter.
The undeniable focus of the series remains the younger characters. Alexander Flores joins the cast as Aris, a boy from a separate maze (of which, it turns out there are many). Together with Ki Hong Li's Minho, Kaya Scodelario's Teresa and Thomas Brodie-Sangster's Newt, the display of talent is impressive.
However, it's Dylan O'Brien's impressive skills of holding up the franchise that is most noteworthy. With two thirds of the trilogy now complete, O'Brien is as talented as ever, pulling off the conflicted determination of Thomas with ease.
The Bad
After a promising start, it's somewhat disheartening to see that once the characters head out into the apocalyptic desert wasteland of 'the scorch', the story slips quickly into the overly familiar territory of a generic action thriller. The city ruins and zombie like monsters that awaits our young band of heroes could literally have been borrowed from countless recent blockbusters. There's plenty of peril but little memorable originality to be found.
Unfortunately it's also still impossible to avoid obvious and at times unflattering comparisons with the other post-apocalyptic themed young adult adaptations like Hunger Games and Divergent. While the Maze Runner series has it's own identity and at least some distinctive elements, it may still feel like a band wagon riding afterthought for less enthusiastic audiences.
In particular  Kaya Scodelario's Teresa could and should have been a major focal point for this film, as her character's arc is a pivotal plot point for the trilogy. Unfortunately the talented Skins actress is given  little screen time to explore this potentially fascinating personal journey. Indeed she's actually displaced for large portions of the film by Rosa Salazar's  new 'love interest' Brenda. It would have been nice to see the film make the most of both it's female leads.
The Ugly Truth
The Scorch Trials adds some seasoned stars, serious themes and a vastly expanded dystopian world to build upon the promise of the first film. A reliance on generic action means that at times the franchise stills struggles to entirely distinguish itself from similar genre series. Fans of the book will enjoy seeing the journey continue and it definitely sets up an intriguing conclusion.
Review by Johnny Ellis