Arrival Review & Interviews TIFF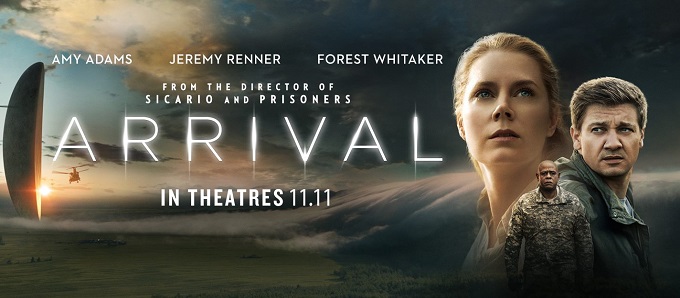 The Plot
A linguist (Amy Adams) is recruited by the military to assist in translating alien communications.
The Good
Unlike most alien invasion movies, Arrival features no real destruction, instead only bringing tension and beautiful cinematography. More Close Encounters than Independence Day. The story kicks off with Amy Adams' Dr. Louise Banks suffering from the loss of her daughter in a truly touching opening sequence which manages to bring immense feeling to the screen thanks in part to Jóhan Jóhannsson's melancholy score which is used consistently throughout, before moving swiftly along to the titular arrival of a dozen separate slender spaceships dotted around various places of the world. With the human race struggling to figure out what their new visitors intentions are, Colonel Webber (Forest Whitaker) enlists the help of Louise and theoretical physicist Ian Donnelly (Jeremy Renner) to translate and converse with the aliens that Ian dubs 'Heptapods' in reference to their seven tentacles.
With director Denis Villeneuve set to bring us his take on the Blade Runner sequel next, Arrival is most certainly a promising precursor to his style of sci-fi filmmaking that gives hope for the much anticipated sequel. The stunning cinematography from Bradford Young, whose previous credits include Selma and A Most Violent Year manage to tease the aliens perfectly while not coming off as cheating the audience of the reveal.
The Bad
Those going into Arrival hoping for action of any sort are sure to be sorely disappointed. Screenwriter Eric Heisserer's script, adapted from Ted Chiang's short story Story of Your Life is instead a thought provoking and at times slow moving but ultimately satisfying story that will stay with you in the same way that sci-fi like 2001: A Space Odyssey does.
The Ugly Truth
Amy Adams leads a well cast film and practically laps them in terms of acting ability. Though it may be too slow and less action packed for some of the more impatient audience, if you stick with it you're sure to have a new film to add to your favourites list.