Ant-Man Review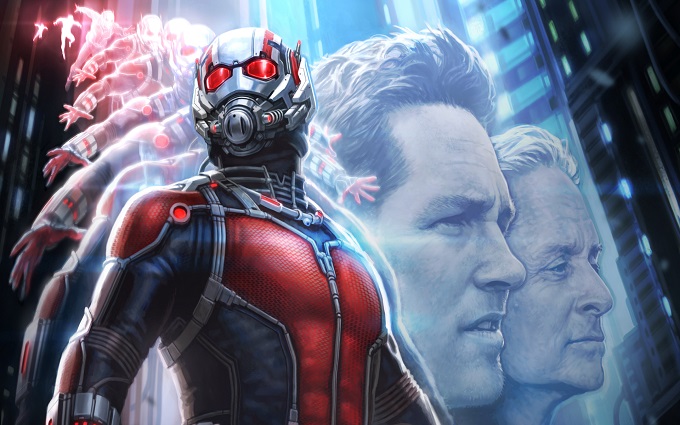 The Plot
Armed with a super-suit with the astonishing ability to shrink in size but increase in strength, a well-meaning cat burglar Scott Lang must embrace his inner hero and help reclusive genius Dr. Hank Pym, plan and pull off a heist that will save the world.
The Good
Guardians Of The Galaxy already proved that Marvel is more than capable of making superb big screen adaptations of some of their lesser known heroes. The perfectly honed Marvel formula of balancing self-aware humour with clever writing and impressive visual effects never fails.
Despite making his comicbook debut over 50 years ago and being a key part of the original line-up for the Avengers, Ant-Man clearly doesn't have the same instant fan recognition that Iron Man, the Hulk or Captain America do.
Paul Rudd is universally acknowledged as one of the most indisputably charming Hollywood leading men. Rudd's endearing hangdog qualities are a perfect fit for Scott Lang, as a kind hearted and reluctant criminal turned hero. His knack for wry humour is certainly put to good use alongside his newly athletic physique. Marvel choose very wisely in selecting someone as naturally charismatic to make Lang instantly likeable and entertaining.
Michael Douglas also becomes the latest elder Hollywood icon to make his debut in the Marvel universe. Douglas is a near perfect fit for Hank Pym, giving the genius inventor some gravel voiced gravitas. He also lends some much needed credibility to potentially absurd super powers like talking to Ants and making yourself very tiny. It's great to see Douglas finally taking his rightful place in a big fun effects driven film.
Evangeline Lilly is another valuable addition to the cast, playing Pym's semi-estranged daughter Hope. Given the somewhat unfair recent criticism of how Marvel has handled its female heroes it's certainly welcome to see a strong female character given equal prominence this time. Lilly is more than a match for Rudd in screen presence and her character may prove to be an even more significant addition to the Marvel universe…
Ant-Man is consistently funny and can thank Michael Pena for many of its most memorably hilarious moments. In a rare treat his presence as a comedic sidekick is scene stealing brilliance as opposed to the usual annoying distraction such characters tend to provide.
Ant-Man does an admirable job of making the power of shrinking seems more fantastic than farcical. Accomplished special effects combined with just the right amount of knowing humour manages to keep things both fun and spectacular. Edgar Wright and Joe Cornish were largely responsible for the script and it shows. Particular highlights include a dramatic action sequence taking place almost entirely in a young child's bedroom. It's entirely the spirit of playful whimsy that this hero needs.
The Bad
Ant-Man might not quite have the instant cool factor that heroes like Iron Man or the Mighty Thor have but Marvel does the very best it can to introduce the character in a way that makes him feel like a worthwhile addition to its ever expanding cinematic universe of superheroes.  There's little negative to say other than acknowledging that standing alongside the Avengers increasingly grand scale adventures, Ant-Man's simple heist format might feel just a little small scale at times.
The Ugly Truth
Ant-Man proudly takes his places among Marvel's amazing cinema universe in a light hearted big screen debut that proves that little heroes are capable of packing a big punch and big laughs. It's another fun origin story that's surprisingly well integrated into the wider Marvel world. It's definitely the start of big things for a famously tiny hero.
Review by Russell Nelson