Orange Is The New Black Season Two Review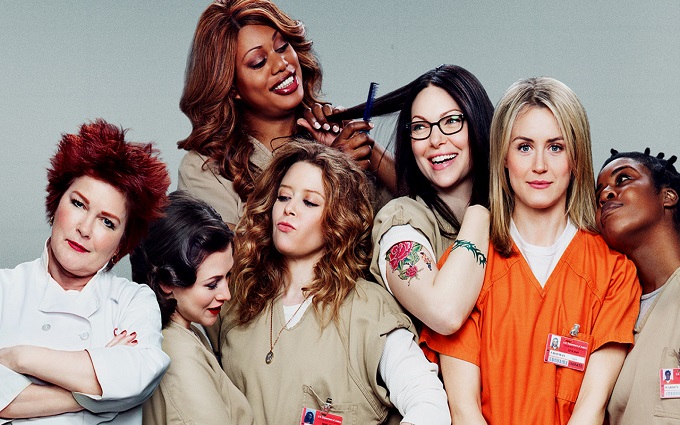 As Neflix releases the Third series of hit prison drama Orange Is The New Black, we recap the highs and lows of the second season. Check out our other posts for the season one  review and our verdict on the latest episodes.
The Plot
After the events of season one, Piper is sent to SHU until she's transferred to Chicago as a witness for a trial to put away the dealer she used to work for. But when she lies under oath and ruins her chances of getting out early, Alex makes a deal to be free. Meanwhile, Litchfield welcomes a new inmate/villain in the form of Vee (Lorraine Toussaint) a former inmate who, upon her return, changes the entire system between the inmates as she starts bringing in drugs.
The Good
So it turns out that Piper was lucky at the end of season one. Last seen in the midst of a rage induced attack on Pennsatucky, we finally learn that she has Crazy Eyes to thank for making it look like a fair fight. In season two, Piper is betrayed by Alex when Alex tells her to lie in the courtroom only for her to get released and leave Piper all alone.
For season two, Piper's story becomes very much in the background as Vee and Red's fight overtakes it. And rightly so. With a story that begins in flashbacks to their younger days and ends all these years later where their fight is still going strong. While Red is trying to regain the power she once had by replacing her kitchen for a greenhouse and her posse for a group of OAP's, Vee is trying to become Litchfield's new kingpin again as she manipulates everyone and anyone she can. Including Crazy Eyes.
Suzanne's (Crazy Eyes) flashback episode is one of the biggest highlights for season two as we are finally shown her in her youth with her adoptive parents struggling to raise such an outgoing young girl. But her contribution to the series does not end there. Her loyalty towards Vee is unquestionable and very nearly lands her in maximum security as Vee tries to convince her that she beat Red half to death with a lock in a sock.
As well as this we also have Rosa (Barbara Rosenblat), a character who appears in the very first episode but who we only start to learn about in this season as she gets her very own flashback to her bank robbing glory days while at present she's fighting a losing battle with cancer. With just weeks left to live, Rosa is given a chance to escape thanks to Morello (Yael Stone) and takes it, while also taking the perfect shot at a just escaped Vee which leads into this seasons cut to black (or orange) as we wait for season three.
The Bad
Unfortunately Larry's storyline doesn't get any better this season as he and Piper's best friend decide to hook up and fall in love. Not only killing any interest we had in Piper and Larry's relationship, but also putting the final nail in the coffin to his story it seems, as much to fans rejoice, Larry Bloom will not be returning for season three!
The Ugly Truth
Orange Is The New Black season two provides much more for the supporting characters than the apparent leading lady. So much so that they can hardly be considered supporting any more, if they were even considered that in the first place. Netflix's hit ensemble piece continues to grow in story and character. Bring on season three!
Speaking of which check out our interview with star Yael Stone about season 3 below: