X-Men: Apocalypse Review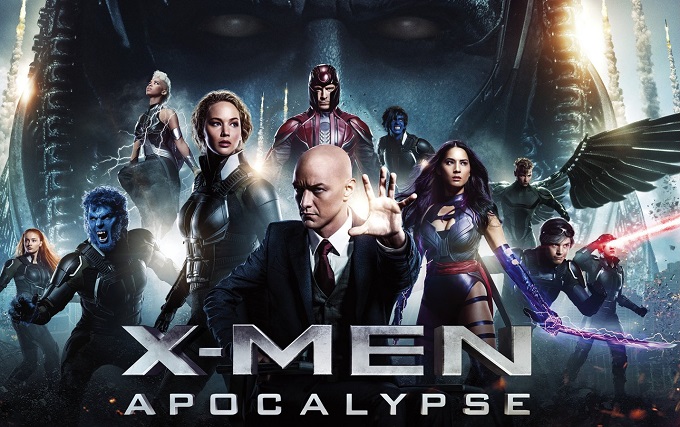 The Plot
With the emergence of the world's first mutant, Apocalypse (Oscar Isaac), the X-Men must unite to defeat his plans for the extinction of humanity.
The Good
Since 2011's X-Men: First Class, Fox studios have been working towards, and succeeded in rebooting the mutant comic book franchise with a younger cast and period settings while still very much keeping it all slightly tied in with the original trilogy that arguably kicked off the super hero genre at the turn of the century. With X-Men: Apocalypse, the action is at it's highest since perhaps The Last Stand. The titular villain, an all powerful mutant who has existed for tens of thousands of years comes out of essentially a really long nap in order to destroy everything around him with the help of his four horsemen, Magneto (Michael Fassbender - returning for the third time) Angel (Ben Hardy), Storm (Alexandra Shipp) and Psylocke (Olivia Munn).
Meanwhile, battling Apocalypse, we get the return of Quicksilver (Evan Peters), Professor X (James McAvoy) and Mystique (Jennifer Lawrence) as well as some new members including Sophie Turner and Tye Sheridan as Jean Grey and Cyclops respectively. While the old familiars bring another impressive performance – Evan Peters again gets a scene stealing moment much like the one that won fans over in Days of Future Past – Turner and Sheridan bounce off each other in such a small but powerful way as their on-screen romance begins to present itself. Turner in particular gives one of her greatest performances as the young Jean Grey, even outshining Famke Janssen's incarnation from the original trilogy.
And with Hugh Jackman's final turn as Wolverine upcoming, returning writer Simon Kinberg and director Bryan Singer manage to fit in a brilliant tease to whet our appetites for the recently announced R-rated version of Wolverine. It's a shame his appearance was already given away in the final trailer and not saved for a surprise cameo as First Class managed to do.
The Bad
Unfortunately, Apocalypse manages to slip too easily into the traditional over-use of destruction which is especially disappointing given that the biggest strengths in the two previous films came from the intricate and entertaining storylines. Here however, the plot feels somewhat missing. Apocalypse's plan doesn't get enough focus and his intentions are less fleshed out, making him feel like X-Men's version of the Marvel Cinematic Universe's Ultron but worse. Apocalypse is presented as an all powerful mutant yet he still needs four accomplices to help him and spends most of the film dragging us along with him as he collects them.
And though this latest instalment is set in the 1980's after exploring the 60's and 70's in the last two, the setting is not captured as well as it has been before. While there are a couple of nice moments such as the previously mentioned Quicksilver sequence and a small scene which manages to sneak in a Star Wars reference (while also managing to make a knowing dig at the difficulties of third instalments), that's about all we get for an 80's feel.
The Ugly Truth
X-Men: Apocalypse reintroduces some fantastic new performances from Sophie Turner's Jean Grey and Tye Sheridan's Cyclops and teases the upcoming Wolverine sequel well, but stumbles on its over-use of action and fails to utilise its 80's setting nor it's all powerful villain.
Review by Johnny Ellis