One Night In Miami Review TIFF 2020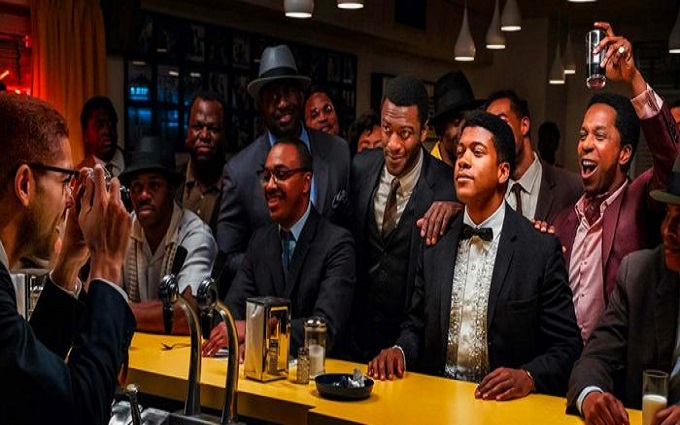 The Plot
A fictional account of one incredible night where icons Muhammad Ali, Malcolm X, Sam Cooke and NFL superstar Jim Brown gathered to discuss their roles in the civil rights movement and the monumental cultural upheaval of the 1960s.
The Good
Capturing the rare magic of this instantly recognisable collection of the most important cultural figures in African American history is a weighty responsibility. In 2020 under a climate of rising global tensions and growing uncertainty there is a particular sense of urgent significance to collectively examining and celebrating these figures.
One Night In Miami instantly succeeds in not just providing cliché impersonations of these famous men, but in giving them each a nuanced and fully human portrayal. Weaving together the lives of four men each remarkable in their own right but each speaking from very different places.
Eli Gorre is devastatingly charismatic as Cassius Clay, capturing the physical prowess and uniquely flamboyant wit of a young 22 year old Muhammad Ali. Kinglsey Ben-Adir likewise offers a variously soft spoken and fiery sincerity to his portrayal Malcolm X. Leslie Odom Jr and Aldis Hodge round out the astonishing quartet of performances as musical master Sam Cooke and Jim Brown. They each add a different flavour of passion and combine to create a genuine warm friendship full of wry charm and earnest affection.
There's an innate fascination to seeing these landmark historical figures sharing even imagined intimate moments. These invented exchanges casually explore profound and complex subject matter in exactly the way the best late night conversations among close friends often seems uniquely capable of.
The film delves into the complex spectrum of attitudes and ideals existing in the African American community during a time of immense struggle and turmoil. Each of these figures reflect a different perspective on the struggle to change the lived experiences of a community, at times flaring into genuine angry tension and conflict. It's perhaps more important today than ever to see four different men locked in earnest debate and exchange of deeply passionate ideas.
The Bad
One of the few criticisms you can make of One Night in Miami is that it's perhaps a little reckless to invent so many private moments for people whose lives have been so extensively publicly documented. You could make the same criticism of almost any other historical biopic though and the film is very clear in its intention to capture the spirit of these men and what they represent rather than to speak explicitly on their behalf.
It's may also be a little too tempting for audiences to immediately treat the period of history being explored on screen as completely interchangeable with the present day. Obviously much of the subject matter and themes explored seems deeply pertinent to an increasingly traumatic current climate, but our world today is not without its own unique myriad complexities. The voices of history speak to us vividly today but they cannot answer all our questions for us.
The Ugly Truth
One Night In Miami is well-crafted, poignant and powerful. Four sensational leading performances capture a nuanced snapshot of historical icons and a turning point in modern American history. It's a celebration of that legacy of change packed with valuable wisdom and heart.
Review by Russell Nelson