Nina Forever Review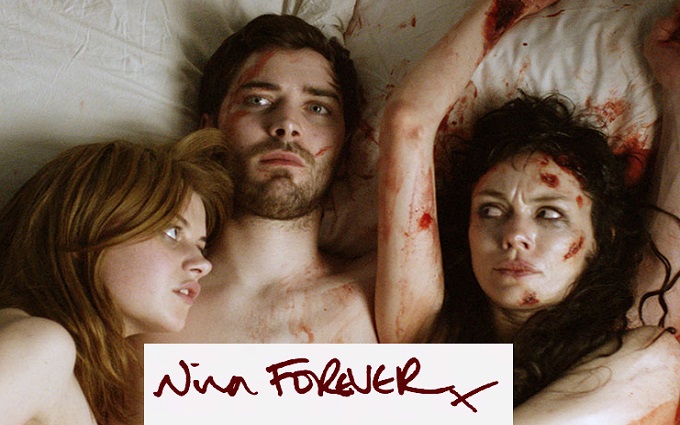 The Plot
After the sudden death of his girlfriend, Nina (Fiona O'Shaughnessy) leads him to attempt suicide, supermarket clerk Rob (Cian Barry) begins to start dating again with co-worker Holly (Abigail Hardingham). But even with Nina dead, she still lives on. And not just through memory…
The Good

For a film which tackles the devastation and despair of grief as one of its main themes, Nina Forever is perfect. With Fiona O'Shaughnessy giving an incredibly realistic and darkly hilarious performance as Nina. To call it realistic is somewhat odd given that she plays a recently deceased corpse throughout, but there's no denying that her movements feel unnaturally natural as she crawls out through the bed while Rob and Holly try their best on focussing on being intimate while ignoring the blood stained bed sheets and Nina's sarcastic commentary on the side.
It's when the three interact that writer-directors Chris and Ben Blaine hit their stride though. the dialogue between the three are so well written that the first feelings of confusion as to whether Nina is actually with them in the room are quickly released and just like Rob and Holly, we're allowed to simply accept that the bloodied reappearance of an ex girlfriends corpse is just commonplace during sex.
Praise must also go to cinematographer Oliver Russell for the beauty of the films shots and sequences. The pale white look of the film accompanied by the occasional but not overdone blood and gore mixes perfectly together. Obviously making a film which centres around grieving is tricky to do, especially when comical scenes are involved. However the Blaine Brothers manage to pull it off incredibly and more importantly respectably.
The Bad

The only real problem with Nina Forever ends up being its pace. At times, it begins to drag, especially during its opening half. However if you keep with it the reward will be worth it.
The Ugly Truth

Nina Forever is an incredibly acted drama which will undoubtedly burrow into your thoughts for a good while after. Thanks to the incredibly talented writing and directing of the Blaine brothers as well as the brilliant acting of its three main leads, even when it becomes slow moving it still stays intriguing enough.
Review by Johnny Ellis