How To Be Single Review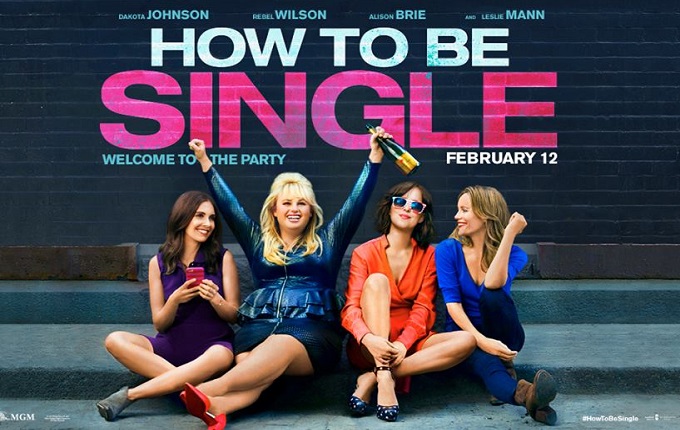 The Plot
A young intern Alice moves to New York to find herself and explore what it means to be single while taking a hiatus from her overly comfortable relationship. Taking advice from her workaholic older sister and her hard partying new best friend she soon struggles to work out who or what she really wants.
The Good
Dakota Johnson continues to rapidly establish herself as a charismatic and captivating performer, independent of her instant Fifty Shades Of Grey notoriety. She works very well with more light hearted romantic material and deserves credit for keeping her character likeable in spite of occasionally selfish or indecisive behaviour. Johnson visually embodies the 'typical girl' while also having great chemistry with both a neurotic Leslie Mann and the unapologetically free-spirited Rebel Wilson.
Rebel Wilson predictably steals scenes throughout with yet another flamboyant turn as an overly confident and blunt talking loudmouth. Pitch Perfect fans will particularly recognise her performance as 'Fat Amy' in all but name. In this film she injects a much needed silliness and serves as a pleasing contrast to the other characters largely self-inflicted dramedy.
Leslie Mann likewise is a perfect fit as a workaholic baby doctor revaluating her life priorities. Jake Lacy from The Office and Girls is another great addition to the cast, offering a genuinely charming young love interest for her. The hunkish funny man at times shows flashes of Chris Pratt like levels of puppy dog likeability.
Overall the film has a reliably fun tone that even smuggle the occasional real insight into modern dating life among a catchy soundtrack and some undeniably laugh out loud moments. The film propels itself quickly though a pleasingly rose tinted celebration of New York dating that should connect with happy couples and perpetual singletons alike.
The Bad
Those that don't find Rebel Wilson's signature combination of innuendo packed shouting and physical slapstick amusing will be naturally less enthusiastic about the film's heavy reliance on her comedic efforts. Without those much needed laughs audiences may find themselves dwelling a little too much on the various romantic subplots, none of which really have enough actual drama individually, although collectively they offer enough superficial dilemmas and feel-good resolutions to satisfy most audiences.
The Ugly Truth
How To Be Single is a fun feel-good comedy that has much more genuine laughs to offer than the average piece of cinema romance thanks to a brilliantly assembled cast, great soundtrack and avoiding ever taking itself too seriously.
Review by Russell Nelson